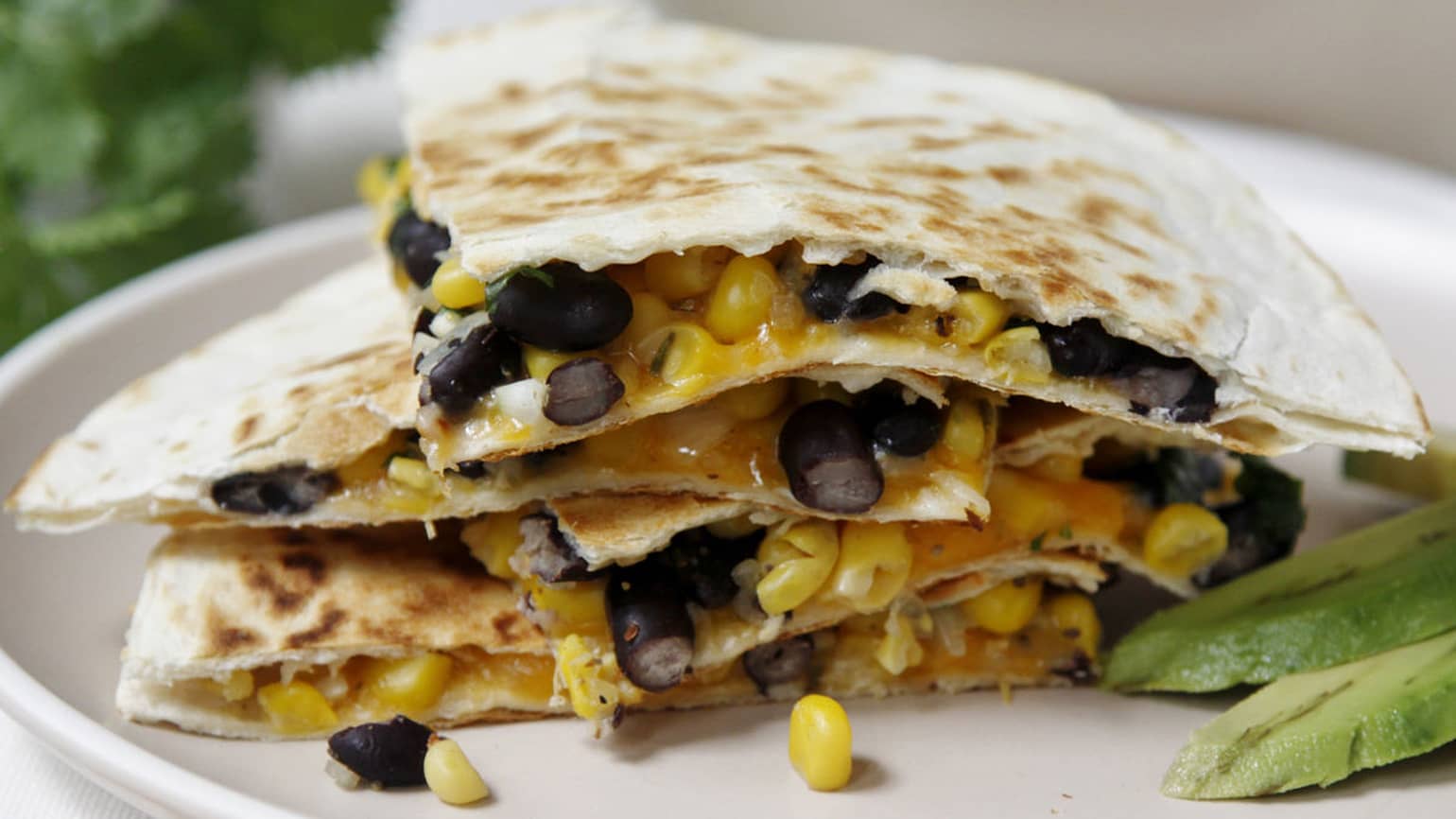 Black Bean and Corn Quesadillas
Blogger Paula Jones of
bell'alimento
shares a family-friendly recipe for black bean and corn quesadillas.
Ingredient List
1 can (15.25 oz) whole kernel sweet corn, drained
1 can (15 oz) Progresso™ black beans, drained, rinsed
2 tablespoons finely chopped onion
3 teaspoons Cuban seasoning
1 tablespoon coarsely chopped fresh cilantro
1 clove garlic, finely chopped
12 Old El Paso™ flour tortillas for burritos (8 inch; from two 11-oz packages)
2 cups shredded Mexican cheese blend (8 oz)
Advertisement
Recipe Continues Below
Preparation
In large bowl, stir together corn, beans, onion, Cuban seasoning, cilantro and garlic. Set aside.
Place 6 tortillas on work surface. Equally divide bean/corn mixture among tortillas. Evenly divide cheese and sprinkle over bean/corn mixture on tortillas. Top each with second tortilla.
Heat 12-inch nonstick skillet over medium-high heat. Place 1 assembled quesadilla into hot skillet; cook 1 to 2 minutes or until golden. Carefully flip quesadilla; cook other side 1 to 2 minutes or until golden and cheese is melted.
Cut quesadilla in half or into quarters to serve. Repeat with remaining assembled quesadillas.
Expert Tips
Recipe can be easily doubled or tripled.
If you prefer not to make all six quesadillas at one time, place half of the mixture into a sealable container and refrigerate until you're ready to cook.
Serve with sliced avocado and salsa, if desired.
Nutrition
1 Serving Calories 0 (Calories from Fat nc); Total Fat 0g (Saturated Fat 10 1/2g ,Trans Fat ncg); Cholesterol 0mg; Sodium 0mg; Potassium 0mg; Total Carbohydrate 61 1/2g (Dietary Fiber 4 1/2g ,Sugars 2g); Protein 0g
% Daily Value: Vitamin A 0%; Vitamin C 3.50%; Calcium 32.80%; Iron 19.40%
Exchanges: nc Starch; nc Fruit; nc Other Carbohydrate; nc Skim Milk; nc Milk; nc Vegetable; nc Very Lean Meat; nc Lean Meat; nc High-Fat Meat; nc Fat
Carbohydrate Choice: nc
*Percent Daily Values are based on a 2,000 calorie diet