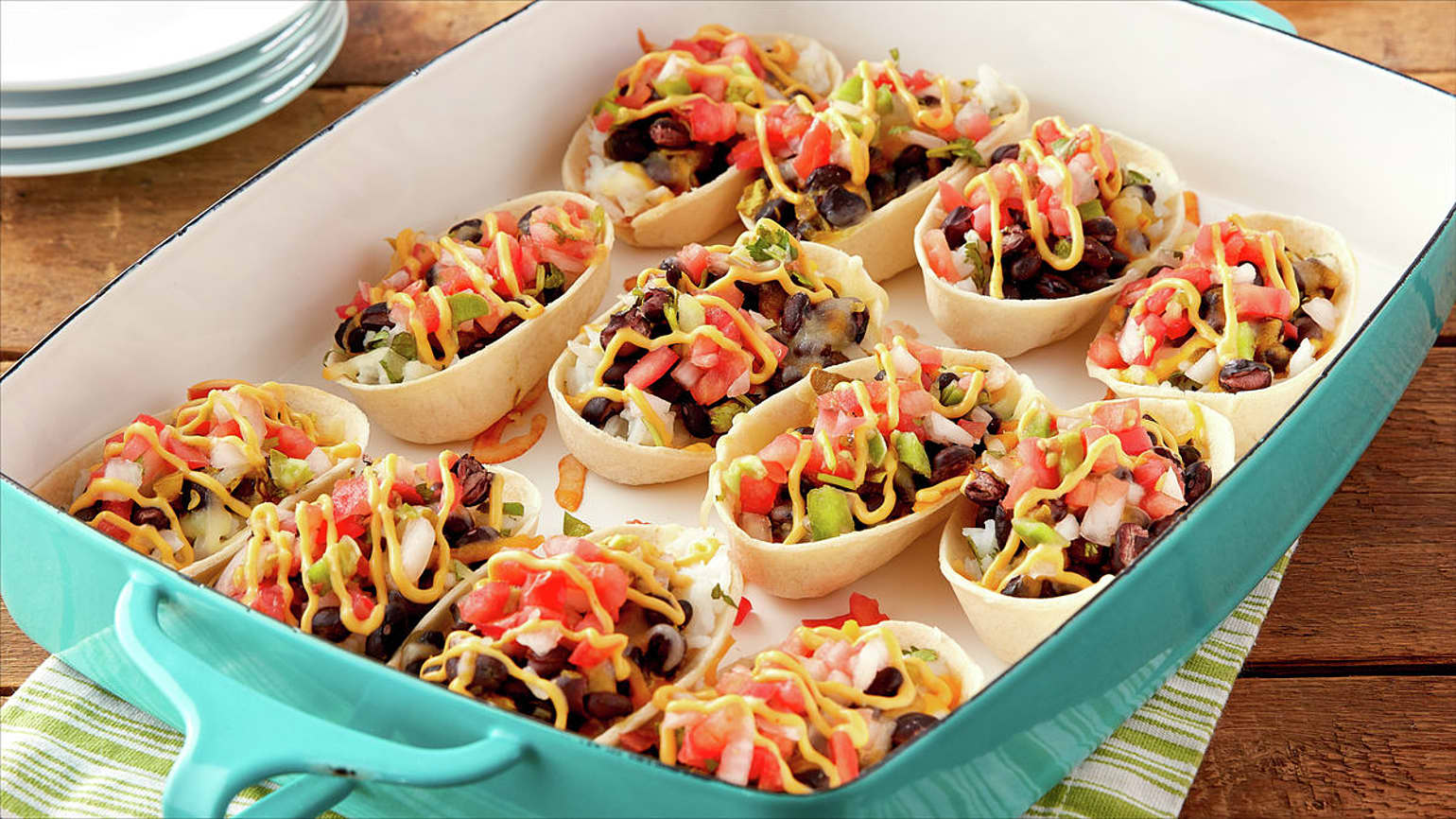 Black Bean, Rice and Queso Mini Tacos
Kids will love these filled mini tacos, which are packed with cilantro-lime rice, black beans, cheese and drizzled with Old El Paso™ Creamy Queso sauce. Easy to assemble and great for on-the-go, busy families.
Ingredient List
Rice
1/2 cup uncooked regular long-grain white rice
1 cup water
1 tablespoon butter
1 tablespoon lime juice
1/4 cup chopped fresh cilantro
Mini Tacos
1 package (12 count) Old El Paso™ Mini Soft Tortilla Bowls
1 can (15 oz) Progresso™ black beans, drained, rinsed
1 can (4.5 oz) Old El Paso™ Chopped Green Chiles
1 cup from 1 package (7 oz) Old El Paso™ Shredded Mexican Style 4 Cheese Blend
1/2 cup pico de gallo
1/3 cup Old El Paso™ Creamy Queso sauce
Advertisement
Recipe Continues Below
Preparation
In 1 to 1 1/2-quart saucepan, heat white rice and water to boiling; reduce heat. Cover and simmer 8 to 10 minutes or until all water is absorbed. Remove from heat; let stand covered 5 minutes. Fluff with fork; stir in butter, lime juice and cilantro. Cover and set aside.
Heat oven to 375°F. In ungreased 13x9-inch (3-quart) baking dish, place tortilla bowls.
In medium bowl, mix beans and green chiles. Divide rice mixture evenly among tortilla bowls; top each with 2 teaspoons of the cheese. Divide bean mixture evenly among tortilla bowls; top each with remaining cheese.
Bake 10 to 12 minutes or until hot and cheese is melted. Top with pico de gallo and sauce.
Expert Tips
Salsa may be substituted for the pico de gallo in this recipe.
Precooked rice is available for purchase in the frozen section of the grocery store and is a convenient alternative to the cooked rice in this recipe. You may also use 1 1/2 cups leftover cooked rice, heated in microwave.
Variation: Try Old El Paso™ Creamy Salsa Verde sauce as an alternative to the creamy queso sauce.
Nutrition
1 Serving Calories 330 (Calories from Fat 100); Total Fat 12g (Saturated Fat 6g ,Trans Fat 0g); Cholesterol 25mg; Sodium 740mg; Potassium 250mg; Total Carbohydrate 44g (Dietary Fiber 5g ,Sugars 2g); Protein 11g
% Daily Value: Vitamin A 4%; Vitamin C 4%; Calcium 20%; Iron 15%
Exchanges: 1 Starch; 2 Other Carbohydrate; 1/2 Vegetable; 1 High-Fat Meat; 1/2 Fat
Carbohydrate Choice: 3
*Percent Daily Values are based on a 2,000 calorie diet