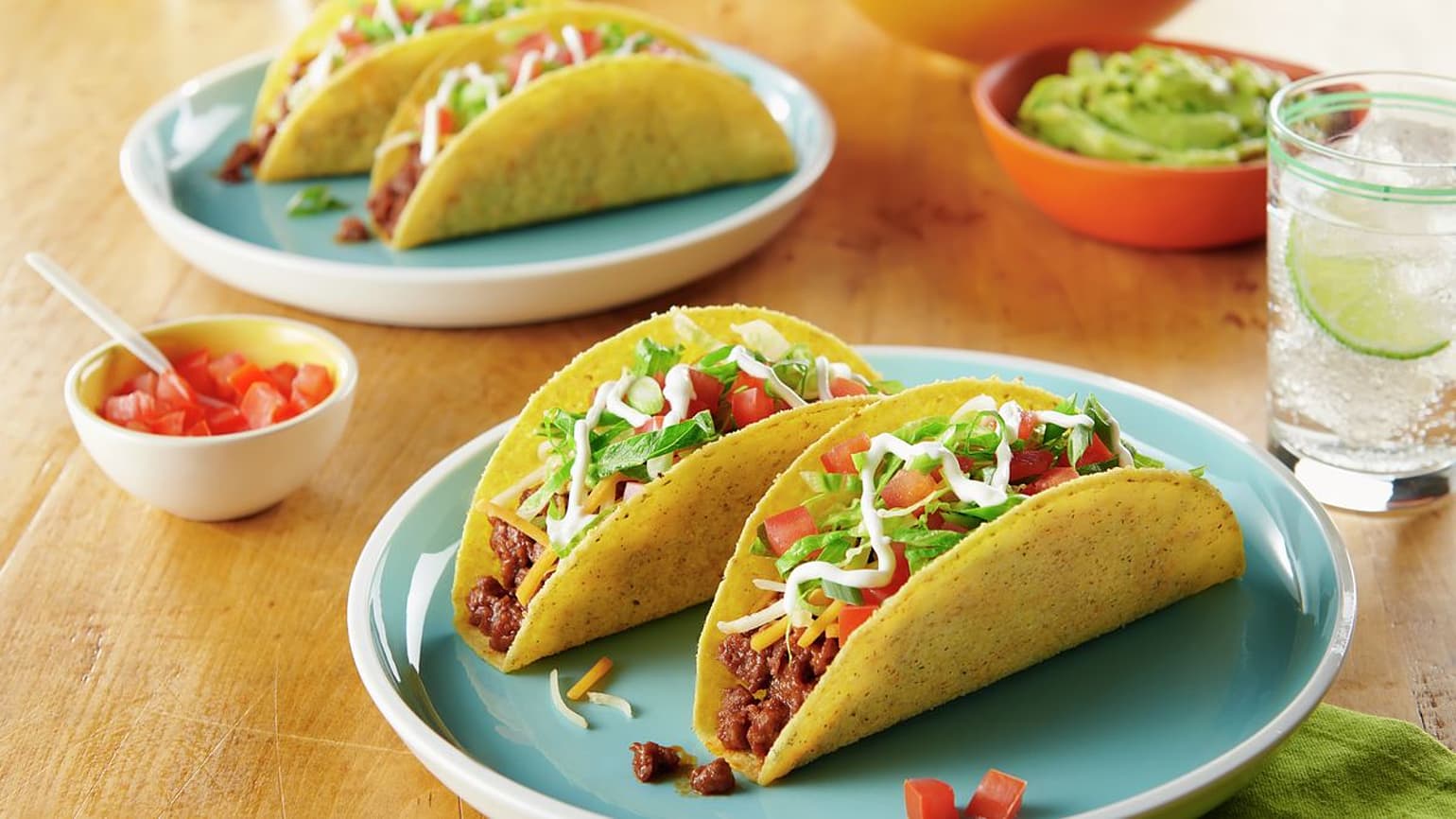 Bold Ranch Impossible™ Tacos
Meatless Monday just got a new favorite recipe with our Bold Ranch Impossible™ Tacos. The Impossible™ Burger filling is made from plants, and
Old El Paso™ Bold Ranch Stand 'N Stuff™ Taco Shells
bring a blast of flavor to every bite. Shake up your taco night, top the tacos with shredded cheese, crisp lettuce, tomatoes, onions and
Old El Paso™ Crema Mexicana
. The only thing that's impossible about these tacos, is how impossible it is not to love them.
Ingredient List
1 package (12 oz) Impossible™ Burger
2/3 cup water
1 package (1 oz) Old El Paso™ Original Taco Seasoning Mix
1 box (5.4 oz) Old El Paso™ Bold Ranch Flavored Taco Shells (10 Count), heated as directed on package
1 1/4 cups from 1 package (7 oz) Old El Paso™ Shredded 3 Pepper Blend Cheese
1 1/4 cups shredded romaine lettuce
1/2 cup chopped plum (Roma) tomatoes
1/4 cup chopped green onions
1/3 cup Old El Paso™ Crema Mexicana
Advertisement
Recipe Continues Below
Preparation
In 10-inch nonstick skillet, cook Impossible™ Burger over medium-high heat 5 to 7 minutes, stirring frequently, until crumbles are browned and cooked through.
Stir in water and taco seasoning mix; heat to boiling. Reduce heat; simmer uncovered 1 to 2 minutes, stirring frequently, until thickened.
Divide taco filling among heated taco shells. Top with cheese, lettuce, tomatoes and green onions. Top with crema.
Expert Tips
For a slightly sweeter and milder taste, chop up red onions instead of yellow. They'll add color and a mild flavor. If you use raw onions, they'll also add a sharp crunch to your Bold Ranch Impossible™ Tacos.
Drizzle Old El Paso™ Mild Taco Sauce on top of these Impossible™ Burger meat tacos. Or if you want more heat, try Old El Paso™ Medium Taco Sauce.
Try Old El Paso™ Shredded Mexican 4 Cheese Blend instead of Old El Paso™ Shredded 3 Pepper Cheese Blend for a different flavor twist on the Impossible™ Burger taco.
Add a fresh squeeze of lime for a bright burst of flavor.
Nutrition
2 Tacos Calories 460 (Calories from Fat 260); Total Fat 29g (Saturated Fat 16g ,Trans Fat 0g); Cholesterol 35mg; Sodium 980mg; Potassium 470mg; Total Carbohydrate 30g (Dietary Fiber 4g ,Sugars 2g); Protein 20g
% Daily Value: Vitamin A 30%; Vitamin C 4%; Calcium 35%; Iron 20%
Exchanges: 2 Starch; 2 High-Fat Meat; 2 1/2 Fat
Carbohydrate Choice: 2
*Percent Daily Values are based on a 2,000 calorie diet