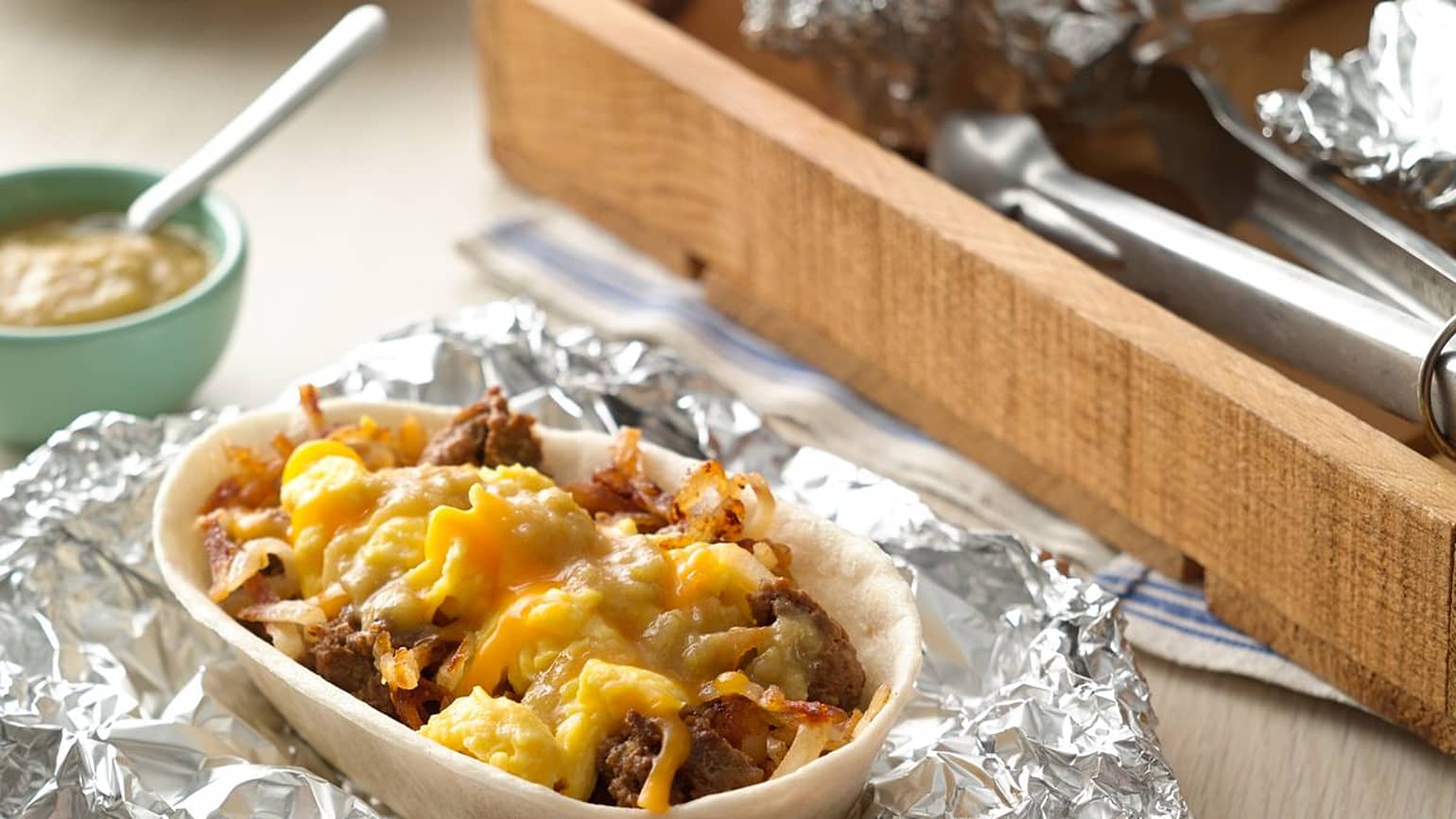 Breakfast Burrito Taco Bowls
Rumor has it that Coloradans invented the breakfast burrito, since they needed a way to eat sausage, eggs and cheese while hitting the slopes. What could be better than turning a burrito into a bowl? Warning: Eating will not transport
you
to the mountains, just your taste buds.
Ingredient List
Green Chile Sauce
1 tablespoon vegetable oil
1 medium chopped onion (1/2 cup)
1 teaspoon finely chopped garlic
2 cans (4.5 oz) Old El Paso™ Chopped Green Chiles
1/2 teaspoon ground cumin
1/2 teaspoon salt
1/2 cup chicken stock (from 32-oz carton)
Breakfast Burritos
3 tablespoons vegetable oil
2 cups refrigerated shredded hash-brown potatoes (from 20-oz bag)
1/2 lb bulk chorizo sausage
1 small chopped onion (1/4 cup)
1 teaspoon finely chopped garlic
6 eggs, slightly beaten
1 package Old El Paso™ Soft Tortilla Bowls
1/2 cup shredded Cheddar cheese (2 oz)
Hot sauce, if desired
Advertisement
Recipe Continues Below
Preparation
Heat oven to 400°F.
In 10-inch nonstick skillet, heat 1 tablespoon oil over medium-high heat. Add 1/2 cup onion and 1 teaspoon garlic; cook 2 to 3 minutes, stirring occasionally, until softened. Add chiles, cumin and salt; cook about 2 minutes, stirring frequently, until mixture is bubbly. Stir in stock; cook 2 to 3 minutes, stirring occasionally, until slightly thickened. Remove from heat; cool 5 minutes. In blender, pour mixture; cover and blend on high speed about 1 minute or until smooth. Pour into small bowl; reserve until needed. Wipe skillet clean with paper towel.
In 12-inch nonstick skillet, heat 2 tablespoons oil over medium heat. Add potatoes; spread in even layer, and press down to flatten with spatula. Cook 6 to 7 minutes without stirring until potatoes are golden on bottom. Sprinkle 1 tablespoon oil over tops of potatoes; turn potatoes over, spreading evenly and pressing down lightly. Cook 5 minutes without stirring. Stir in chorizo, 1/4 cup onion and 1 teaspoon garlic; keep stirring occasionally to break up clumps of meat. Cook 4 to 6 minutes longer or until meat is browned and potatoes are golden and crisp. Remove from heat; cover and keep warm.
Return 10-inch nonstick skillet to stove over medium heat. Add eggs; cook and stir 2 to 3 minutes or just until eggs look firm, but moist. Remove from heat.
Fill each bowl with 1/3 cup potato-chorizo mixture, 1/4 cup scrambled eggs and 1 tablespoon cheese. Roll up each bowl in foil. Place wrapped bowls on ungreased cookie sheet. Bake 5 to 7 minutes or until warm. Serve with green chile sauce and hot sauce.
Expert Tips
Freeze ahead: After assembling breakfast burrito bowls, cool 20 minutes. Wrap each individual bowl in a paper towel, then roll in foil. Place in 1-gallon freezer bag, and freeze. When ready to eat, take out individual burrito; remove foil, leaving paper towel in place, and place on microwavable plate. Microwave on High 60 to 90 seconds or until cheese is melted.
Try burritos with sharp Cheddar for a different flavor twist!
Nutrition
1 Serving Calories 410 (Calories from Fat 240); Total Fat 27g (Saturated Fat 9g ,Trans Fat 0g); Cholesterol 170mg; Sodium 920mg; Potassium 200mg; Total Carbohydrate 25g (Dietary Fiber 1g ,Sugars 3g); Protein 16g
% Daily Value: Vitamin A 8%; Vitamin C 10%; Calcium 10%; Iron 10%
Exchanges: 1 1/2 Starch; 1 High-Fat Meat; 3 Fat
Carbohydrate Choice: 1 1/2
*Percent Daily Values are based on a 2,000 calorie diet