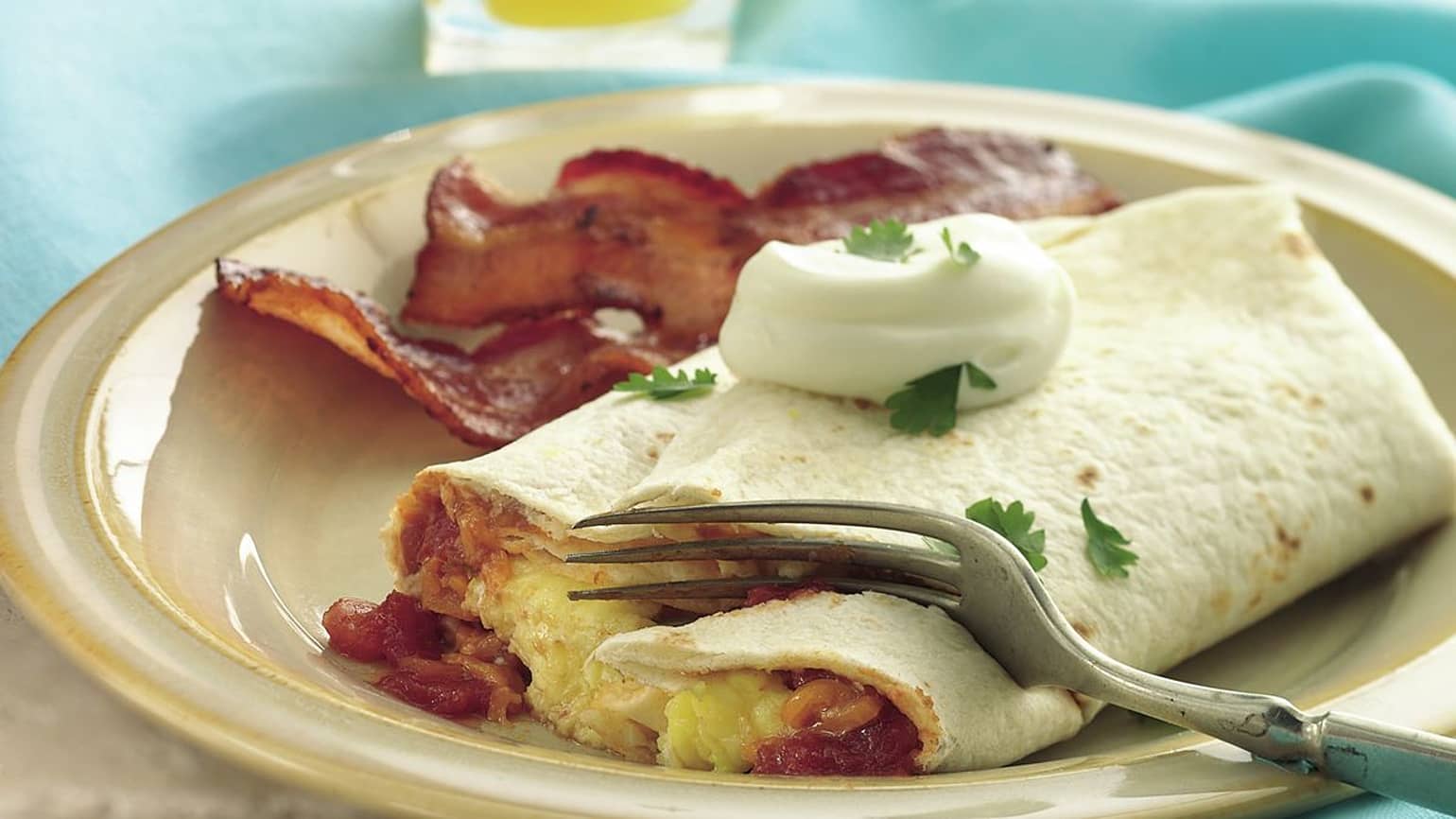 Breakfast Burritos
Breakfast is ready in just 25 minutes with this must-make recipe for Breakfast Burritos! Fuel up with an easy, cheesy handheld meal stuffed with eggs, salsa and reduced-fat versions of your favorite refried beans, cheddar cheese and sour cream. Talk about a great way to start your day! We love serving these Breakfast Burritos with fresh cilantro to complete a delicious Mexican-inspired meal.
Ingredient List
4 eggs
2 tablespoons water
2 teaspoons butter or margarine
1/2 cup Old El Paso™ fat-free refried beans
1/4 cup Old El Paso™ Thick 'n Chunky salsa
2 flour tortillas (10 inches in diameter)
1/2 cup shredded reduced-fat Cheddar cheese (2 oz)
Reduced-fat sour cream, if desired
Chopped fresh cilantro, if desired
Advertisement
Recipe Continues Below
Preparation
In small bowl, beat eggs and water with fork or wire whisk until well mixed.
In 10-inch nonstick skillet, melt butter over medium heat. Pour egg mixture into skillet. As mixture begins to set at bottom and side, gently lift cooked portions with spatula so that uncooked portion can flow to bottom. Cook 3 to 4 minutes or until eggs are thickened throughout but still moist. Remove from heat and keep warm.
Spread refried beans and salsa on tortillas to within 1/2 inch of edge. Sprinkle with cheese. Place on microwavable plate; microwave each burrito uncovered on High 45 to 60 seconds or until tortilla and beans are very warm and cheese is starting to melt.
Cut eggs in half. Place each half on center of each tortilla. Fold top and bottom ends of each tortilla about 1 inch over filling; fold right and left sides over folded ends, overlapping. Cut each burrito in half. Serve with sour cream and cilantro.
Expert Tips
Refried beans don't have to be fried in oil or loaded with fat to be high in flavor. Look for the canned variety with a fat-free label.
At 1 1/2 Carbohydrate Choices, these breakfast burritos could be partnered with 1/2 cup of orange juice and a couple strips of bacon for a meal with 2 1/2 Carbohydrate Choices.
Add some color to your Breakfast Burritos by using your favorite flavored tortillas, such as tomato or spinach.
Scrambled eggs cooked over medium heat are fluffy, soft and tender. Eggs that are cooked at temperatures higher than medium, or cooked too long, can get tough or rubbery in texture and can be dry and crumbly, too.
Nutrition
1 Serving Calories 260 (Calories from Fat 100); Total Fat 11g (Saturated Fat 4g ,Trans Fat 1/2g); Cholesterol 220mg; Sodium 670mg; Potassium 210mg; Total Carbohydrate 26g (Dietary Fiber 2g ,Sugars 2g); Protein 14g
% Daily Value: Vitamin A 10%; Vitamin C 0%; Calcium 20%; Iron 10%
Exchanges: 1 1/2 Starch; 1/2 Fat
Carbohydrate Choice: 2
*Percent Daily Values are based on a 2,000 calorie diet