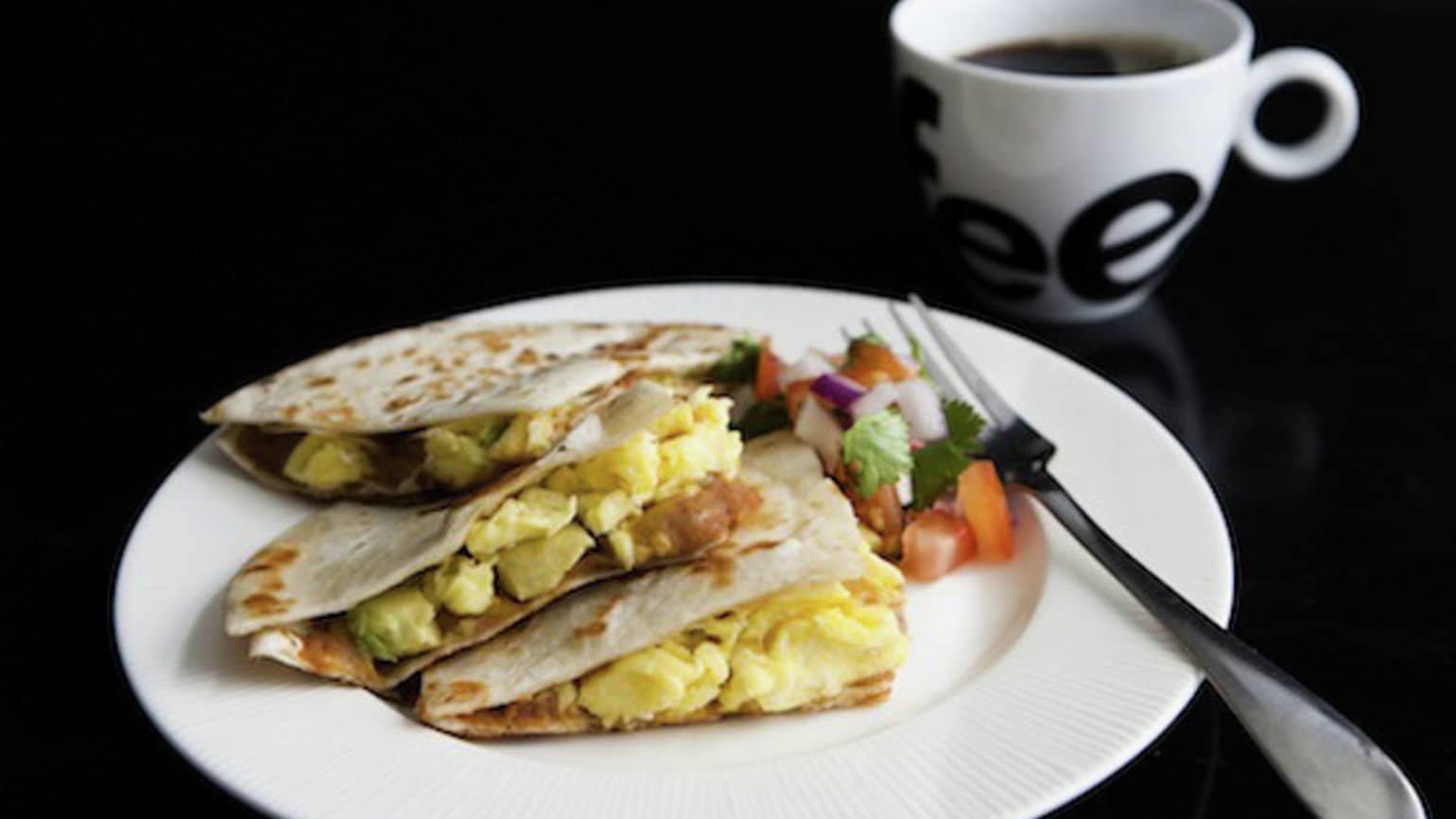 Breakfast Quesadilla
Denise Woodward from Chez Us shares how to make a Breakfast Quesadilla—a morning fave that's sure to please even the pickiest of eaters! These easy breakfast quesadillas are filled with creamy refried beans, scrambled eggs, cheese and avocado.
Ingredient List
1/2 cup from 1 can (16 oz) Old El Paso™ Traditional Refried Beans
1 tablespoon Old El Paso™ mild taco seasoning mix
2 eggs
2 teaspoons unsalted butter
4 small flour tortillas
1/2 cup grated Cheddar cheese
1 small avocado cut into slices
1/2 cup salsa
Advertisement
Recipe Continues Below
Preparation
Preheat stove top griddle or large frying pan over a low flame.
Place the refried beans along with the taco seasoning into a small heavy bottomed saucepan. Stir to mix well. Gently heat over low heat.
In a small frying pan melt 1 teaspoon of the butter. Scramble the eggs until slightly soft, about 30-45 seconds. Set aside.
If you did not buy pre-grated cheese, grate the cheese now.
Smear 1/8 cup of refried beans on each tortilla.
Scatter 1/4 cup of cheese on top of the refried beans.
Divide the scrambled egg onto the cheesy tortilla.
Top the scrambled egg with slices of the avocado, then top with the other tortilla.
Melt the other 1 teaspoon of butter on the griddle or in the large frying pan. If, you are using a frying pan, you will have to do this step one quesadilla at a time. Place the filled tortillas on top of the griddle. Cook over medium low heat. Flip after two (2) minutes. Cook the other side for two (2) minutes.
Remove the breakfast quesadilla from the griddle, let cool for 1 minute.
Cut each quesadilla into four pieces.
Serve with salsa and remaining refried beans.
Expert Tips
Preheat the refried beans before assembling the breakfast quesadillas—this step cuts down on cooking time.
Do not overcook the scrambled eggs as they will continue cooking during step 9 of this Breakfast Quesadilla recipe.
Nutrition
*Percent Daily Values are based on a 2,000 calorie diet