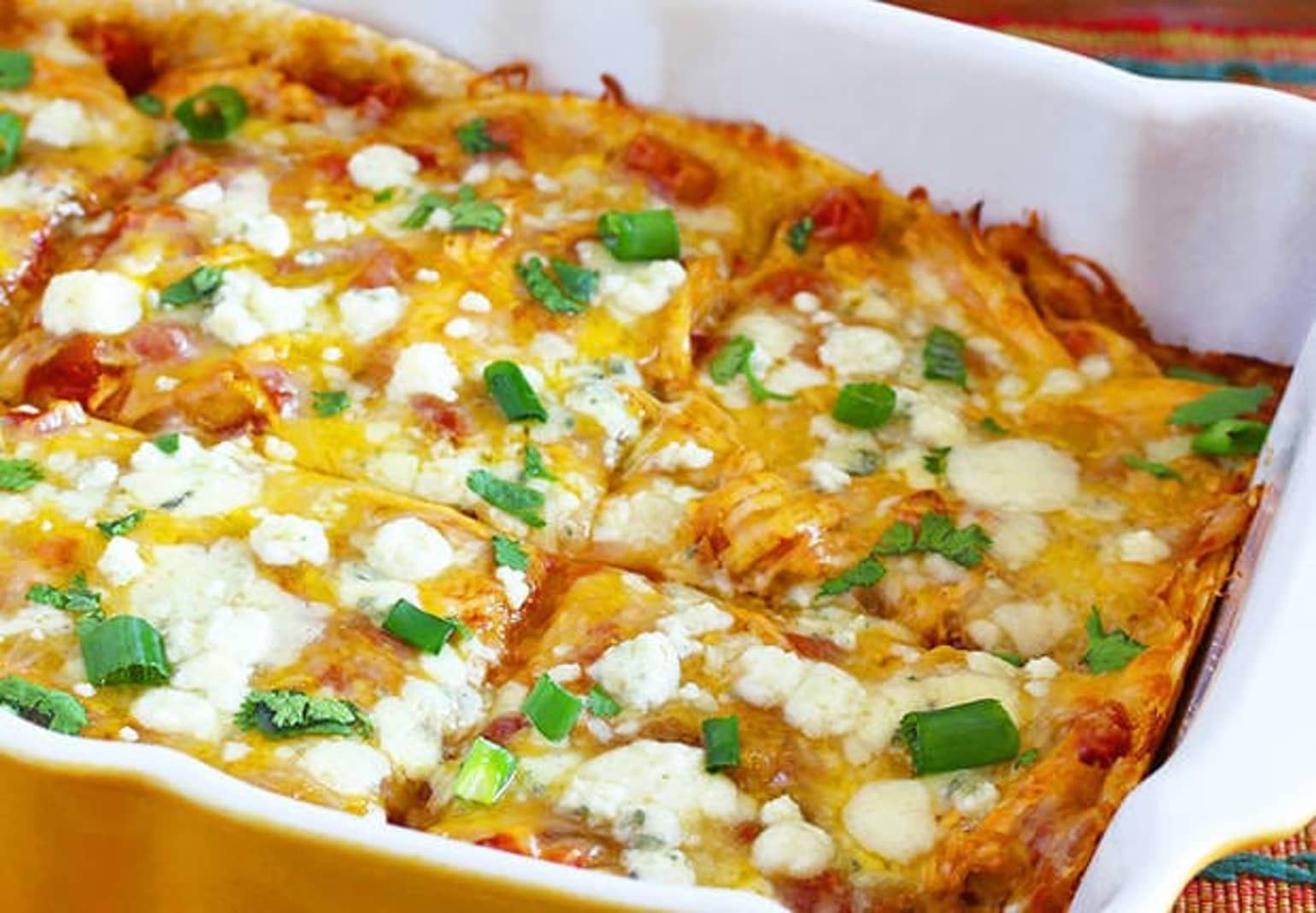 Buffalo Chicken Enchilada Casserole
Buffalo chicken, blue cheese and... Mexican! You'd never guess it, but it's a match made in heaven! By Tablespoon Kitchens
Ingredient List
1 pound cooked chicken breast, shredded
1 medium yellow onion, chopped
2 cloves garlic, minced
1 (14 oz.) can Old El Paso™ enchilada sauce
1 (14.5 oz.) can diced tomatoes with chilies (or salsa)
1/3 cup buffalo sauce
1 teaspoon salt
1/4 teaspoon freshly ground black pepper
6 (8-inch) Old El Paso™ flour tortillas
1 (6 oz.) package grated Mexican four cheese blend
4 ounces crumbled blue cheese
Advertisement
Recipe Continues Below
Preparation
Preheat the oven to 350ºF.
In a small skillet over medium-high heat, heat the oil and cook the onion until soft and translucent, 5-7 minutes. Add the garlic and cook for another minute.
Add the chicken, enchilada sauce (reserving 1/4 cup for later), buffalo sauce, tomatoes with green chilies, salt and pepper. Simmer for a few minutes just until heated through.
Pour the reserved 1/4 cup of enchilada sauce in the bottom of a 9x13-inch baking pan. Lay two flour tortillas over it, overlapping each other at the center. Spread 1/3 of the chicken mixture over the tortilla shells. Sprinkle with 1/3 of the Mexican cheese and 1/3 of the blue cheese. Repeat the layers two more times, ending with the Mexican and blue cheese on top.
Cover with foil. Bake for 30 minutes. Remove the foil and bake for another 10-12 minutes or until the cheese is nice and bubbly. Let sit for 5 minutes before cutting and serving.