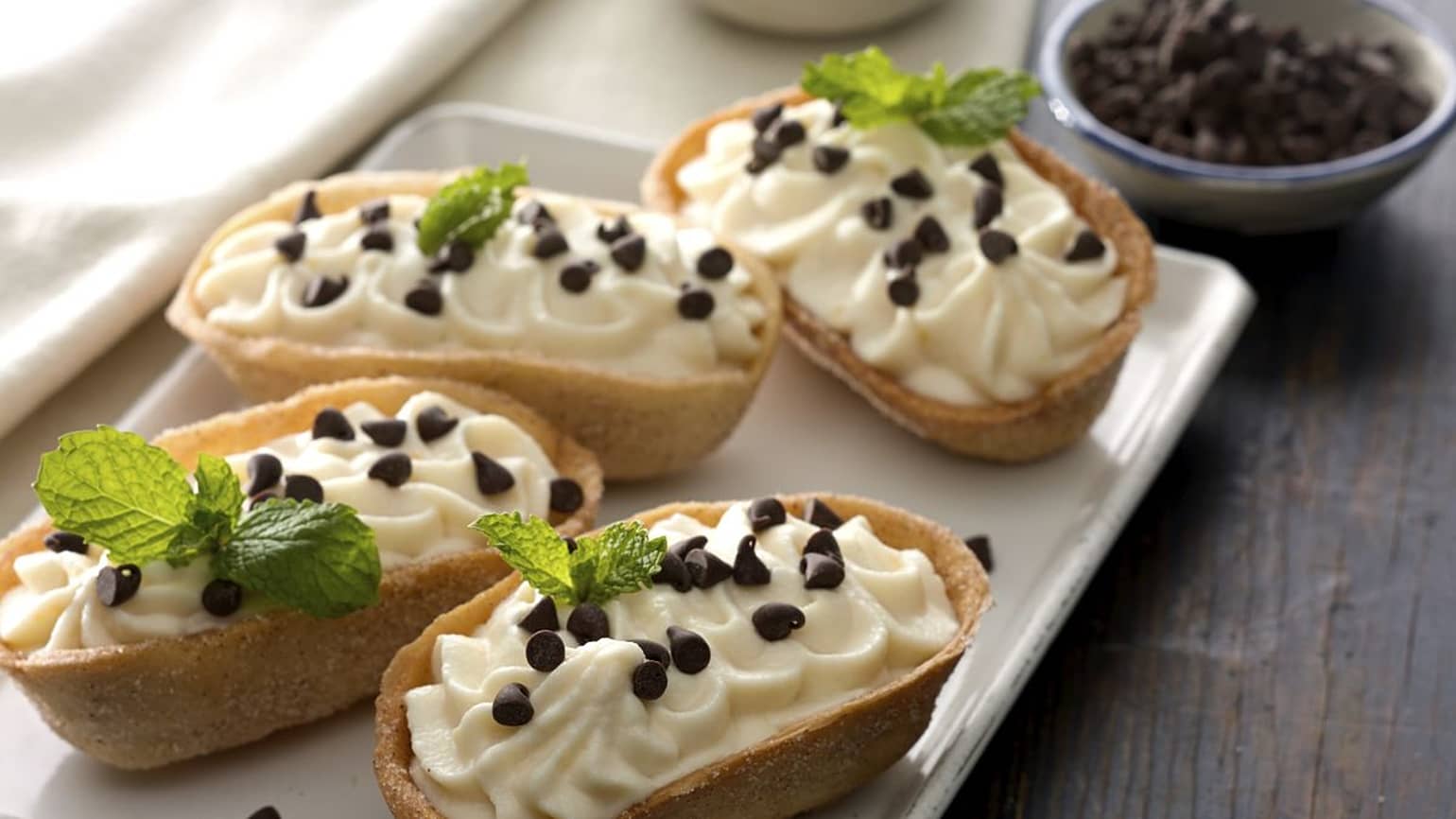 Cannoli Mini Taco Bowls
The competition for the best cannoli in New England is never ending…but what about in the form of a taco? Deep fried and filled with the creamy goodness that you know and love, these Cannoli Mini Taco Bowls™ will impress friends at your next get-together.
Ingredient List
1 container (15 oz) whole-milk ricotta cheese
1/4 cup heavy whipping cream
1/2 cup powdered sugar
1 teaspoon vanilla
1 teaspoon grated orange peel
Vegetable oil for deep frying
2 tablespoons granulated sugar
1/4 teaspoon ground cinnamon
1 package (5.1 oz) Old El Paso™ Flour Soft Tortilla Mini Bowls (12 Count)
6 teaspoons miniature semisweet chocolate chips
Fresh mint leaves, if desired
Advertisement
Recipe Continues Below
Preparation
In medium bowl, beat ricotta cheese, whipping cream, powdered sugar, vanilla and orange peel with electric mixer on medium speed until creamy. Cover and refrigerate.
Meanwhile, in deep fryer or 3-quart heavy-bottomed pot, heat at least 2 inches oil to 350°F. In 1-gallon resealable food-storage plastic bag, add granulated sugar and cinnamon.
Place bowls in batches in preheated oil; fry 1 minute on each side, using tongs to turn bowls halfway through, until lightly brown all over. Drain bowls upside down on paper towel-lined cookie sheet until slightly cool; toss 4 bowls at a time in cinnamon sugar mixture to coat. Remove to cooling rack to cool completely.
Just before serving, remove filling from refrigerator, and fill decorating bag fitted with large piping star tip. Pipe filling into cooled bowls, and sprinkle with chocolate chips. Top with mint leaves. Serve immediately. Store any remaining filled bowls in refrigerator.
Expert Tips
No decorating bag? Fill large resealable freezer bag; cut off one bottom corner, and squeeze filling into each bowl.
Using a candy thermometer/deep frying thermometer helps to ensure correct temperature when frying to give best results.
Nutrition
1 Serving Calories 200 (Calories from Fat 120); Total Fat 13g (Saturated Fat 6g ,Trans Fat 0g); Cholesterol 25mg; Sodium 110mg; Potassium 50mg; Total Carbohydrate 16g (Dietary Fiber 0g ,Sugars 9g); Protein 5g
% Daily Value: Vitamin A 4%; Vitamin C 0%; Calcium 8%; Iron 2%
Exchanges: 1/2 Starch; 1/2 Other Carbohydrate; 2 Fat
Carbohydrate Choice: 1
*Percent Daily Values are based on a 2,000 calorie diet