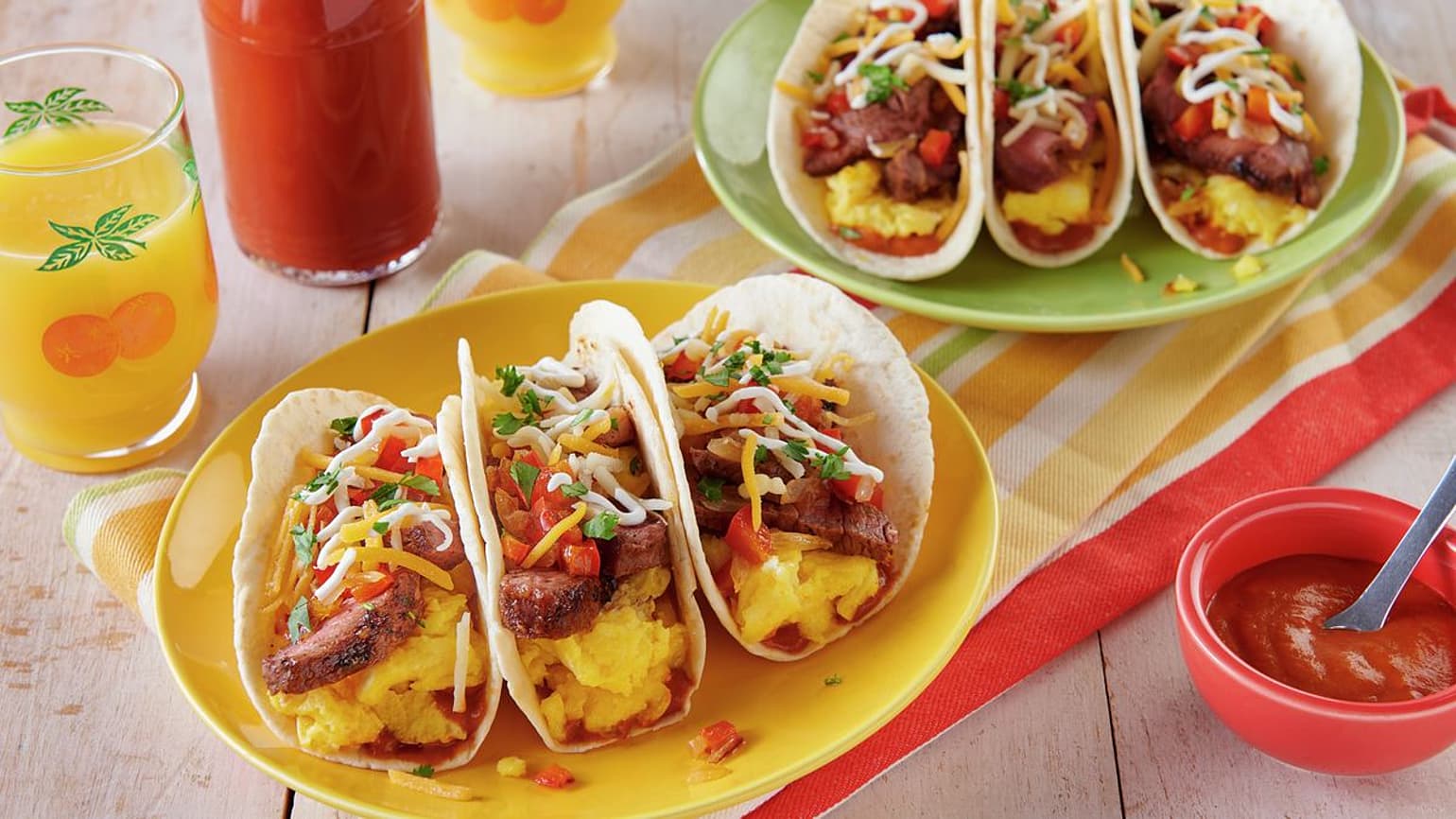 Carne Asada Steak and Egg Breakfast Street Tacos
Tacos for breakfast? Totally! These delicious breakfast street tacos are filled with steak, eggs, veggies and cheese that all cook in the same skillet. Carne asada breakfast tacos are a one-pan meal that's great for breakfast, brunch or even dinner. Make it even easier when you use our Old El Paso™ Carne Asada Steak Street Taco Kits, which include carne asada seasoning mix, tortillas and creamy chipotle sauce. Make your morning delicious with steak and egg breakfast tacos.
Ingredient List
1/4 cup vegetable oil
1 package (11.3 oz) Old El Paso™ Carne Asada Steak Street Taco Kit
1/2 cup diced white onion
1/2 cup diced red bell pepper
2 boneless beef sirloin steaks (about 8 oz each), 1 to 1 1/2 inches thick
4 eggs, beaten
1 cup Old El Paso™ Shredded 4 Cheese Mexican Blend (4 oz)
2 tablespoons chopped fresh cilantro leaves
1/2 cup Old El Paso™ Crema Mexicana
Advertisement
Recipe Continues Below
Preparation
In small bowl, mix 1 tablespoon of the oil and 1 tablespoon of the seasoning mix (from taco kit); set aside.
In 10-inch nonstick skillet, heat 1 tablespoon of the oil over medium heat. Add onion, bell pepper and remaining seasoning mix; cook 4 to 5 minutes, stirring frequently. Transfer mixture to medium bowl; cover and keep warm. Carefully clean out skillet.
Coat steaks in 1 tablespoon of the oil. In same skillet, cook steaks over medium-high heat 4 minutes; turn, reduce heat to medium-low and cook 4 to 7 minutes longer, until meat thermometer inserted in center reads 145°F (medium-rare) or to desired doneness. Remove from heat; transfer steaks to cutting board. Brush steaks on all sides with mixture of oil and seasoning mix; cover with foil, and let stand 5 minutes. Cut steak very thinly across the grain.
Meanwhile, carefully clean out skillet; add remaining 1 tablespoon oil over medium heat. Add eggs; cook 1 to 2 minutes or until eggs are set but still moist, stirring frequently. Remove from heat; stir in cheese.
Heat tortillas (from taco kit) as directed on package. Divide steak among tortillas; top with egg mixture, followed by pepper mixture. Top with cilantro. Serve with creamy chipotle sauce (from taco kit) and crema.
Expert Tips
Cleaning out the skillet in between steps not only prevents burning–it also ensures the prettiest steak and scrambled eggs!
Brushing the cooked steaks with the vegetable oil and seasoning mix is a great way to add flavor to the meat while keeping the pan tidy. Try this technique with other flavorings as well, like chimichurri sauce or a citrus vinaigrette.
Resist the urge to add salt and pepper to the scrambled eggs. There's enough seasoning in the veggies and on the steak to flavor the entire breakfast street taco.
Nutrition
1 Serving (3 Tacos) Calories 720 (Calories from Fat 380); Total Fat 43g (Saturated Fat 17g ,Trans Fat 0g); Cholesterol 295mg; Sodium 1150mg; Potassium 660mg; Total Carbohydrate 41g (Dietary Fiber 2g ,Sugars 6g); Protein 42g
% Daily Value: Vitamin A 20%; Vitamin C 20%; Calcium 35%; Iron 35%
Exchanges: 2 Starch; 1/2 Other Carbohydrate; 1/2 Vegetable; 4 Lean Meat; 1 High-Fat Meat; 4 1/2 Fat
Carbohydrate Choice: 3
*Percent Daily Values are based on a 2,000 calorie diet