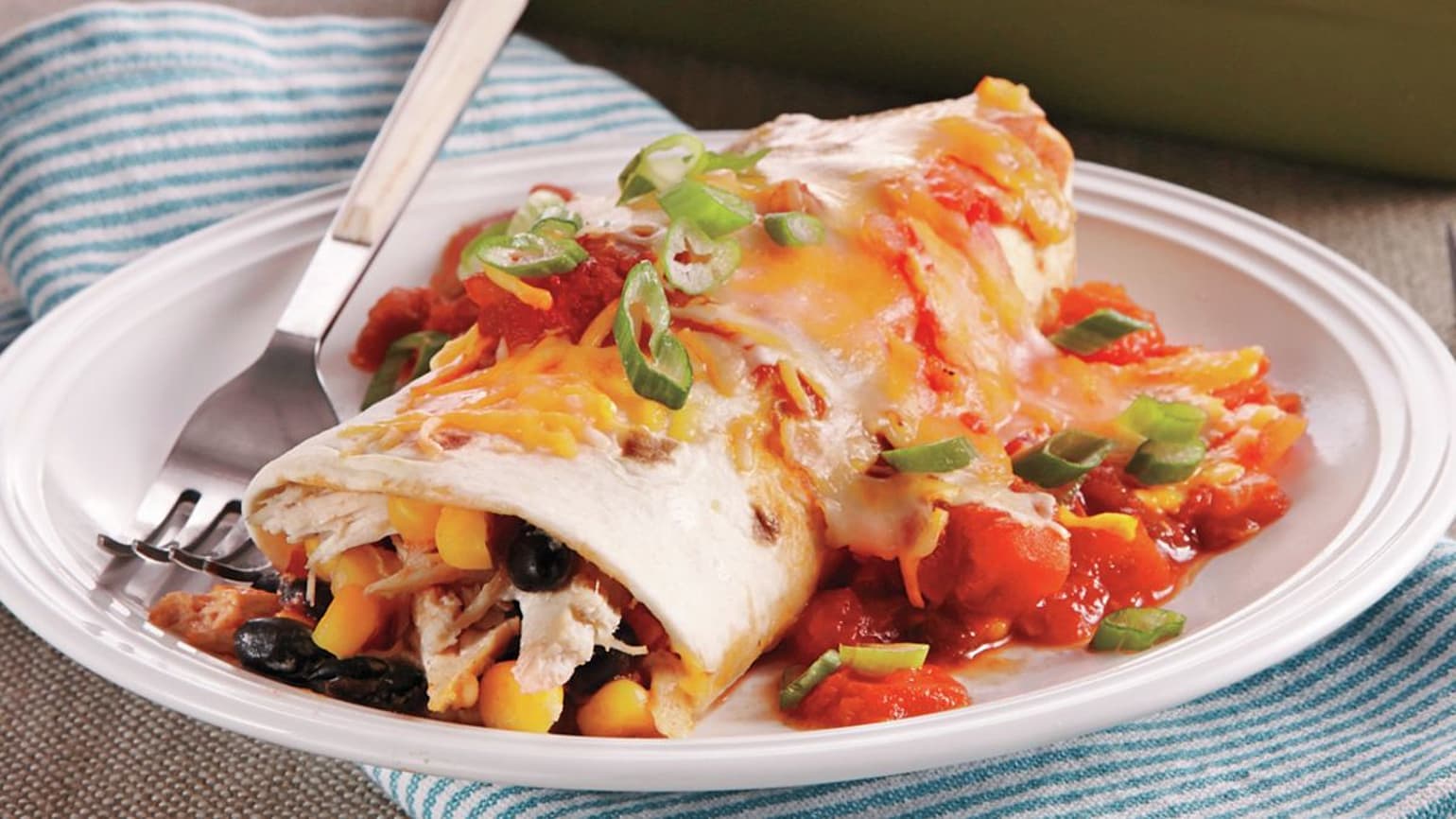 Chicken and Black Bean Burritos
Your family will look forward to this delicious Mexican dinner – chicken and black bean burritos made using whole kernel corn and Old El Paso™ salsa and flour tortillas.
Ingredient List
1 1/2 cups Old El Paso™ Thick 'n Chunky salsa (from 16-oz jar)
3 cups shredded deli rotisserie chicken (from 2-lb chicken)
1 can (15 oz) seasoned black beans, drained, rinsed
1 can (11 oz) whole kernel corn with red and green peppers, drained
3/4 cup sour cream
2 cups shredded Mexican cheese blend (8 oz)
1 package (11.5 oz) Old El Paso™ flour tortillas for burritos (8 tortillas; 8 inch)
Chopped green onions, if desired
Advertisement
Recipe Continues Below
Preparation
Heat oven to 350° F. Spray 13x9-inch (3-quart) glass baking dish with cooking spray. Pour 1/2 cup of the salsa in baking dish.
In large bowl, stir together chicken, beans, corn, sour cream and 1 cup of the cheese. Spoon about 2/3 cup filling onto center of each tortilla. Fold bottom third of tortilla over filling; fold in sides toward center, leaving top open. Place burritos, seam sides down, on salsa in baking dish. Spoon remaining 1 cup salsa over filled burritos. Sprinkle with remaining 1 cup cheese.
Bake uncovered 20 minutes or until cheese is browned and melted. Garnish with onions.
Expert Tips
For a spicy version, use medium salsa and pepper Jack cheese.
Nutrition
1 Serving Calories 470 (Calories from Fat nc); Total Fat 19g (Saturated Fat 10g ,Trans Fat ncg); Cholesterol ncmg; Sodium 1250mg; Potassium ncmg; Total Carbohydrate 44g (Dietary Fiber 4g ,Sugars ncg); Protein 30g
% Daily Value: Vitamin A 0%; Vitamin C 0%; Calcium 0%; Iron 0%
Exchanges: 2 1/2 Starch; nc Fruit; nc Other Carbohydrate; nc Skim Milk; nc Milk; nc Vegetable; 2 1/2 Very Lean Meat; nc Lean Meat; 1 High-Fat Meat; 1 1/2 Fat
Carbohydrate Choice: 2 1/2
*Percent Daily Values are based on a 2,000 calorie diet