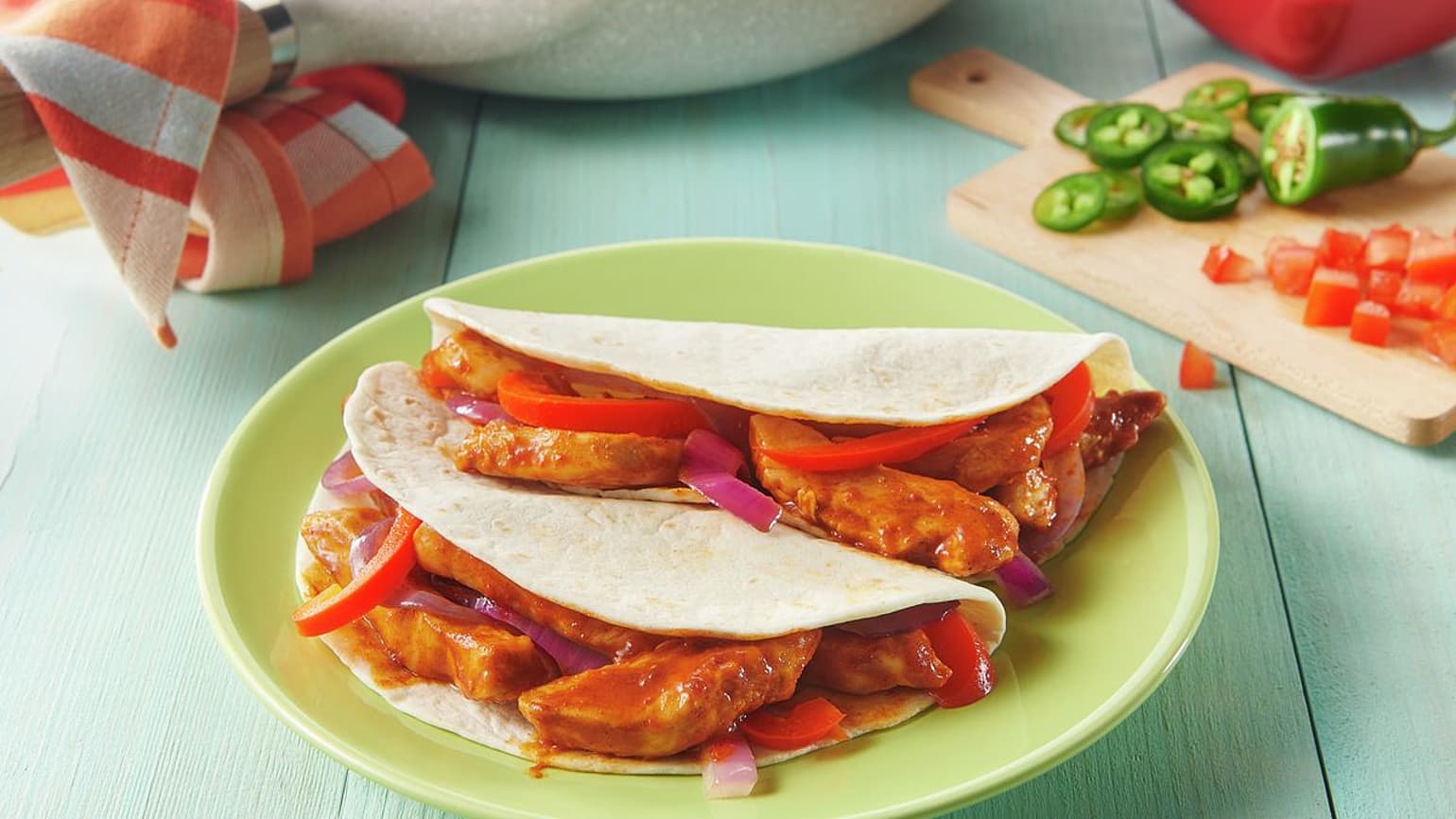 Chicken and Veggie Fajitas
No need to go out for delicious chicken fajitas when you can make this restaurant-inspired version at home. Ready to go big on homemade flavor? These fresh chicken fajitas use seasoned chicken strips, colorful sautéed peppers, sliced red onions and loads of fresh toppings all wrapped in flour tortillas. Chicken and Veggie Fajitas are perfect for picky eaters because they're almost infinitely customizable. Set out your favorite toppings like sliced jalapeños, chopped tomatoes and lime wedges. You'll be serving up a sizzling skillet of flavors in no time.
Ingredient List
2 tablespoons vegetable oil
2 cups thinly sliced red or yellow bell peppers
1 cup thinly sliced red onions
1 lb boneless skinless chicken breasts, cut into 1/2-inch strips
2/3 cup water
1 package (1 oz) Old El Paso™ Original Taco Seasoning Mix
1 package (8.2 oz) Old El Paso™ Flour Tortillas For Soft Tacos & Fajitas (6 inch), heated as directed on package
Make if FRESH toppings, as desired
1 package (7 oz) Old El Paso™ Shredded Mexican Style 4 Cheese Blend
Sliced jalapeño chiles
Chopped tomatoes
Lime wedges
1 bottle (9 oz) Old El Paso™ Creamy Salsa Verde Sauce
1 container (7 oz) Old El Paso™ Crema Mexicana
Guacamole
Pico de gallo salsa
Advertisement
Recipe Continues Below
Preparation
In 12-inch nonstick skillet, heat 1 tablespoon oil over medium-high heat. Add bell peppers and onions. Cook over medium heat 5 to 7 minutes, stirring occasionally, until vegetables are crisp-tender. Spoon vegetables onto platter; cover to keep warm.
Add remaining 1 tablespoon oil to same skillet over medium-high heat. Add chicken; cook 5 to 6 minutes, stirring occasionally, until no longer pink in center. Stir in water and taco seasoning mix; heat to boiling. Reduce heat; simmer 2 to 3 minutes or until thickened. Add to platter with vegetables.
To serve, fill tortillas with warmed chicken, bell pepper mixture and your favorite toppings.
Expert Tips
For best results, pat chicken slices dry before adding to a hot skillet.
Try Old El Paso™ Shredded 3 Pepper Cheese Blend to replace Old El Paso™ Shredded Mexican Style 4 Cheese Blend for a little extra heat for your chicken fajitas.
Short on time? Use 3 cups frozen pepper and onion stir-fry blend to replace fresh bell peppers and onions. Cook according to package directions; add to platter, and cover to keep warm. Continue with recipe.
Fajitas are almost infinitely customizable, so set out your favorite toppings so people can make their own perfect fajita combos.
The word "fajita" is the diminutive form of the Spanish "faja," which means "strip" or "belt." So "fajitas" literally means "little strips."
Nutrition
2 Fajitas Calories 340 (Calories from Fat 120); Total Fat 13g (Saturated Fat 4g ,Trans Fat 0g); Cholesterol 55mg; Sodium 680mg; Potassium 260mg; Total Carbohydrate 32g (Dietary Fiber 2g ,Sugars 2g); Protein 24g
% Daily Value: Vitamin A 4%; Vitamin C 25%; Calcium 6%; Iron 15%
Exchanges: 2 Starch; 1/2 Vegetable; 2 1/2 Very Lean Meat; 2 Fat
Carbohydrate Choice: 2
*Percent Daily Values are based on a 2,000 calorie diet