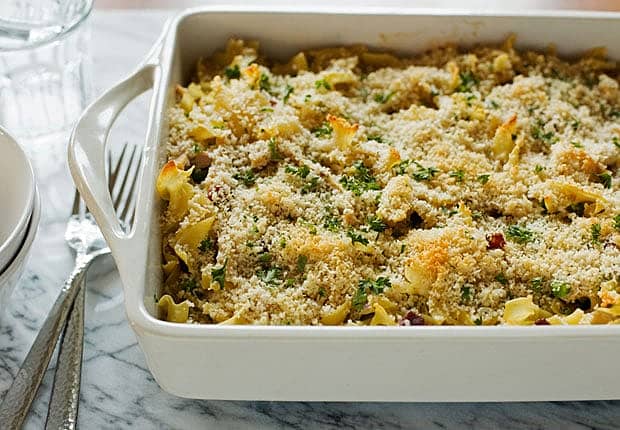 Chicken-Bacon-Ranch Pasta Bake
We heard your feedback and went back to the drawing board to double the sauciness of this recipe. Loaded with bacon and ranch seasoning, this chicken noodle casserole will be a family favorite!
15 Minutes Prep
40 Minutes Total
Ingredient List
12 oz uncooked egg noodles
2 teaspoons oil
1/2 cup diced onion
2 1/2 cups Progresso™ chicken broth (from 32-oz carton)
6 oz cream cheese, softened
3 tablespoons ranch dressing and seasoning mix (from 1-oz package)
2 cups shredded deli rotisserie chicken
5 slices bacon, crisply cooked and crumbled
1 1/2 cups frozen sweet peas
1 tablespoon unsalted butter, melted
1 cup Progresso™ panko crispy bread crumbs
Chopped fresh parsley for garnish, if desired
Advertisement
Recipe Continues Below
Preparation
Heat oven to 375°F. Lightly grease 13x9-inch (3-quart) baking dish.
Cook noodles in salted water as directed on package for minimum cook time. Drain; place noodles in large bowl.
Meanwhile, in 10-inch skillet, heat oil until hot. Cook onion in oil until soft and translucent. Season lightly with salt. Add chicken broth; heat to simmering. Stir in cream cheese until melted and combined. Stir in 2 tablespoons plus 2 teaspoons of the ranch dressing mix. Pour mixture over noodles. Fold in chicken, bacon and frozen peas. Spread in baking dish.
In small bowl, mix melted butter, bread crumbs and remaining 1 teaspoon ranch dressing mix until well coated. Spread over noodle mixture.
Bake about 20 minutes or until top is crisp and sauce is bubbling. Let stand 5 minutes before serving.
Expert Tips
This dish is made easy using deli rotisserie chicken.
Instead of cooking the bacon slices and crumbling, just chop the bacon and cook in a skillet for ready-made crumbles..
Made With