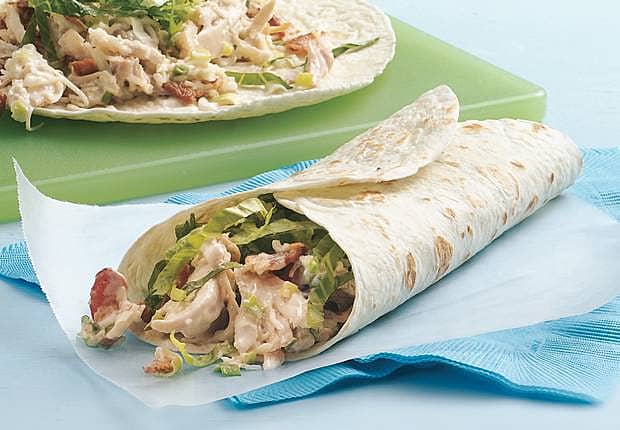 Chicken Bacon Ranch Wraps
Whether you're looking for a new weekday lunchbox idea or an easy picnic recipe, a Chicken Bacon Ranch Wrap will satisfy your family. You can make and refrigerate your Chicken Bacon Ranch Wrap filling up to 3 days in advance for easy prep. Speaking of prep, this creamy and savory chicken bacon ranch tortilla wrap recipe is ready in just 15 minutes from start to finish! Use Old El Paso™ Flour Tortillas, deli rotisserie chicken, bottled ranch dressing, chopped green onions, lettuce, shredded cheese and chopped bacon. Serve hot or cold for a year-round recipe that's a snap to prepare and enjoy.
15 Minutes Prep
15 Minutes Total
Ingredient List
3 cups coarsely shredded deli rotisserie chicken (from 2 to 2 1/2-lb chicken)
1 cup shredded Monterey Jack cheese (4 oz)
8 slices cooked bacon, chopped (about 1/2 cup)
1/4 cup chopped green onions (4 medium)
1 cup ranch dressing
1 package (11 oz) Old El Paso™ flour tortillas for burritos, 8 inch (8 tortillas)
4 cups shredded romaine lettuce
Advertisement
Recipe Continues Below
Preparation
In large bowl, gently mix all ingredients except tortillas and lettuce. Cover; refrigerate up to 3 days.
To make 1 wrap, in small microwavable bowl, microwave generous 1/3 cup chicken mixture, loosely covered, on High 30 to 45 seconds or until hot. Spread chicken mixture on tortilla and top with 1/2 cup shredded lettuce; roll up.
Expert Tips
Chicken wraps with ranch and bacon can also be served cold. For a change of flavor, try cheddar cheese and iceberg lettuce instead of the Monterey Jack and romaine for your Chicken Bacon Ranch Wrap.
For extra flavor, use blue cheese dressing instead of ranch.
For a little heat in your chicken wrap with ranch and bacon, serve with hot sauce or use shredded Pepper Jack cheese instead of regular Monterey Jack.
Nutrition
Calories470(Calories from Fat280),Total Fat31g(Saturated Fat8g,Trans Fat0g),Cholesterol75mgSodium880mgTotal Carbohydrate24g(Dietary Fiber0g Sugars2g),Protein24g;% Daily Value*:Vitamin A15%;Vitamin C6%;Calcium20%;Iron15%; Exchanges:1 1/2 Starch; 0 Fruit; 0 Other Carbohydrate; 0 Skim Milk; 0 Low-Fat Milk; 0 Milk; 0 Vegetable; 0 Very Lean Meat; 3 Lean Meat; 0 High-Fat Meat; 4 Fat; Carbohydrate Choices:1 1/2 *Percent Daily Values are based on a 2,000 calorie diet.
Made With