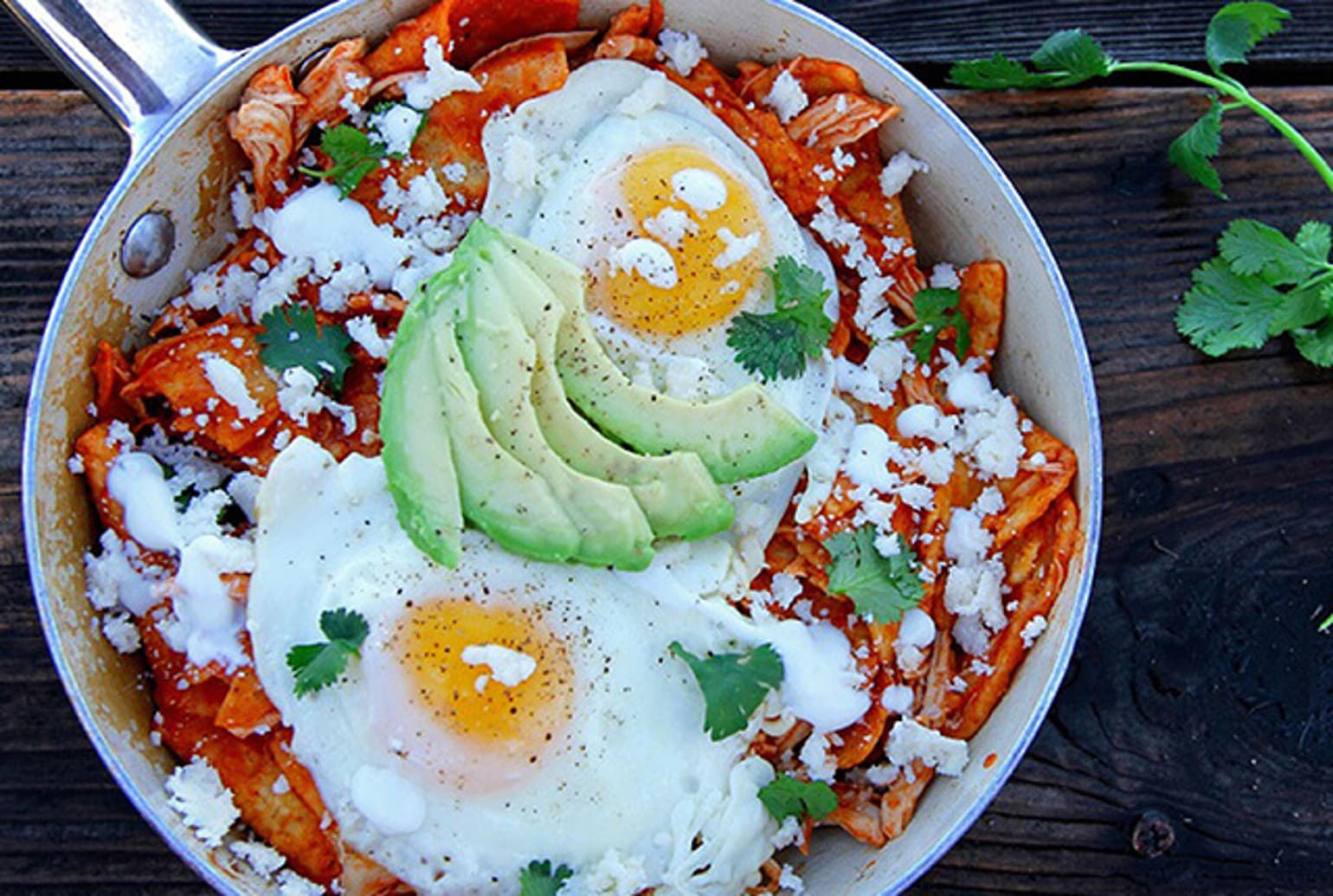 Chicken Chilaquiles with Fried Egg
Ingredient List
1 can (19 oz) Old El Paso™ Enchilada Sauce Red
1 package (6.6 oz) Old El Paso™ taco shells golden extra large
8 oz cooked chicken, shredded
2 tablespoons olive oil
4 eggs
Salt and pepper, to taste
2-3 cilantro sprigs, washed
2 oz cotija cheese, crumbled
1 ripe avocado, sliced
Sour cream, to taste (optional)
Advertisement
Recipe Continues Below
Preparation
In a large frying pan, warm up the salsa for 2-3 minutes.
Open the package of golden tacos and break them into pieces or medium-sized triangles, about 10-12 pieces per taco.
Add pieces of taco to salsa and mix them in. Add chicken, mix well and let cook for 4-5 minutes, stirring every once in a while.
Meanwhile, heat the oil in a nonstick frying pan and fry the eggs. Season with salt and pepper to taste.
Plate the chilaquiles, top with fried egg and garnish with cilantro, cotija cheese, avocado and sour cream. Serve and enjoy.
Expert Tips
You can also make scrambled eggs and mix them in with the chilaquiles or serve them on top.
You may think otherwise, but chilaquiles are actually quite easy to make, especially if you have premade salsa.
You can make them with red salsa, green salsa, mole, with or without meat, and with or without eggs. In my house, our favorite chilaquiles are made with chicken, red salsa and fried eggs.
Chilaquiles are basically golden tortillas soaked in salsa and covered in cheese, crema and meat or eggs, depending on your taste. They make a great breakfast or lunch and they are very filling. Serve them with refried beans and avocado.
Enjoy!
Nutrition
1 Serving
Calories nc
(Calories from Fat nc);
Total Fat nc
(Saturated Fat nc,
Trans Fat nc);
Cholesterol nc;
Sodium nc;
Total Carbohydrate nc
(Dietary Fiber nc,
Sugars nc);
Protein nc
% Daily Value:
Vitamin A nc;
Vitamin C nc;
Calcium nc;
Iron nc;