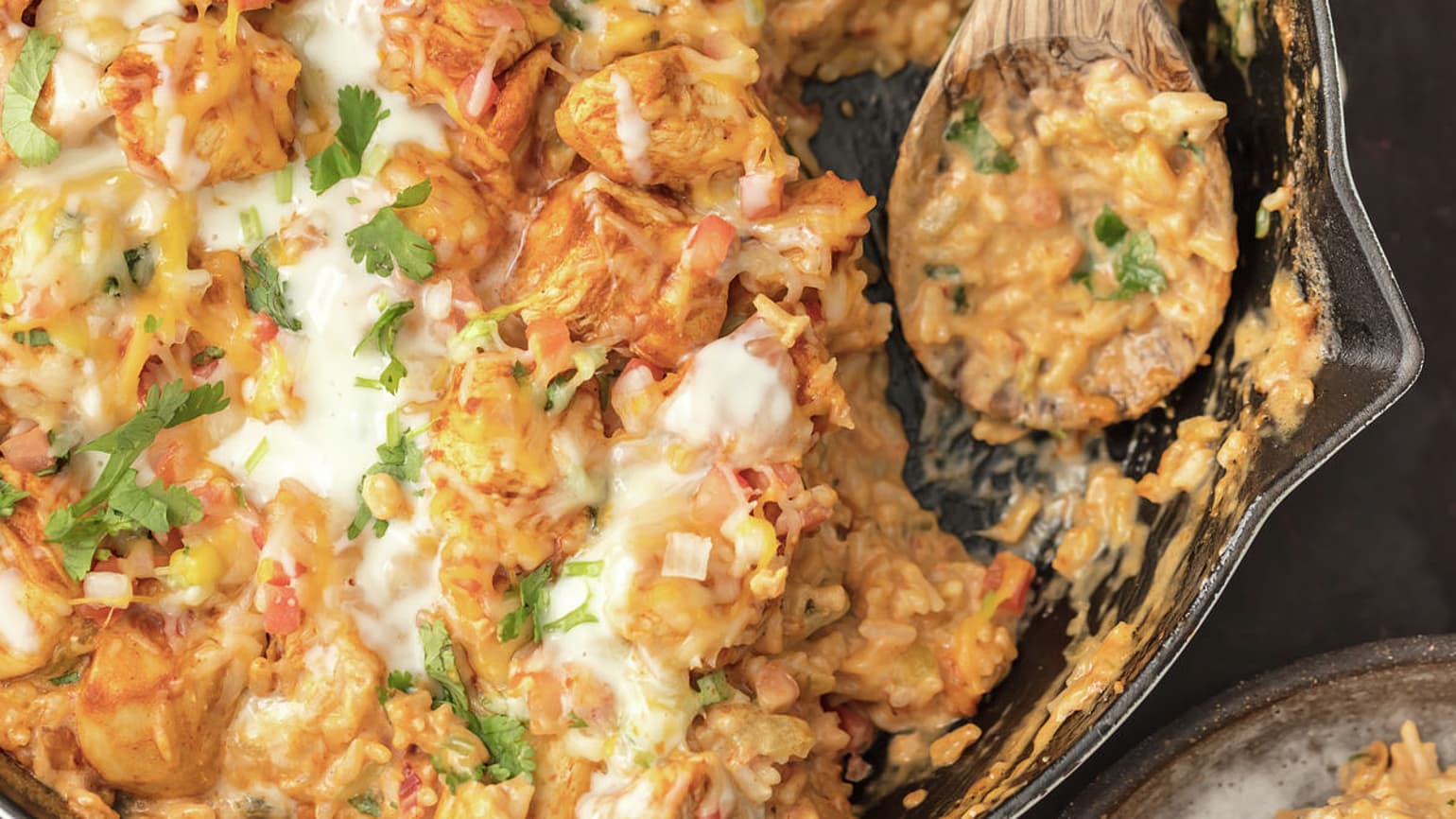 Chicken Con Queso
This Chicken Con Queso is loaded with taco-spiced chicken, white rice, queso, pico de gallo, salsa and so much more. It's a Mexican food lover's dream! Even better, our Chicken Con Queso recipe is virtually foolproof and ultra delicious—meaning you'll be crowned queen or king of the kitchen in no time.
Ingredient List
1 tablespoon olive oil
3 large boneless skinless chicken breasts, cut into cubes
1 packet Old El Paso™ Taco seasoning mix
1 1/2 tablespoons water
1 cup half and half or heavy cream
2 cups instant white rice
1 cup premade queso blanco (white queso from the store) (I really like Gordo's brand), melted
1 cup restaurant style salsa (thin salsa)
1/4 cup chopped fresh cilantro, plus more for garnish
1 can (4.5 oz) Old El Paso™ Chopped Green Chiles
1/2 cup pico de gallo or chopped tomatoes
1 cup Mexican blend cheese
Advertisement
Recipe Continues Below
Preparation
Heat the chicken cubes and olive oil in a large skillet over medium/high heat.
Sprinkle chicken with the taco seasoning, turning to make sure both sides are coated. Add in the 1 1/2 tablespoons water to assist with coating all the chicken.
Turn the chicken as you cook, about 6-8 minutes until the chicken is just cooked through.
Place chicken on a plate and cover in foil to retain heat. Set aside.
In the same skillet, add the heavy cream and white rice. Stir to combine. Add in the melted queso and salsa. Stir to fully combine. Bring to a boil, then cover and reduce heat to simmer for 5 minutes or until the rice is fully cooked and fluffy.
Stir in cilantro, green chiles, and pico de gallo into the rice mixture. Add the chicken back to skillet and nestle into the rice.
Cover with the 1 cup cheese. Place skillet under the broiler for approximately 3-5 minutes or until the cheese is fully melted on top.
Garnish with more cilantro if desired.
Expert Tips
Pico de gallo is a fresh salsa typically made with chopped tomatoes, red onion, jalapeños, cilantro and lime juice. Look for it premade in the produce section of most grocery stores.
Looking for a Mexican-blend cheese for this pollo con queso recipe? Consider using Old El Paso™ Shredded Mexican Style 4 Cheese Blend.
Instant rice is rice that has been precooked and dried, allowing it to cook completely in less than half the time of regular rice.
Nutrition
*Percent Daily Values are based on a 2,000 calorie diet