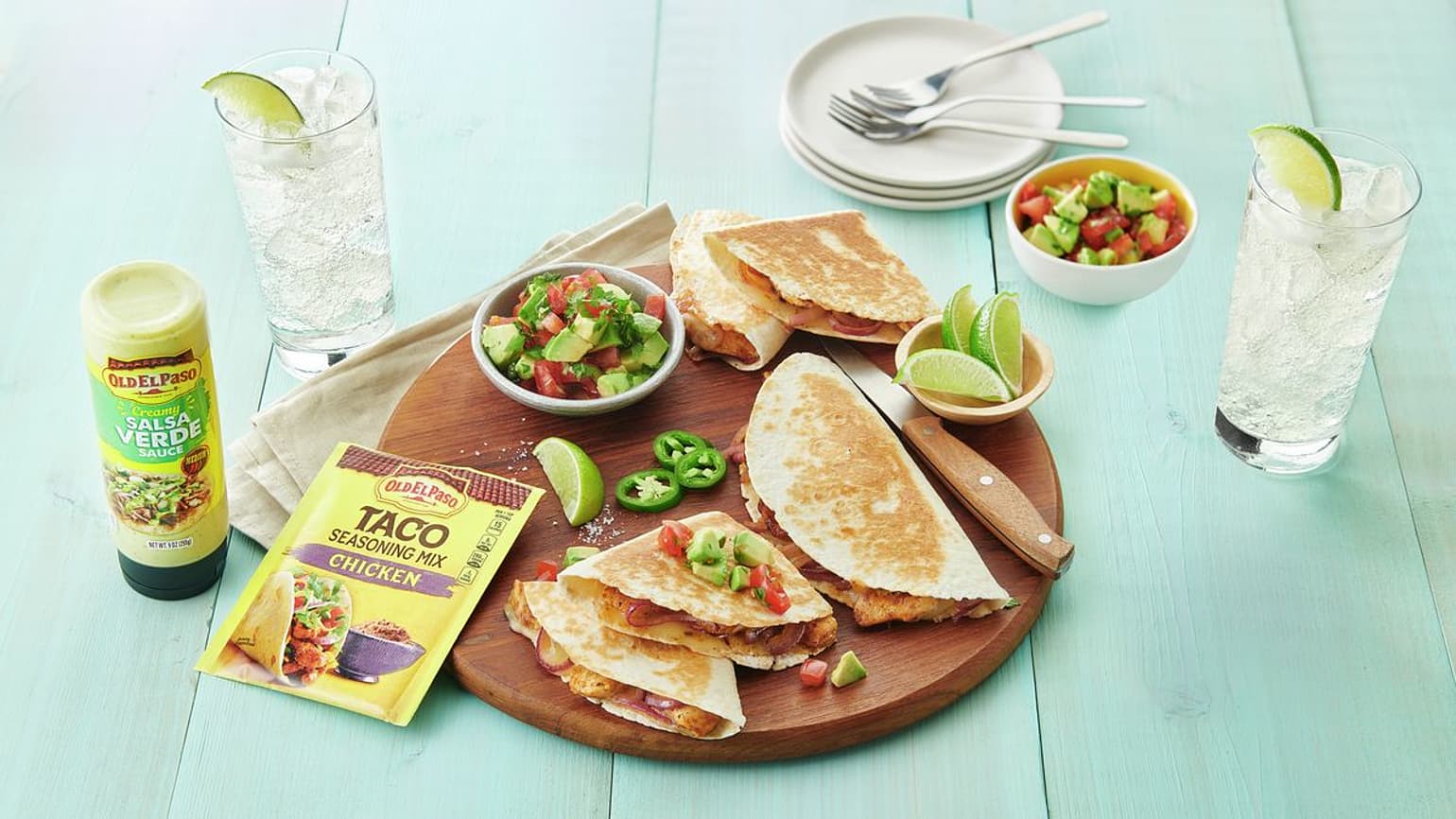 Chicken Quesadillas with Avocado Salsa
Gooey, cheesy goodness, along with a hearty mixture of sautéed chicken and onions, are packed inside a golden brown, crispy quesadilla, topped with a chunky, fresh avocado salsa.
Ingredient List
Salsa
2 medium ripe avocados, peeled, pitted and cut into 1/2-inch cubes
1 medium tomato, cut into 1/2-inch cubes
1/4 cup chopped fresh cilantro
1 medium jalapeño chile, seeded and finely chopped
1 tablespoon fresh lime juice
1/2 teaspoon salt
Quesadillas
3 tablespoons vegetable oil
3 boneless skinless chicken breasts (about 1 lb), cut into 1/4-inch slices
1 medium red onion, thinly sliced
1 package (0.85 oz) Old El Paso™ chicken taco seasoning mix
1/3 cup water
1 package (11 oz) Old El Paso™ Flour Tortillas for Burritos (8 Count)
1 1 package (7 oz) Old El Paso™ Shredded Quesadilla Cheese
Advertisement
Recipe Continues Below
Preparation
In medium bowl, place avocados, tomato, cilantro, jalapeño chile, lime juice and salt. Stir gently to combine. Cover and refrigerate until ready to use.
In 12-inch skillet, heat 1 tablespoon of the oil over medium heat. Add chicken and onion; cook and stir 3 to 5 minutes or until chicken is no longer pink in center. Add taco seasoning mix and water. Cook and stir 3 to 4 minutes or until thickened. Transfer to bowl. Carefully wipe skillet clean with paper towels.
Brush one side of each tortilla lightly with remaining 2 tablespoons oil. Place tortillas on work surface, oil side down. On half of each tortilla, layer slightly less than 1/4 cup of the cheese and slightly less than 1/2 cup of the chicken mixture. Fold tortillas in half.
Heat same skillet over medium heat. Place 2 quesadillas in skillet; cook about 1 minute or until golden brown. Carefully turn quesadilla; cook 1 to 2 minutes longer or until golden brown. Repeat with remaining quesadillas. Cut each quesadilla in half. Top with avocado salsa.
Expert Tips
Old El Paso™ creamy salsa verde sauce makes a nice, slightly spicy garnish for the quesadillas.
If you'd like your avocado salsa spicy, just substitute serrano chile for the jalapeño in this recipe. If you like it even spicier, don't seed the chile before chopping.
Nutrition
1 Serving Calories 410 (Calories from Fat 210); Total Fat 23g (Saturated Fat 8g ,Trans Fat 0g); Cholesterol 55mg; Sodium 780mg; Potassium 360mg; Total Carbohydrate 29g (Dietary Fiber 3g ,Sugars 2g); Protein 22g
% Daily Value: Vitamin A 4%; Vitamin C 8%; Calcium 20%; Iron 15%
Exchanges: 1 Starch; 1/2 Fruit; 1/2 Other Carbohydrate; 1 1/2 Lean Meat; 1 High-Fat Meat; 2 Fat
Carbohydrate Choice: 2
*Percent Daily Values are based on a 2,000 calorie diet