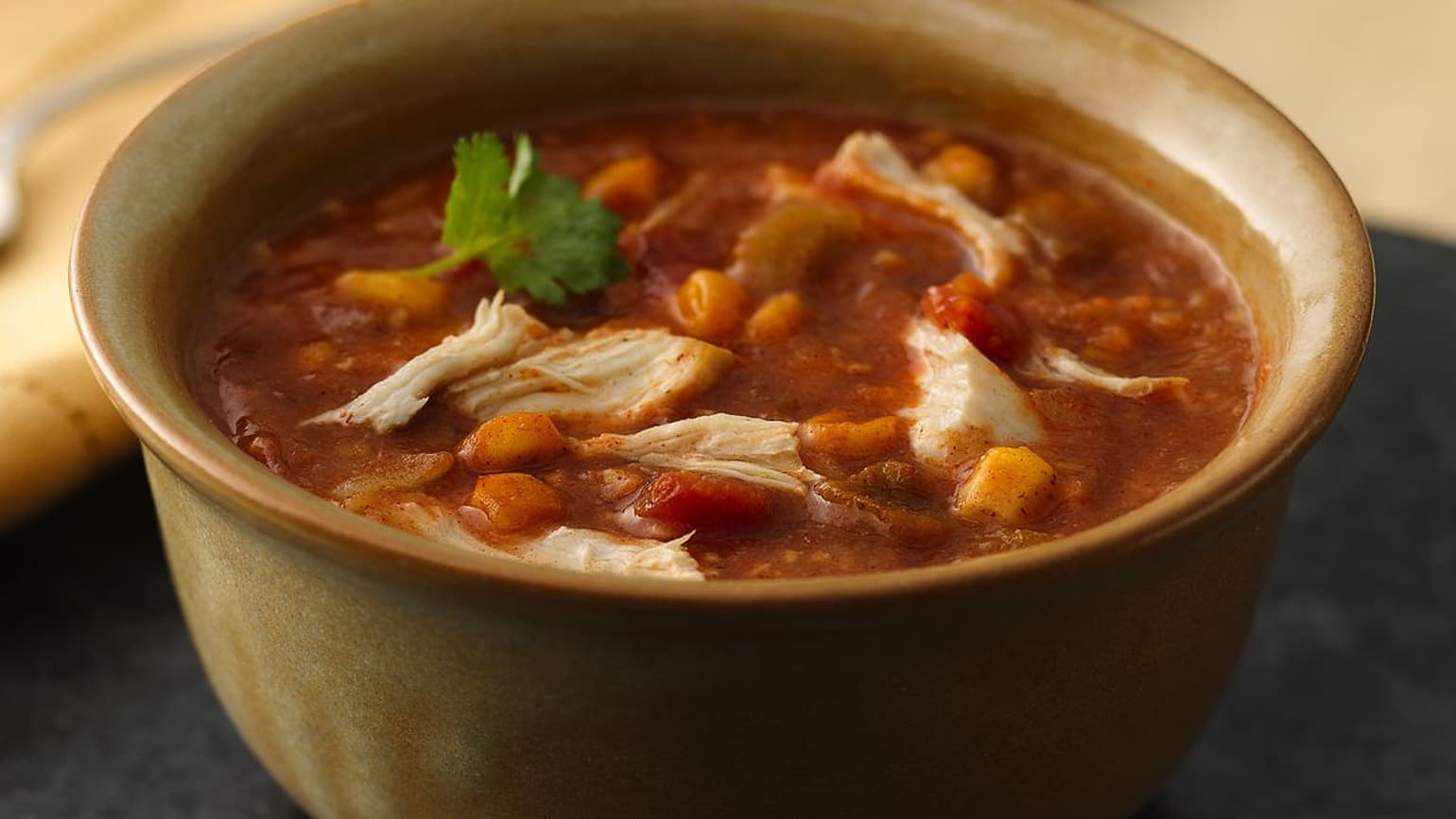 Chicken Tortilla Soup
Get ready to add a new recipe to your list of favorite soups. This satisfying Chicken Tortilla Soup is the perfect comfort food—it's loaded with chicken and flavorful spices and finished off with crunchy tortilla strips and plenty of fresh toppings. We love this particular Chicken Tortilla Soup recipe because prep is quick, and the use of a slow cooker means your chicken should come out mouthwateringly moist and pull-apart tender. Gather your Chicken Tortilla Soup ingredients, and get cooking!
Total Time
5 Hours
20 Minutes
Ingredient List
Soup
1 lb boneless skinless chicken breasts
2 1/2 cups Progresso™ Reduced-Sodium Chicken Broth (from 32-oz carton)
1 can (14.5 oz) petite diced tomatoes, undrained
1 can (10 oz) Old El Paso™ Mild Red Enchilada Sauce
1 can (4.5 oz) Old El Paso™ Chopped Green Chiles
1/2 cup frozen corn
1/2 cup finely chopped onion
2 teaspoons finely chopped garlic
1 1/2 teaspoons chili powder
1/2 teaspoon salt
Tortilla Strips
1 teaspoon vegetable oil
3 Old El Paso™ Flour Tortillas For Burritos (8 inch; from 11-oz package)
Make it FRESH toppings, as desired
1 package (7 oz) Old El Paso™ Shredded 3 Pepper Blend Cheese
Sliced jalapeño chiles
1 container (7 oz) Old El Paso™ Crema Mexicana
Chopped fresh cilantro leaves
Lime wedges
Advertisement
Recipe Continues Below
Preparation
Spray 4- to 5-quart slow cooker with cooking spray. Place chicken in slow cooker. Add remaining Soup ingredients to slow cooker; stir.
Cover; cook on Low heat setting 5 to 6 hours or until chicken is tender.
Meanwhile, heat oven to 350°F.
Brush 1 teaspoon vegetable oil over both sides of tortillas. Cut tortilla in half, then cut each half crosswise into 1/2-inch strips. Place single layer on ungreased large cookie sheet. Bake 10 to 12 minutes or until crisp and golden brown. Set aside.
Transfer chicken to cutting board; shred with two forks. Return to slow cooker, and stir.
To serve, ladle soup into bowls. Top each serving with Tortilla Strips and Toppings, as desired.
Expert Tips
Try replacing Old El Paso™ Shredded 3 Pepper Cheese Blend with Old El Paso™ Shredded Mexican 4 Cheese Blend to give your homemade Chicken Tortilla Soup a different flavor.
Always keep the slow cooker covered for the specified cooking time. Each time the lid is removed, it allows heat to escape, adding 15 to 20 minutes to the cooking time for this Mexican chicken soup.
Wear gloves when handling jalapeño, or any other type of chile pepper, and remember not to touch your face or eyes. The seeds and membrane of the chiles can cause burns. Always wash your hands thoroughly after handling peppers.
Nutrition
About 1 1/3 Cups Calories 220 (Calories from Fat 50); Total Fat 5g (Saturated Fat 2g ,Trans Fat 0g); Cholesterol 45mg; Sodium 990mg; Potassium 340mg; Total Carbohydrate 22g (Dietary Fiber 1g ,Sugars 4g); Protein 20g
% Daily Value: Vitamin A 4%; Vitamin C 0%; Calcium 6%; Iron 10%
Exchanges: 1 Starch; 1/2 Other Carbohydrate; 2 1/2 Very Lean Meat; 1/2 Fat
Carbohydrate Choice: 1 1/2
*Percent Daily Values are based on a 2,000 calorie diet