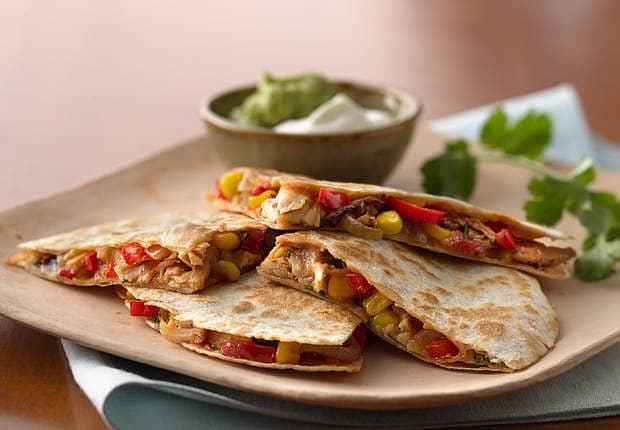 Chipotle Chicken Quesadillas
This Chipotle Chicken Quesadilla recipe serves up some ridiculous flavor for your shredded cooked chicken. Finely chopped chipotle chiles in adobo sauce bring tons of smoky, spicy goodness to this dish. Simmer the chicken and spices, then layer it all into your tortilla with buttery, easy to melt Old El Paso™ Shredded Monterey Jack Cheese. Bring the heat with your choice of salsa to make these quesadillas a new family favorite at the table.
35 Minutes Prep
35 Minutes Total
Ingredient List
3 tablespoons olive oil
1/2 red bell pepper, cut into thin strips
1/2 large onion, thinly sliced
1/2 cup frozen corn
1 1/2 cups shredded cooked chicken
1 cup shredded Monterey Jack cheese (2 oz)
1 tablespoon finely chopped chipotle chile in adobo sauce (from 7-oz can)
2 tablespoons chopped cilantro
6 (8-inch) Old El Paso™ flour tortillas
6 tablespoons Old El Paso™ Salsa
Advertisement
Recipe Continues Below
Preparation
In 10-inch nonstick skillet, heat 1 tablespoon of the oil over medium-high heat. Add bell pepper, onion and corn; cook, stirring occasionally, 4 to 5 minutes or until bell pepper and onion is softened. Remove from heat; stir in chicken, cheese, chipotle chile and cilantro.
Brush one side of each tortilla with remaining 2 tablespoons oil. With oiled side down, spread 2 tablespoons salsa onto each of 3 tortillas. Spread about 1 cup of chicken mixture on each tortilla over salsa. Top each with remaining tortillas, oiled side up.
Heat 10-inch nonstick skillet over medium heat. Cook 1 quesadilla at a time 1 to 2 minutes on each side or until tortilla is golden brown and cheese is melted. Cut each quesadilla in half.
Expert Tips
The rotisserie chicken sold at almost any grocery store is perfect for this recipe.
Chipotle chiles are smoked, dried jalapeños. They are often sold canned in a vinegary tomato sauce called "adobo." They can be quite hot, so feel free to adjust the amount used to suite your taste. The one tablespoon of chiles in this recipe gives a medium-hot result.
Nutrition
Calories650(Calories from Fat290),Total Fat32g(Saturated Fat9g,Trans Fat1 1/2g),Cholesterol75mgSodium1250mgTotal Carbohydrate58g(Dietary Fiber4g Sugars6g),Protein33g;% Daily Value*:Vitamin A20%;Vitamin C50%;Calcium30%;Iron25%; Exchanges:3 1/2 Starch; 0 Fruit; 0 Other Carbohydrate; 0 Skim Milk; 0 Low-Fat Milk; 0 Milk; 1 Vegetable; 0 Very Lean Meat; 3 Lean Meat; 0 High-Fat Meat; 4 Fat; Carbohydrate Choices:4
*Percent Daily Values are based on a 2,000 calorie diet.