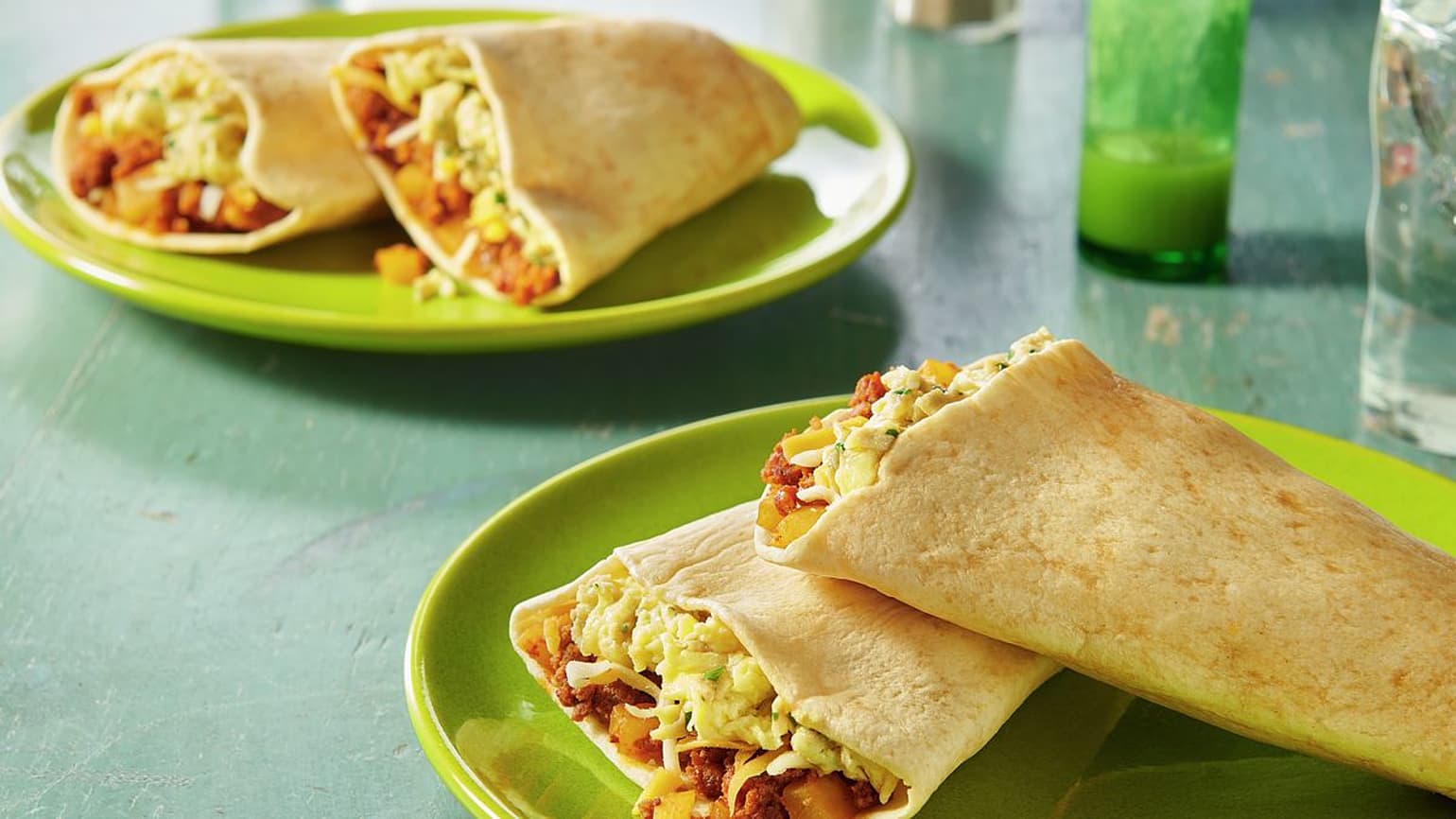 Chorizo, Potato and Egg Tortilla Pockets
Break out of your breakfast rut with a tasty tortilla pocket filled with a flavorful combination of Mexican chorizo sausage, potatoes, scrambled eggs and cheese. This crave-worthy recipe is done in 40 minutes, and then you can be out the door with a warm, easy-to-eat meal in hand. Or you can stick around for seconds—they're just that good!
Ingredient List
8 oz bulk chorizo sausage
1/2 cup chopped onion
2 cloves garlic, finely chopped
1/2 teaspoon salt
1 1/2 cups peeled and cubed (1/2-inch) Yukon Gold potato (about 8 oz)
3/4 cup water
6 eggs, beaten
1/4 cup milk
2 tablespoons chopped fresh cilantro leaves
1 tablespoon butter
1 package (8.4 oz) Old El Paso™ Tortilla Pockets™ (8 Count), heated as directed on package
2/3 cup from 1 package (7 oz) Old El Paso™ Shredded Mexican Style 4 Cheese Blend
Advertisement
Recipe Continues Below
Preparation
In 10-inch nonstick skillet, cook chorizo, onion, garlic and 1/4 teaspoon of the salt over medium heat 7 to 9 minutes, stirring occasionally, until brown. Add potatoes and water; heat to boiling. Reduce heat to medium-low, and cook uncovered 10 to 12 minutes, stirring occasionally, until potatoes are tender and water has evaporated. Transfer to bowl; cover with foil.
Carefully wipe out skillet with paper towels. In medium bowl, mix eggs, milk, cilantro and remaining 1/4 teaspoon salt. Beat slightly with fork or whisk until well blended.
In same skillet, heat butter over medium heat just until it begins to sizzle and look hot. Add egg mixture. Cook 3 to 4 minutes, stirring frequently, until eggs are thickened throughout but still moist and creamy.
Stuff tortilla pockets with chorizo mixture, cheese and scrambled eggs.
Expert Tips
When purchasing chorizo for this recipe, make sure to get the uncooked Mexican variety, as opposed to the cured Spanish variety.
If you want to add a little extra heat to your breakfast tortilla pocket, try substituting Old El Paso™ Shredded 3 Pepper Cheese Blend for the Old El Paso™ Shredded Mexican Style 4 Cheese Blend.
Before buying eggs, open the carton and check that the eggs are clean and uncracked. Gently move each egg to be sure it hasn't cracked and stuck to the carton. If an egg cracks on the way home, throw it away.
In our experience, 1 large Yukon Gold potato typically weighs about 8 ounces.
Nutrition
2 Pockets Calories 650 (Calories from Fat 330); Total Fat 37g (Saturated Fat 16g ,Trans Fat 0g); Cholesterol 345mg; Sodium 1340mg; Potassium 640mg; Total Carbohydrate 52g (Dietary Fiber 1g ,Sugars 6g); Protein 28g
% Daily Value: Vitamin A 10%; Vitamin C 6%; Calcium 25%; Iron 25%
Exchanges: 2 Starch; 1 1/2 Other Carbohydrate; 1 1/2 High-Fat Meat; 3 1/2 Fat
Carbohydrate Choice: 3 1/2
*Percent Daily Values are based on a 2,000 calorie diet