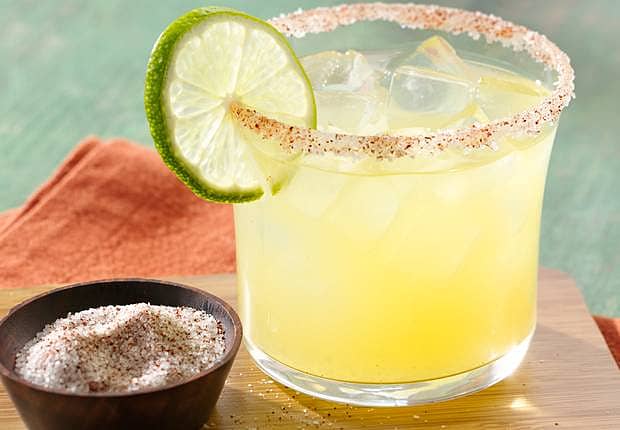 Citrus Margarita with Smoky Chile Salt Recipe
Triple citrus (orange, lemon, lime) margarita with a smoky chile salt rim. Chile salt is hand mixed with fine sea salt, ancho and chipotle chile powders. By Betty Crocker Kitchens
10 Minutes Prep
40 Minutes Total
Ingredient List
1 cup sugar
1 cup water
2 tablespoons fine sea salt
1/4 teaspoon ancho chile powder
1/8 teaspoon chipotle chile powder
Lime wedge
3/4 oz Simple Syrup
1 1/2 oz blanco tequila
1/2 oz clear orange-flavored liqueur
1/2 oz fresh lime juice
1/2 oz fresh orange juice
1/4 oz fresh lemon juice
Advertisement
Recipe Continues Below
Preparation
To make Simple Syrup, mix sugar and water in 1-quart saucepan. Heat to boiling over medium-high heat, stirring until sugar is dissolved. Remove from heat; let stand 30 minutes. Transfer to storage container. Cover and refrigerate up to 3 days. Makes 1 1/4 cups.
To make Smoky Chile Salt, mix sea salt, ancho powder and chipotle powder in small bowl until well mixed. Spread mixture on a small plate.
To make margarita, rub outside rim of cocktail glass with lime wedge to moisten; roll in chile salt to coat rim of glass. To cocktail shaker, add 3/4 oz of the simple syrup, the tequila, orange-flavored liqueur, lime juice, orange juice and lemon juice. Fill shaker with ice; cover and shake vigorously. Strain into cocktail glass filled with fresh ice. Garnish as desired.
Nutrition
Calories200(Calories from Fat0),Total Fat0g(Saturated Fat0g,Trans Fat0g),Cholesterol0mgSodium590mgTotal Carbohydrate18g(Dietary Fiber0g Sugars16g),Protein0g;% Daily Value*:Vitamin A4%;Vitamin C30%;Calcium0%;Iron0%; Exchanges:0 Starch; 0 Fruit; 0 Other Carbohydrate; 0 Skim Milk; 0 Low-Fat Milk; 0 Milk; 0 Vegetable; 0 Very Lean Meat; 0 Lean Meat; 0 High-Fat Meat; 0 Fat; Carbohydrate Choices:1
*Percent Daily Values are based on a 2,000 calorie diet.