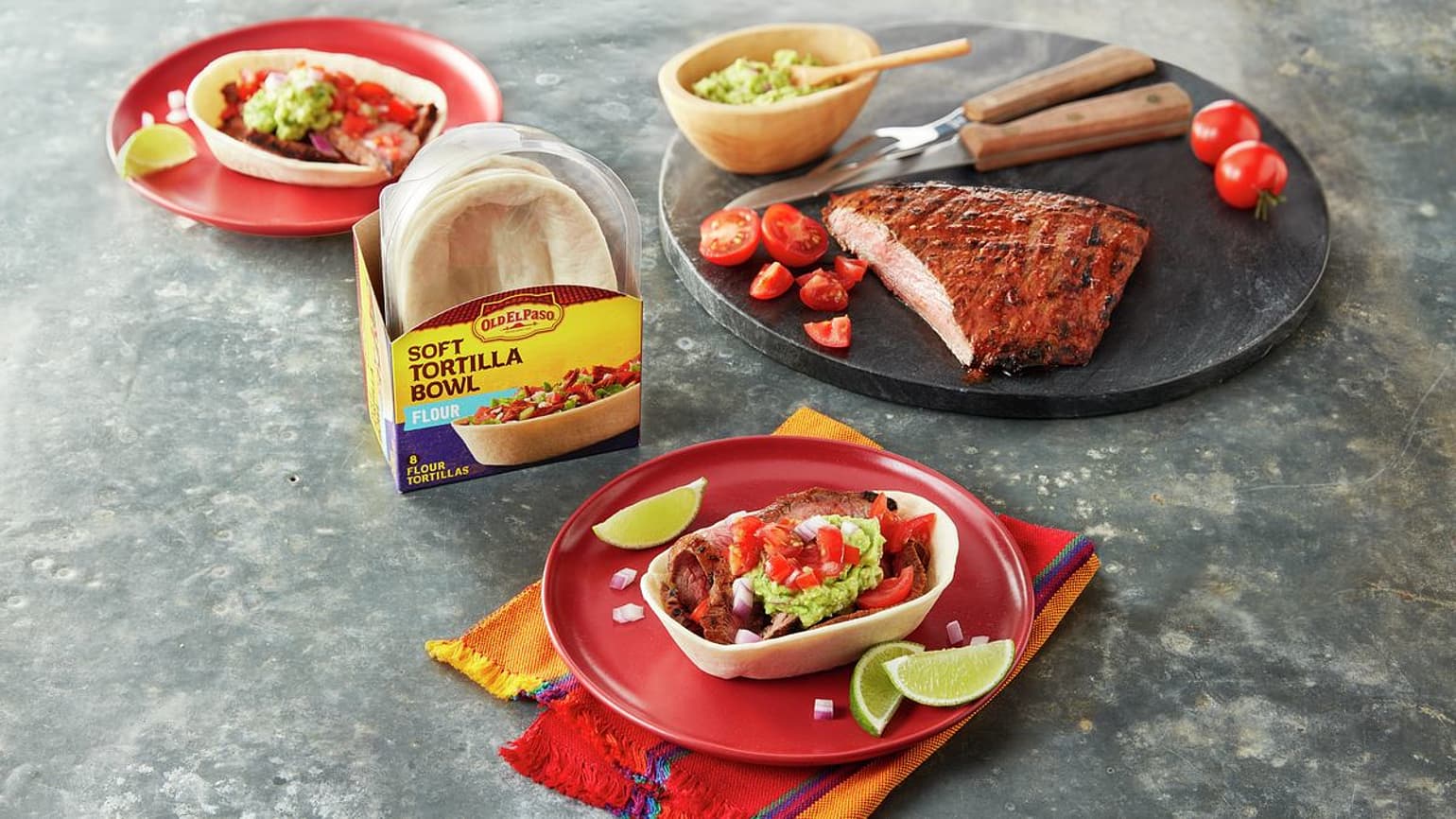 Citrus Marinated Steak Taco Bowls with Guacamole
Orange and lime juice marinated grilled steak, combined with a serrano chile fueled guacamole, gives these tacos a spicy zestiness.
Total Time
1 Hours
35 Minutes
Ingredient List
1 beef flank steak (about 1 1/4 lb)
3 tablespoons orange juice
3 tablespoons fresh lime juice
3 cloves garlic, finely chopped
1 package (1 oz) Old El Paso™ original taco seasoning mix
2 large ripe avocados, pitted and peeled
1 medium serrano chile, seeded, finely chopped
1/2 cup chopped red onion
2 tablespoons finely chopped fresh cilantro
1/2 teaspoon salt
1 package (8 count) Old El Paso™ soft tortilla bowls, heated as directed on package
1/2 cup chopped tomato
Advertisement
Recipe Continues Below
Preparation
Place beef in large, resealable food-storage plastic bag. In small bowl, mix orange juice, 2 tablespoons of the lime juice, the garlic and taco seasoning mix. Pour marinade over beef. Seal bag; refrigerate at least 30 minutes but no longer than 4 hours.
Heat gas or charcoal grill.
Remove steak from marinade; discard marinade. Place steak on grill over medium heat. Cover grill, and cook 11 to 16 minutes, turning once, until beef is of desired doneness (at least 145°F). Let stand 5 minutes. Cut beef across grain, into thin slices.
Meanwhile, to make guacamole, in medium bowl, mash avocados. Add serrano chile, 1/4 cup of the red onion, the cilantro, remaining 1 tablespoon lime juice and the salt; gently stir to combine.
Divide steak among tortilla bowls. Top with guacamole, remaining 1/4 cup red onion and the chopped tomato.
Expert Tips
If you like your guacamole extra spicy, don't seed the chile before chopping.
Lime wedges can be served on the side for an extra squeeze of acidity.
Chopped cilantro would also make a lovely garnish for these taco bowls.
Nutrition
1 Taco Calories 240 (Calories from Fat 90); Total Fat 10g (Saturated Fat 3g ,Trans Fat 0g); Cholesterol 45mg; Sodium 390mg; Potassium 440mg; Total Carbohydrate 17g (Dietary Fiber 3g ,Sugars 0g); Protein 19g
% Daily Value: Vitamin A 4%; Vitamin C 6%; Calcium 4%; Iron 15%
Exchanges: 1/2 Starch; 1/2 Fruit; 2 1/2 Lean Meat; 1/2 Fat
Carbohydrate Choice: 1
*Percent Daily Values are based on a 2,000 calorie diet