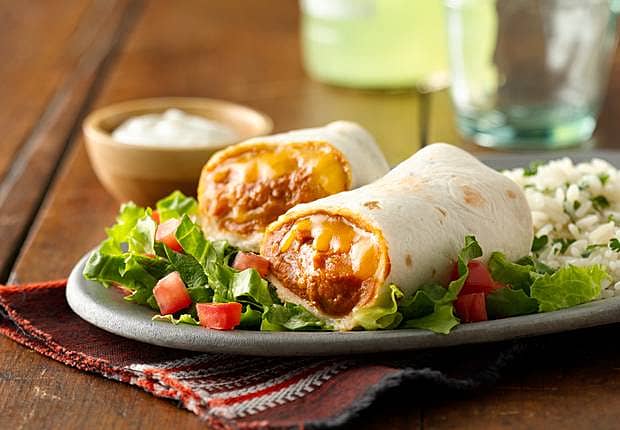 Classic Bean and Cheese Burritos
Go classic with a refried bean and cheese burrito that wraps up dinner with just 10 minutes of prep time. Old El Paso™ Original Taco Seasoning Mix, Old El Paso™ Traditional Mexican Refried Beans and cheddar cheese mix to create a tasty and simple filling in your oven-baked tortilla. These easy bean and cheese burritos make dinner or lunchtime a snap with just 4 ingredients.
10 Minutes Prep
25 Minutes Total
Ingredient List
1 can (16 oz) Old El Paso™ Refried Beans
1 cup shredded Cheddar cheese (4 oz)
1 package (1 oz) Old El Paso™ Original Taco Seasoning Mix
1 package (11 oz) Old El Paso™ Flour Tortillas for Burritos (8 inch)
Make it FRESH toppings, as desired (see below)
Advertisement
Recipe Continues Below
Preparation
Heat oven to 375°F. Line cookie sheet with cooking parchment paper or foil; set aside.
In medium bowl, mix beans, cheese and taco seasoning mix.
Scoop about 1/4 cup bean mixture onto each tortilla just below center. Fold bottom edge of each tortilla up and over filling. Fold sides in, overlapping to enclose filling. Roll up from bottom of tortilla. Place seam-side down on cookie sheet.
Bake 12 to 15 minutes or until heated through. Serve with Make it FRESH toppings.
Expert Tips
Ideas for Make it FRESH toppings: shredded lettuce, diced tomatoes, sour cream, salsa.
If you love serving up bean and cheese burritos for dinner, turn them into a quick snack following same directions — except use 6-inch tortillas, and divide filling evenly among tortillas.
Try using Mexican blend or Monterey Jack cheese in place of the cheddar cheese.
If our refried bean burrito has you craving more, try this recipe for Cheesy Refried Black Bean Dip.
Keep the refried bean theme going with this recipe for Black Bean and Veggie Enchiladas, perfect for a Meatless Monday menu.
Nutrition
1 Burrito Calories 210 (Calories from Fat 70); Total Fat 8g (Saturated Fat 3.5g, Trans Fat 1g); Cholesterol 10mg; Sodium 740mg; Total Carbohydrate 28g (Dietary Fiber 2g, Sugars 0g); Protein 7g
% Daily Value: Vitamin A 6%; Vitamin C 0%; Calcium 10%; Iron 8%;
Exchanges: 1 Starch, 1 Other Carbohydrate, 1/2 High-Fat Meat, 1/2 Fat
Carbohydrate Choices: 2
*Percent Daily Values are based on a 2,000 calorie diet.