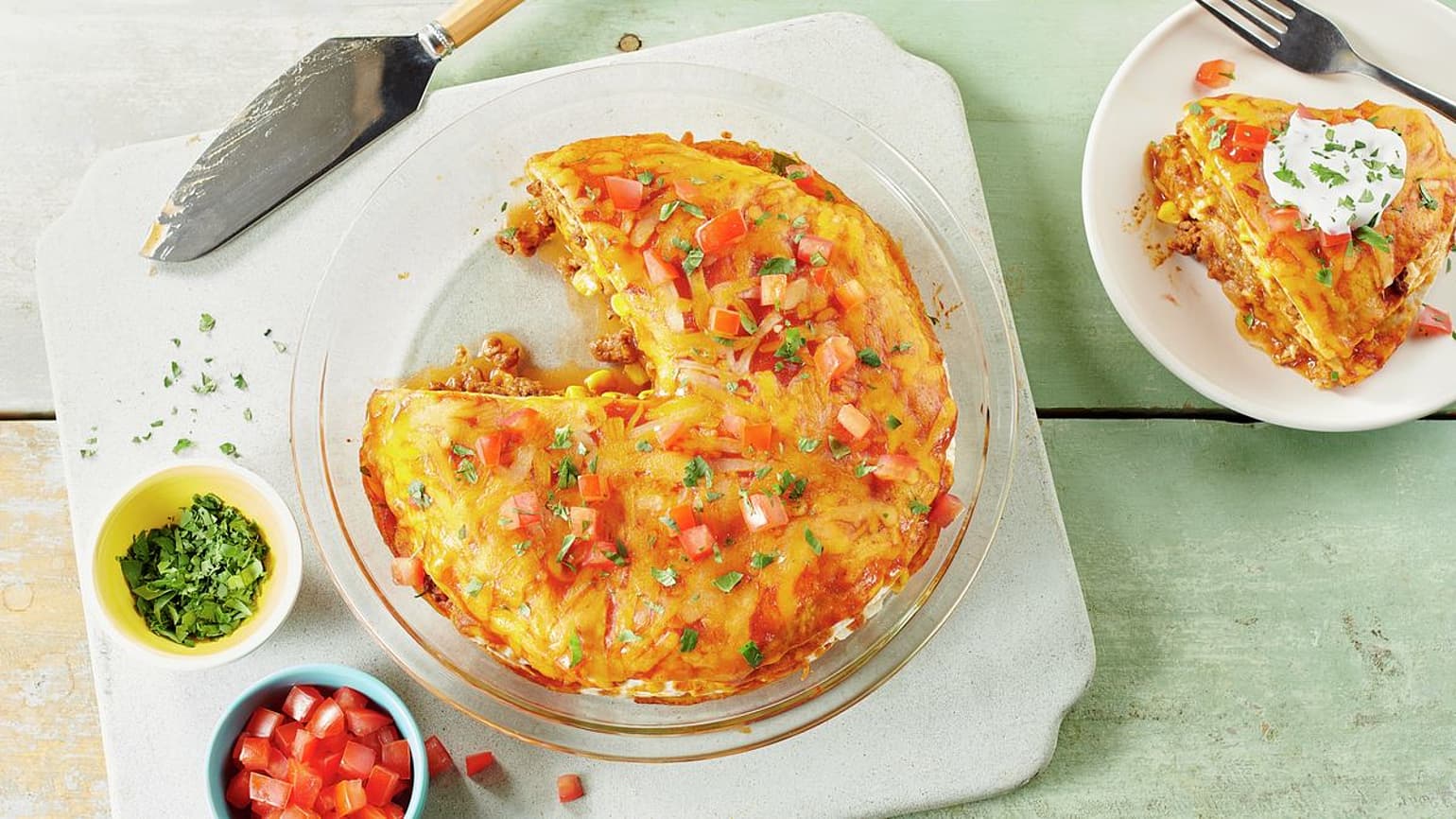 Classic Beef Enchilada Pie
The perfect pie doesn't exist, until you make this beef enchilada pie. Think of this recipe as a layered enchilada in pie form. Layers of taco-seasoned ground beef, green chiles, corn, shredded cheese and red enchilada sauce create this savory beef enchilada pie. An enchilada pie takes all the flavors you love in enchiladas and brings them together in an easy-to-assemble tortilla pie. Have your pie and eat it, too.
Ingredient List
1 lb ground beef (at least 80% lean)
1/4 cup chopped onion
1 can (10 oz) Old El Paso™ Mild Red Enchilada Sauce
1 package (1 oz) Old El Paso™ Original Taco Seasoning Mix
1 can (4.5 oz) Old El Paso™ Chopped Green Chiles
3/4 cup frozen corn
5 Old El Paso™ Flour Tortillas For Burritos (8 inch, from 11-oz package)
1 1/2 cups from 1 package (7 oz) Old El Paso™ Shredded Mexican Style 4 Cheese Blend
Chopped fresh cilantro leaves, if desired
1 container (7 oz) Old El Paso™ Crema Mexicana, if desired
Advertisement
Recipe Continues Below
Preparation
Heat oven to 350°F. Spray 9-inch glass pie plate with cooking spray.
In 10-inch nonstick skillet, cook beef and onion over medium-high heat 5 to 7 minutes, stirring frequently, until thoroughly cooked; drain. Pour in 2/3 cup of the enchilada sauce; reserve remaining sauce. Stir in taco seasoning mix, chiles and frozen corn; heat to boiling. Reduce heat; simmer uncovered 3 to 4 minutes, stirring frequently, until thickened.
Place 1 tortilla in pie plate; top with 3/4 cup beef mixture and 1/4 cup cheese. Repeat layers 3 times. Top with remaining tortilla, and press down to flatten. Pour remaining enchilada sauce and sprinkle remaining cheese over top.
Bake uncovered 20 to 25 minutes or until hot and cheese is melted. Cool 10 minutes. Top with remaining inredients.
Nutrition
1 Serving Calories 390 (Calories from Fat 180); Total Fat 20g (Saturated Fat 10g ,Trans Fat 0g); Cholesterol 75mg; Sodium 1000mg; Potassium 220mg; Total Carbohydrate 31g (Dietary Fiber 1g ,Sugars 3g); Protein 22g
% Daily Value: Vitamin A 0%; Vitamin C 0%; Calcium 25%; Iron 20%
Exchanges: 1 1/2 Starch; 1/2 Other Carbohydrate; 1/2 High-Fat Meat; 1 Fat
Carbohydrate Choice: 2
*Percent Daily Values are based on a 2,000 calorie diet