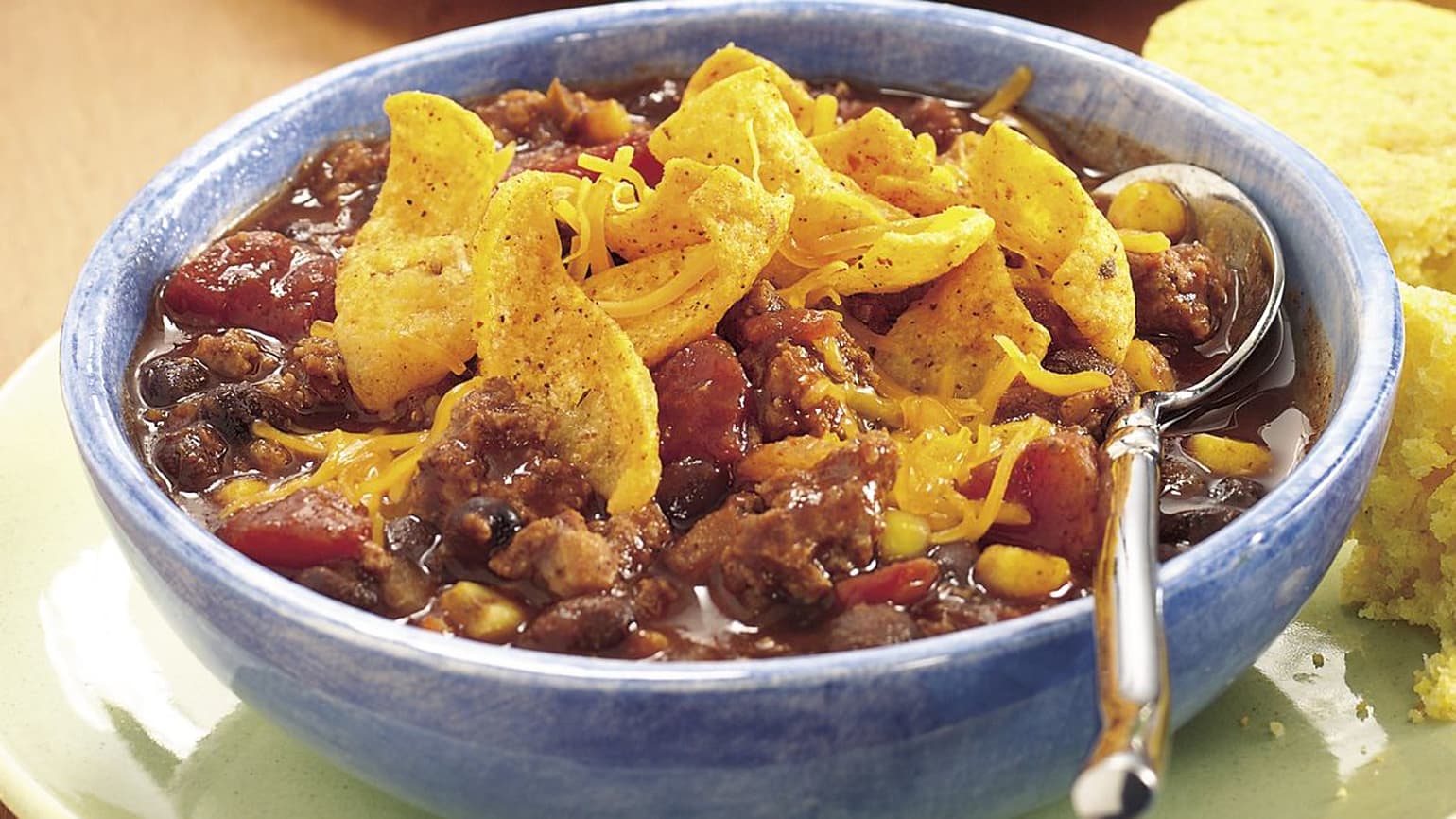 Confetti Taco Chili for 16
This chili recipe with taco seasoning is about to become a staple in your home, perfect for busy weeknights, cold evenings and any other times you find yourself craving a warm, flavorful meal. Chili-cheese-flavored corn chips dot the top of this easy taco chili that can be made ahead of time and refrigerated or frozen. Yum!
Ingredient List
3 lb lean (at least 80%) ground beef
2 cups chopped onions (4 medium)
2 packets (1 oz) Old El Paso™ Original Taco Seasoning Mix
4 cans (15.5 oz each) diced tomatoes with green chiles, undrained
2 cans (15 oz each) tomato sauce
1 bag (1 lb) frozen whole kernel corn, if desired
4 cans (15.5 oz each) southwestern black beans with cumin and chili spices, undrained
4 cups chili cheese-flavored corn chips (about 7 oz)
2 cups shredded Cheddar cheese (8 oz)
Advertisement
Recipe Continues Below
Preparation
In 8-quart Dutch oven, cook beef and onions over medium-high heat until beef is thoroughly cooked, stirring frequently; drain. Stir in taco seasoning mix, tomatoes, tomato sauce and corn. Heat to boiling. Reduce heat to medium; cook 10 to 15 minutes, stirring occasionally, until corn is tender.
Stir in beans; heat to boiling. Reduce heat to medium; cook about 10 minutes, stirring occasionally, until thoroughly heated and flavors are blended.
Spoon 6 cups of the chili into each of four 6-cup freezer/microwavable containers. Cool 30 to 45 minutes. Cover; refrigerate up to 3 days or freeze up to 2 months.
Thaw 1 container of chili in refrigerator for 48 hours, or uncover and thaw in microwave on Defrost 30 to 40 minutes.
To heat refrigerated or thawed chili, cover loosely and microwave on High 6 to 8 minutes or until thoroughly heated, stirring once or twice. Spoon into 4 individual serving bowls. Sprinkle each serving with about 1/4 cup chips and 2 tablespoons cheese.
Expert Tips
Don't have any cans of tomatoes with green chiles? Use 4 (15.5-oz) cans tomatoes and 2 (4.5-oz) cans Old El Paso™ chopped green chiles for this taco chili recipe instead.
To trim the sodium in each serving of taco chili, try using reduced-sodium tomato sauce and Old El Paso™ 25% less sodium taco seasoning. You also can omit the corn chips if desired.
Nutrition
1 1/2 Cups Calories 505 (Calories from Fat 180); Total Fat 20g (Saturated Fat 7g); Cholesterol 65mg; Sodium 1430mg; Total Carbohydrate 57g (Dietary Fiber 10g ,Sugars 15g); Protein 34g
% Daily Value: Vitamin A 26%; Vitamin C 20%; Calcium 20%; Iron 34%
Exchanges: 2 Starch; 1 Other Carbohydrate; 4 Lean Meat; 1 1/2 Fat
Carbohydrate Choice: 3
*Percent Daily Values are based on a 2,000 calorie diet