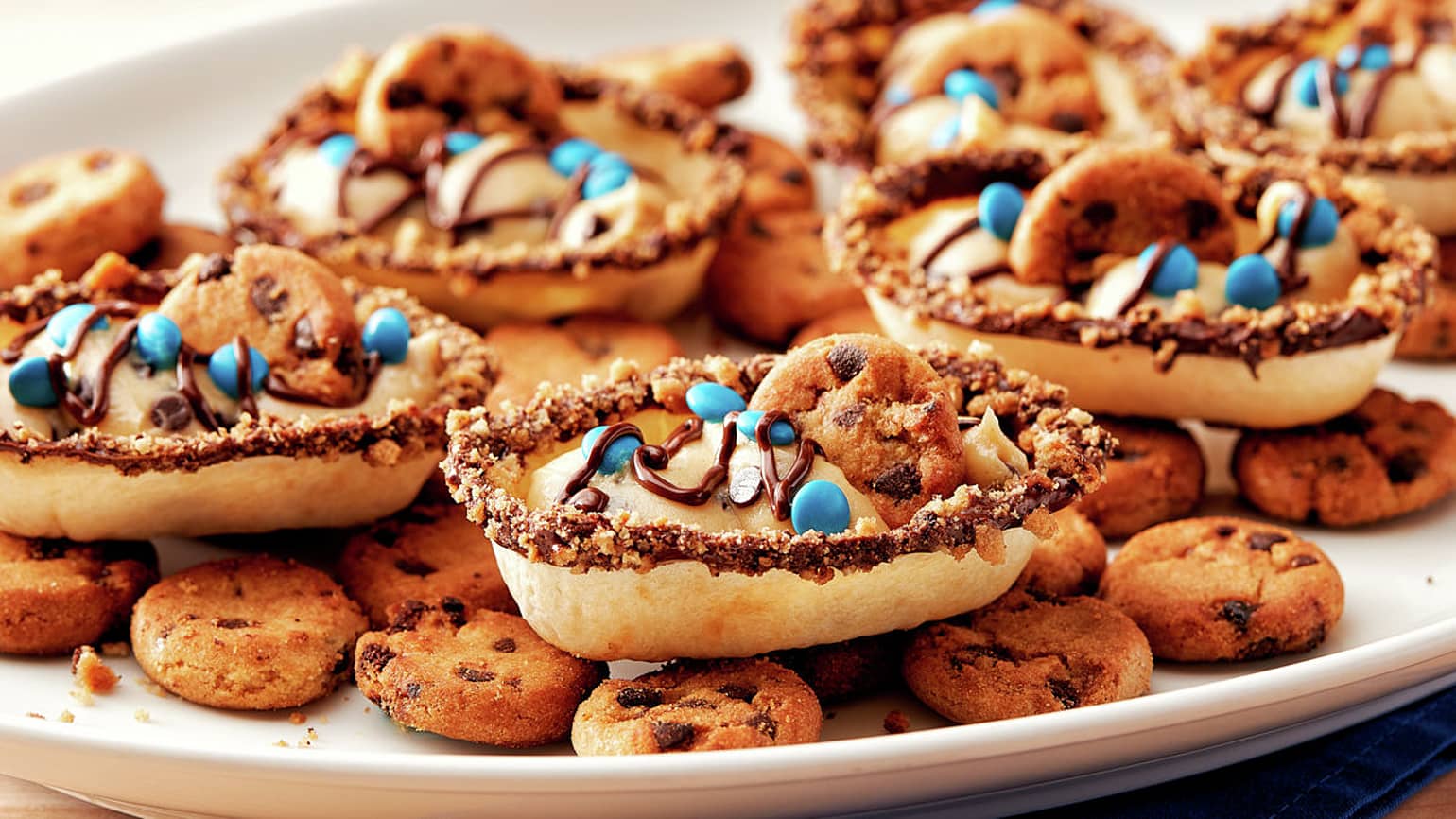 Cookie Dip-Stuffed Mini Taco Bowls
These delicious bowls stuffed with a dip that will remind you of cookie dough are served with mini chocolate chip cookies for dipping. Your little cookie loving monsters are sure to enjoy this special treat.
Ingredient List
Cookie Dip
1 package (8 oz) cream cheese, softened
1/3 cup creamy peanut butter
1 cup powdered sugar
3/4 teaspoon vanilla
1/4 cup mini chocolate chips
Taco Bowls
1 tablespoon butter, melted
1 package Old El Paso™ Taco Bowls™ mini soft flour tortillas (12 count)
1 package (8 oz) mini chocolate chip cookies
3/4 cup mini chocolate chips
3/4 teaspoon shortening
Topping
4 teaspoons blue mini candy-coated chocolate candies
Advertisement
Recipe Continues Below
Preparation
Heat oven to 375°F. In medium bowl, beat cream cheese and peanut butter with electric mixer on low speed until smooth and creamy. Beat in powdered sugar and vanilla on low speed until blended. Stir in 1/4 cup mini chocolate chips. Cover and refrigerate about 20 minutes or until ready to serve.
Lightly brush melted butter on all sides of each bowl. Place bowls on ungreased large cookie sheet. Bake 5 to 7 minutes or until browned on edges and firm to the touch. Carefully turn bowls upside down on cookie sheet; cool 2 minutes.
Meanwhile, in quart-size, resealable food-storage plastic bag, add 10 chocolate chip cookies; seal. Using a rolling pin, finely crush cookies, and transfer to shallow plate. In small microwavable bowl, microwave 3/4 cup mini chocolate chips and the shortening uncovered on High 45 to 60 seconds or until mixture can be stirred smooth.
Hold each baked bowl by bottom, and dip into melted chocolate, covering top rim of bowl. Dip and roll top rim into crushed cookies to coat. Place upside down on clean cookie sheet. Refrigerate bowls about 10 minutes or until chocolate coating is set.
Divide cookie dip among taco bowls. Sprinkle with candies, and drizzle with any remaining melted chocolate, if desired. Place 1 cookie inside each taco bowl, and serve on large serving platter with remaining cookies.
Expert Tips
Serve on a platter of chocolate chip cookies for a fun display.
Store cookie dip covered in refrigerator until ready to serve.
Nutrition
1 Serving Calories 390 (Calories from Fat 200); Total Fat 22g (Saturated Fat 10g ,Trans Fat 0g); Cholesterol 20mg; Sodium 240mg; Potassium 150mg; Total Carbohydrate 41g (Dietary Fiber 2g ,Sugars 27g); Protein 5g
% Daily Value: Vitamin A 4%; Vitamin C 0%; Calcium 4%; Iron 8%
Exchanges: 1 Starch; 2 Other Carbohydrate; 1/2 High-Fat Meat; 3 1/2 Fat
Carbohydrate Choice: 3
*Percent Daily Values are based on a 2,000 calorie diet