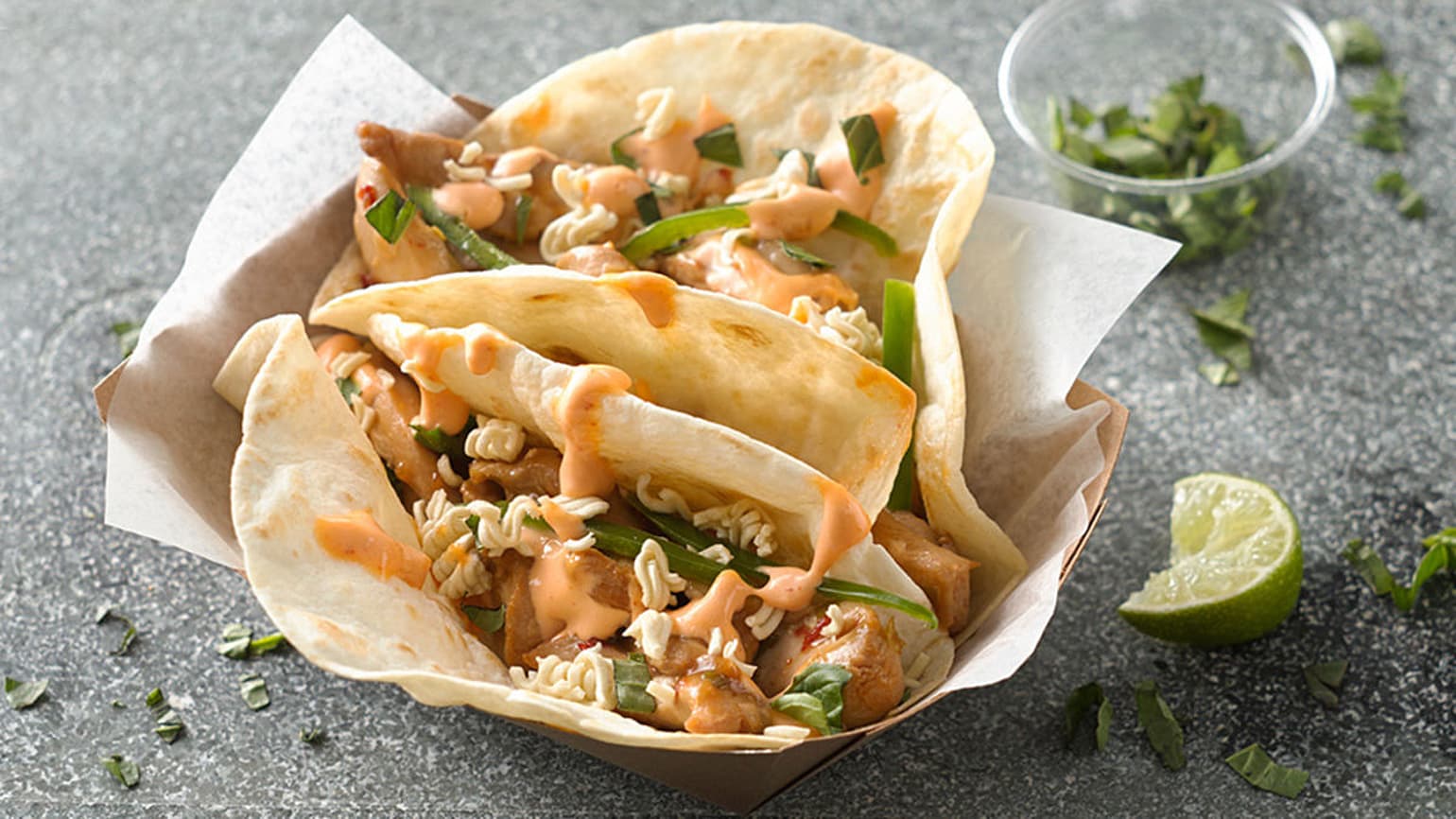 Crunchy Ramen Tacos
These fresh and flavorful chicken tacos are inspired by the popular Vietnamese soup called pho.
Ingredient List
Chicken and Marinade
2 medium green onions, chopped
1/4 cup soy sauce
1 teaspoon sambal oelek chili garlic sauce
1 teaspoon Sriracha sauce
1 tablespoon packed brown sugar
2 tablespoons fresh lime juice
1 lb boneless skinless chicken thighs, cut into strips
Sriracha Mayonnaise
1/3 cup mayonnaise
1 1/2 teaspoons Sriracha sauce
1 teaspoon fresh lime juice
Tortillas and Toppings
1/2 package (3-oz size) ramen noodle soup mix (any flavor)
8 Old El Paso™ flour tortillas for soft tacos & fajitas (6 inch), heated as directed on package
Oil, for toasting
2 medium jalapeño chiles, seeded, cut into thin strips
3/4 cup fresh Thai basil leaves
1 lime, cut into wedges
Advertisement
Recipe Continues Below
Preparation
In a 1-gallon resealable food-storage plastic bag, mix Chicken and Marinade ingredients. Seal bag. Refrigerate 30 minutes.
Heat 12-inch nonstick skillet over medium-high heat. Drain chicken; discard marinade. Cook chicken in skillet 6 to 8 minutes or until browned on both sides and no longer pink in center.
Meanwhile, in small bowl, mix Sriracha Mayonnaise ingredients. In another small bowl, break apart ramen noodles. (Reserve seasoning packet for a later use.)
To toast the tortillas, heat 1 tablespoon oil in 10-inch nonstick skillet over medium heat. Add 1 tortilla. Cook until starting to puff up, then turn over. Once second side is puffed up, remove from skillet; drain on paper towels.
Spoon chicken on each tortilla. Top with Sriracha mayonnaise, jalapeño strips, basil leaves and crushed ramen. Serve with lime wedges.
Expert Tips
If sambal oelek chili garlic sauce cannot be found, substitute 1 additional teaspoon Sriracha sauce in marinade.
This recipe pairs well with a Thai Basil MOJITarita. To make 1 drink: Add 2 teaspoons light agave nectar, 1/2 oz fresh lime juice and 4 fresh, torn Thai basil leaves to a highball glass. Gently break up basil with muddler or spoon. Add 1 oz blanco tequila; fill glass with ice, and top with 2 oz chilled club soda. Stir gently, and garnish with lime wedge and additional basil leaves.
I'll bet you never thought you'd see this: Vietnamese meets Mexican -- in a taco! But, fusion foodies, that's exactly what you get in this super simple recipe that gives a nod to not one, but two, of our favorites--tacos and ramen. These fresh and flavorful chicken tacos are inspired by a popular Vietnamese soup, called pho. The "faux pho" toppings –- Thai basil, fresh chiles and crunchy ramen noodles –- give this recipe an extra special kick that'll remind you of some of your food truck faves. So, make 'em already and call the gang over. It's time to party!
Nutrition
1 Serving Calories 250 (Calories from Fat 110); Total Fat 12g (Saturated Fat 2 1/2g ,Trans Fat 1g); Cholesterol 60mg; Sodium 450mg; Potassium 140mg; Total Carbohydrate 20g (Dietary Fiber 1g ,Sugars 1g); Protein 14g
% Daily Value: Vitamin A 4%; Vitamin C 8%; Calcium 4%; Iron 8%
Exchanges: 1 1/2 Starch; 1 1/2 Lean Meat; 1 1/2 Fat
Carbohydrate Choice: 1
*Percent Daily Values are based on a 2,000 calorie diet