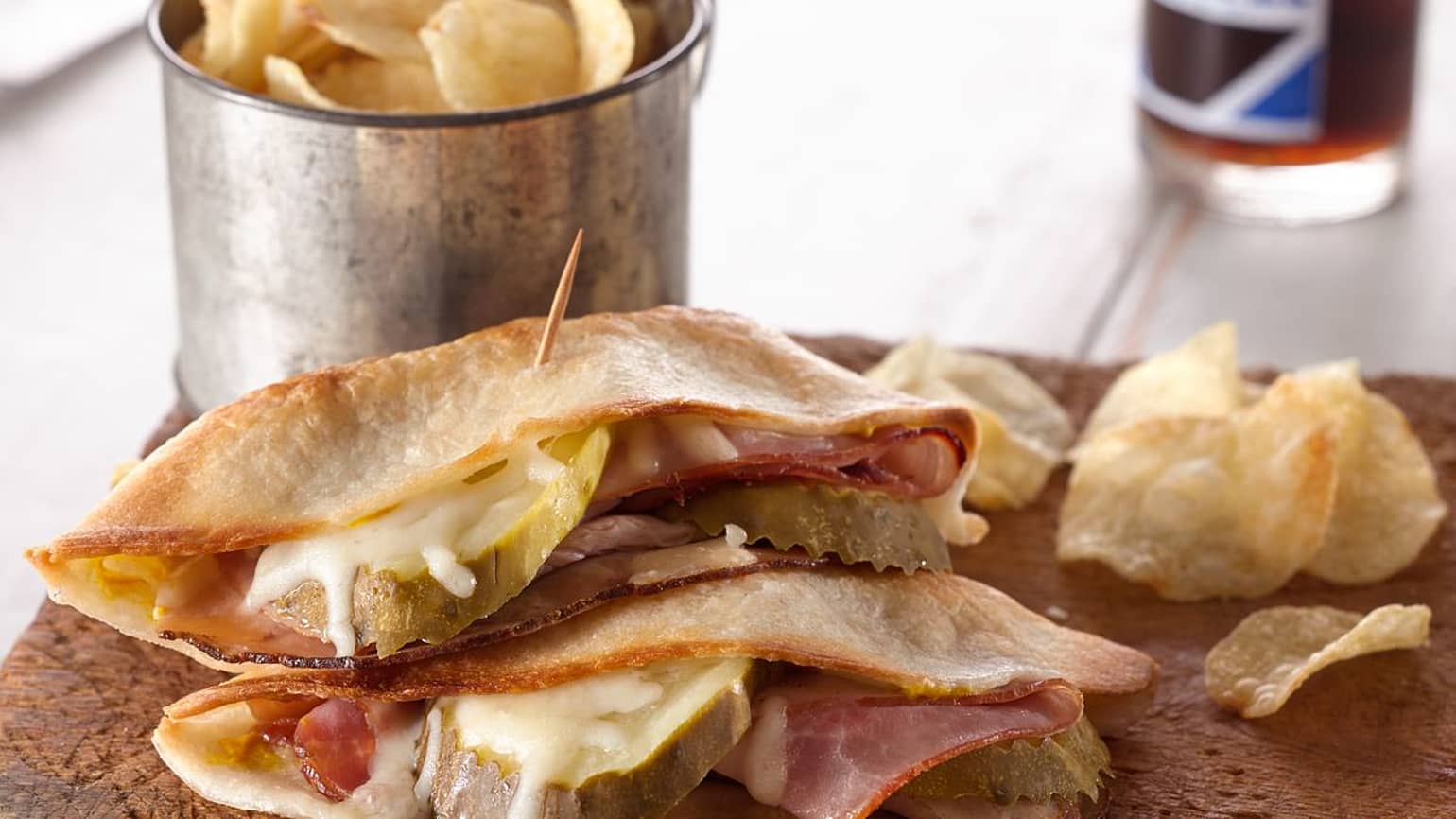 Cuban Taco Bowls
Miami's crazy nightlife, warm beaches and delicious Cuban sandwiches are 3 things that make the Miami culture. Can't afford a plane ticket down south? Try this take on Cuban sandwiches by toasting in taco bowls.
Ingredient List
1 package Old El Paso™ Soft Tortilla Bowls
2 teaspoons yellow mustard
1/2 lb thinly sliced cooked roast pork
1/2 lb thinly sliced cooked ham
24 slices dill pickle chips
1/2 cup shredded Swiss cheese (2 oz)
1/3 cup butter, melted
Advertisement
Recipe Continues Below
Preparation
Heat oven to 425°F. Line cookie sheet with foil.
For each bowl, spread 1/4 teaspoon mustard evenly inside bowl. Layer pork, ham, 3 pickles chips and 1 tablespoon cheese in each bowl; fold layers to fit inside bowls, if necessary. Press bowls to flatten in half firmly with palm of hand; secure with toothpick. Place flattened bowls on cookie sheet. Generously brush melted butter on top and bottom of each bowl.
Bake 15 to 20 minutes, brushing with additional butter halfway through, until light brown and cheese is melted inside. Remove toothpicks, and serve immediately.
Expert Tips
Roast pork can be found in the deli section and is often called "Cuban-style."
Mustard and dill pickles are traditional in Cuban pork sandwiches--substitute mayonnaise, and skip the pickles if that's more to your liking.
Nutrition
1 Serving Calories 290 (Calories from Fat 160); Total Fat 18g (Saturated Fat 9g ,Trans Fat 0g); Cholesterol 65mg; Sodium 1020mg; Potassium 280mg; Total Carbohydrate 13g (Dietary Fiber 0g ,Sugars 0g); Protein 18g
% Daily Value: Vitamin A 6%; Vitamin C 0%; Calcium 10%; Iron 8%
Exchanges: 1 Starch; 2 Lean Meat; 2 1/2 Fat
Carbohydrate Choice: 1
*Percent Daily Values are based on a 2,000 calorie diet