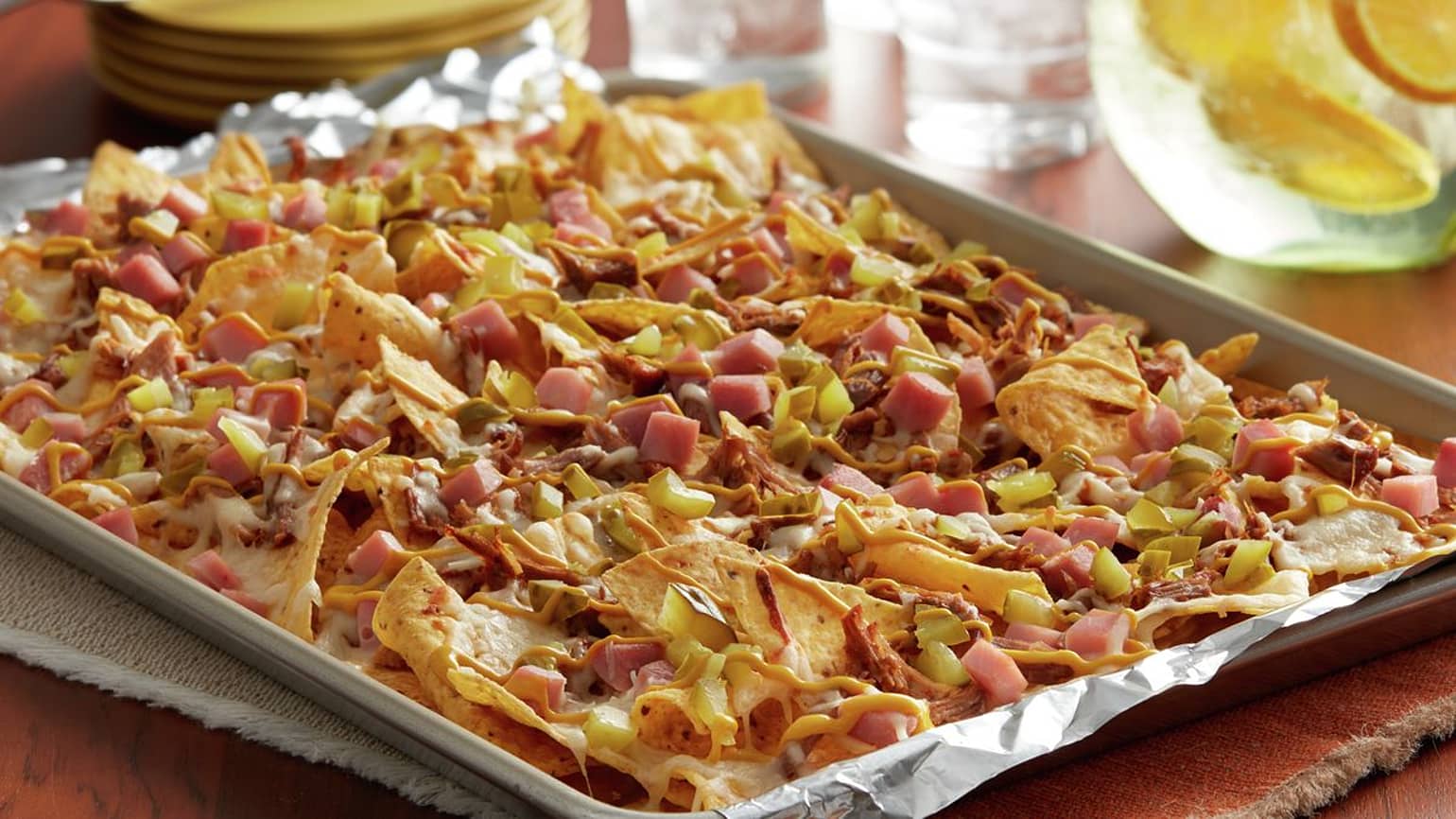 Cubano Nachos
No need to book a trip to Havana to taste the bright flavors of Cuba—these tasty Cubano Nachos will take you there without having to pay the airfare. Tortilla chips covered with tender slow-cooked pork, cheese and ham. Topped with pickles and yellow mustard, finish off this Tex-Mex feast.
Total Time
7 Hours
45 Minutes
Ingredient List
Pork
3- to 3 1/2-lb boneless pork shoulder roast, trimmed
1/4 cup yellow mustard
1 package (1 oz) Old El Paso™ original taco seasoning mix
Nachos
8 cups tortilla chips
2 cups shredded Swiss cheese (8 oz)
1 cup chopped ham
1 cup shredded Monterey Jack cheese (4 oz)
1/2 cup chopped dill pickles
2 tablespoons yellow mustard
Advertisement
Recipe Continues Below
Preparation
Spray 5-quart slow cooker with cooking spray. In 12-inch nonstick skillet, sear pork 4 minutes on each side. Meanwhile, in small bowl, mix 1/4 cup mustard and the taco seasoning mix.
Transfer pork to slow cooker; spread mustard mixture over pork. Cover; cook on Low heat setting 7 to 8 hours or until pork is very tender.
Transfer pork to cutting board; let stand 10 to 15 minutes or until cool enough to handle. Shred pork, discarding any fat and cartilage. Toss with liquid in slow cooker.
Meanwhile, heat oven to 400°F. Line 18x13-inch rimmed pan with foil; spray with cooking spray. Spread chips evenly in pan. Sprinkle 1 cup of the Swiss cheese over chips. Using slotted spoon, top cheese with 2 cups of the pork mixture. Reserve remaining pork for another use. Sprinkle remaining 1 cup Swiss cheese over pork. Top with ham. Sprinkle Monterey Jack cheese over ham.
Bake 10 to 12 minutes or until cheese is melted. Top with pickles; drizzle with 2 tablespoons mustard.
Expert Tips
Leftover pork from this Cuban nachos recipe is great on sandwiches or in tacos.
Like it hot? Opt for spicy dill pickles.
Make your Cubano Nachos "Tampa-style" by substituting chopped salami for half of the ham.
Nutrition
1 Serving Calories 460 (Calories from Fat 240); Total Fat 27g (Saturated Fat 11g ,Trans Fat 0g); Cholesterol 85mg; Sodium 710mg; Potassium 330mg; Total Carbohydrate 25g (Dietary Fiber 2g ,Sugars 1g); Protein 29g
% Daily Value: Vitamin A 10%; Vitamin C 0%; Calcium 35%; Iron 10%
Exchanges: 1 1/2 Starch; 2 Lean Meat; 1 1/2 High-Fat Meat; 1 1/2 Fat
Carbohydrate Choice: 1 1/2
*Percent Daily Values are based on a 2,000 calorie diet