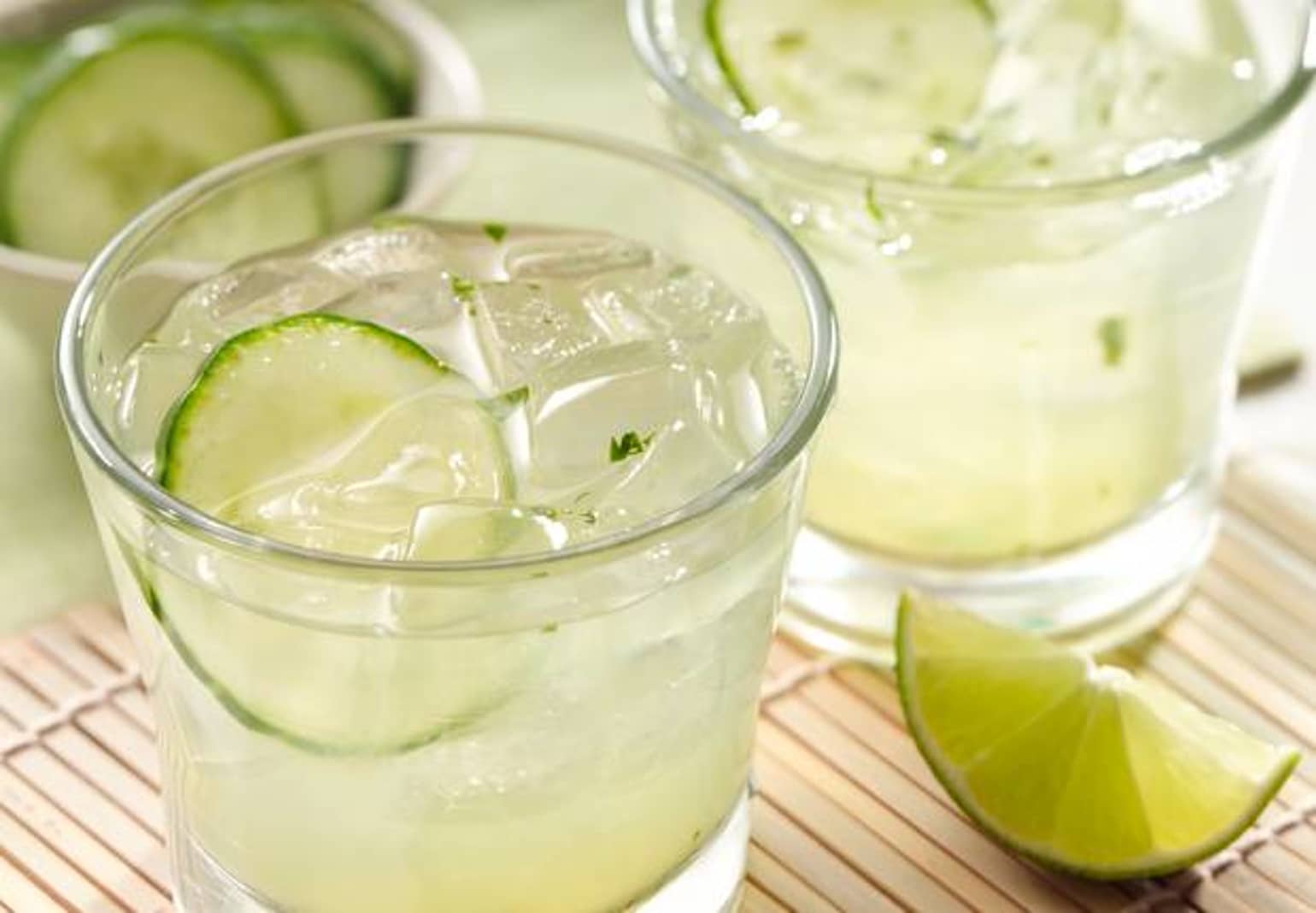 Cucumber Cilantro Margarita
Cucumber margarita, anyone? Muddled cucumber and cilantro add bright flavor to a classic lime margarita in this easy cucumber margarita recipe. Talk about refreshing! Serve these Cucumber Cilantro Margaritas with tasty tacos or chips and guac for the perfect pairing.
Ingredient List
1 cup sugar
1 cup water
4 slices English (seedless) cucumber
2 to 3 sprigs fresh cilantro
3/4 oz Simple Syrup
1 1/2 oz blanco tequila
3/4 oz clear orange-flavored liqueur
3/4 oz fresh lime juice
Additional cucumber slices, if desired
Advertisement
Recipe Continues Below
Preparation
To make Simple Syrup, mix sugar and water in 1-quart saucepan. Heat to boiling over medium-high heat, stirring until sugar is dissolved. Remove from heat; let stand 30 minutes. Transfer to storage container. Cover and refrigerate up to 3 days. Makes 1 1/4 cups.
To make margarita, add 4 cucumber slices and sprigs of cilantro to cocktail shaker; break up with muddler or spoon. Add 3/4 oz of the simple syrup, the tequila, orange-flavored liqueur and lime juice. Fill shaker with ice; cover and shake vigorously. Strain into cocktail glass filled with fresh ice. Garnish with additional cucumber slices.
Expert Tips
Want salt on the rim of your cilantro-cucumber margarita? Pour flaky salt into a shallow dish. Rub a lime wedge around the edge of the cocktail glass, then dip either half or entire rim into salt. Shake off excess salt.
If at all possible, opt for fresh lime juice instead of bottled for this Cucumber Cilantro Margarita recipe. In a bright, refreshing cocktail like this one, it makes a huge difference.
For a pretty garnish, peel half of the skin of the cucumber in strips before slicing. Cut 1/2 inch off each end of the cucumber. Peel strips lengthwise, about 1/2 inch apart, leaving 1/2-inch strips of peel intact, then slice.
Nutrition
Calories200(Calories from Fat0),Total Fat0g(Saturated Fat0g,Trans Fat0g),Cholesterol0mgSodium0mgTotal Carbohydrate12g(Dietary Fiber0g Sugars10g),Protein0g;% Daily Value*:Vitamin A6%;Vitamin C8%;Calcium0%;Iron0%; Exchanges:0 Starch; 0 Fruit; 0 Other Carbohydrate; 0 Skim Milk; 0 Low-Fat Milk; 0 Milk; 0 Vegetable; 0 Very Lean Meat; 0 Lean Meat; 0 High-Fat Meat; 0 Fat; Carbohydrate Choices:1 *Percent Daily Values are based on a 2,000 calorie diet.