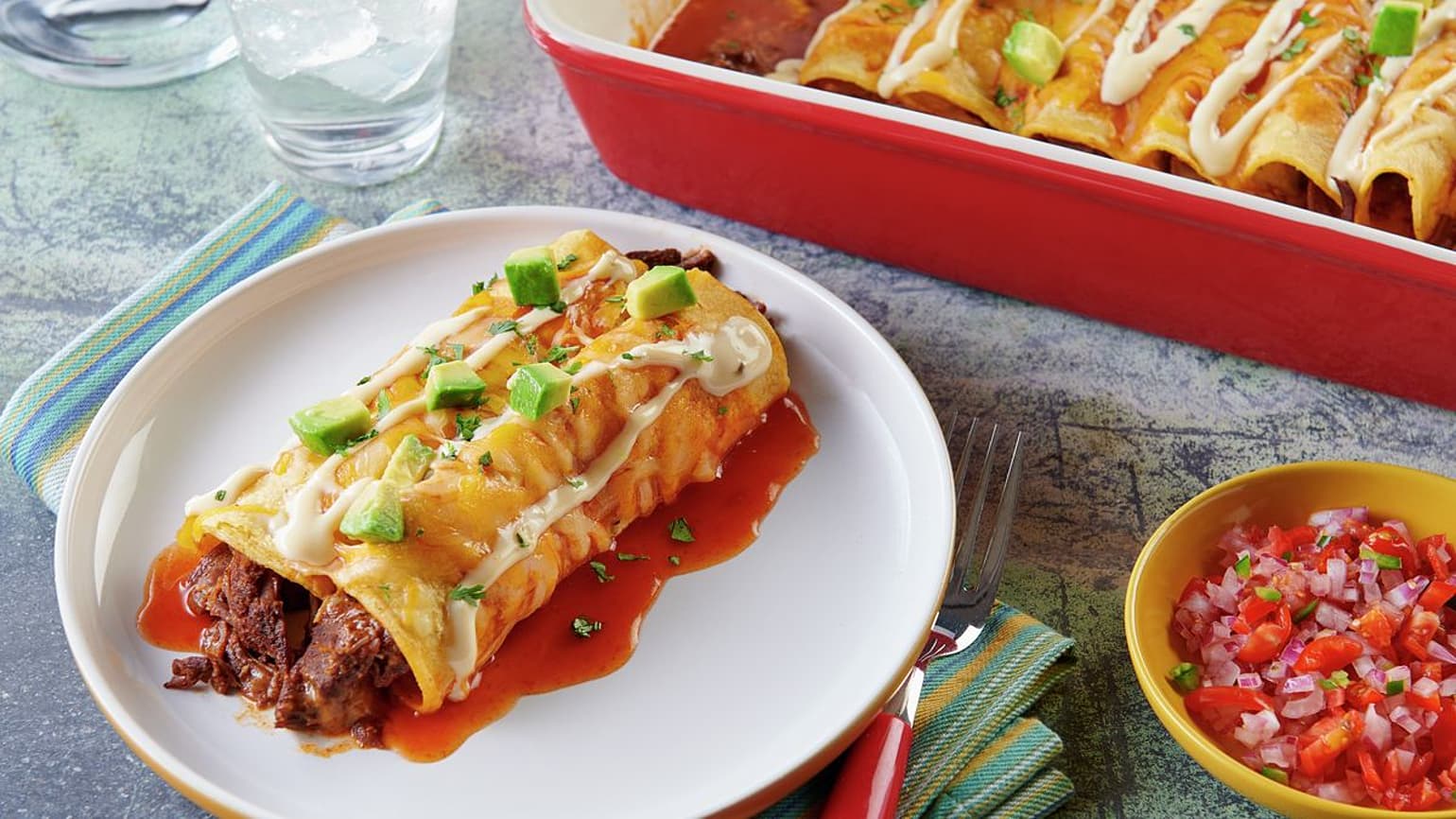 Easy Beef Brisket Enchiladas
Meaty and cheesy Easy Beef Brisket Enchiladas will satisfy all your Tex-Mex cravings. This brisket enchiladas recipe is made super easy and delicious with juicy brisket packed into corn tortillas. Don't forget to smother your shredded beef enchiladas with red sauce (try Old El Paso™ Mild Red Enchilada Sauce) before you bake them! These shredded beef enchiladas also pair perfectly with Old El Paso™ Spicy Queso Blanco Sauce.
Ingredient List
10 (6 inch) corn tortillas
1 tablespoon vegetable oil
2 cups shredded fully cooked beef brisket (about 10 oz)
2 cans (10 oz each) Old El Paso™ Mild Red Enchilada Sauce
1 package (8 oz) Old El Paso™ Shredded Mexican Style 4 Cheese Blend (2 cups)
1/2 cup from 1 bottle (9 oz) Old El Paso™ Spicy Queso Blanco Sauce
1/4 cup chopped fresh cilantro leaves
Advertisement
Recipe Continues Below
Preparation
Heat oven to 400°F. Spray 13x9-inch baking dish with cooking spray.
Lightly brush both sides of corn tortillas with oil. Place tortillas in 3 stacks on ungreased large cookie sheet. Bake 3 to 5 minutes or until tortillas are warmed and pliable. Remove from oven. Keep covered with clean kitchen towel to keep warm.
Meanwhile, place shredded beef in medium bowl. Add 1/2 cup of the enchilada sauce and 1 1/2 cups of the cheese. Stir to combine.
Spread 1/2 cup of the enchilada sauce evenly in baking dish.
Working quickly with one tortilla at a time, place on work surface, and spread generous 1/4 cup beef mixture down center of each warm tortilla. Gently wrap tortilla around filling, placing seam side down in baking dish. Top with remaining enchilada sauce. Sprinkle with remaining cheese.
Bake 15 to 20 minutes or until hot and bubbly. Let stand 5 minutes. Drizzle spicy queso blanco sauce over top. Sprinkle cilantro over tops of enchiladas.
Expert Tips
Looking for more fun topping ideas for these easy shredded beef enchiladas? Try diced tomatoes, sliced green onions or diced avocado.
If you like your beef brisket enchiladas with a little more heat, try using Old El Paso™ Medium Red Enchilada Sauce.
If you're having trouble finding fully cooked brisket at the grocery store, look for refrigerated, fully cooked beef roast.
Brushing the tortillas with oil and warming them in the oven before filling will help to keep them from falling apart as they are rolled up and baked.
Nutrition
2 Enchiladas Calories 510 (Calories from Fat 250); Total Fat 27g (Saturated Fat 12g ,Trans Fat 1/2g); Cholesterol 100mg; Sodium 1120mg; Potassium 270mg; Total Carbohydrate 35g (Dietary Fiber 2g ,Sugars 4g); Protein 29g
% Daily Value: Vitamin A 0%; Vitamin C 0%; Calcium 35%; Iron 15%
Exchanges: 2 Starch; 1/2 Other Carbohydrate; 1 High-Fat Meat; 1 1/2 Fat
Carbohydrate Choice: 2
*Percent Daily Values are based on a 2,000 calorie diet