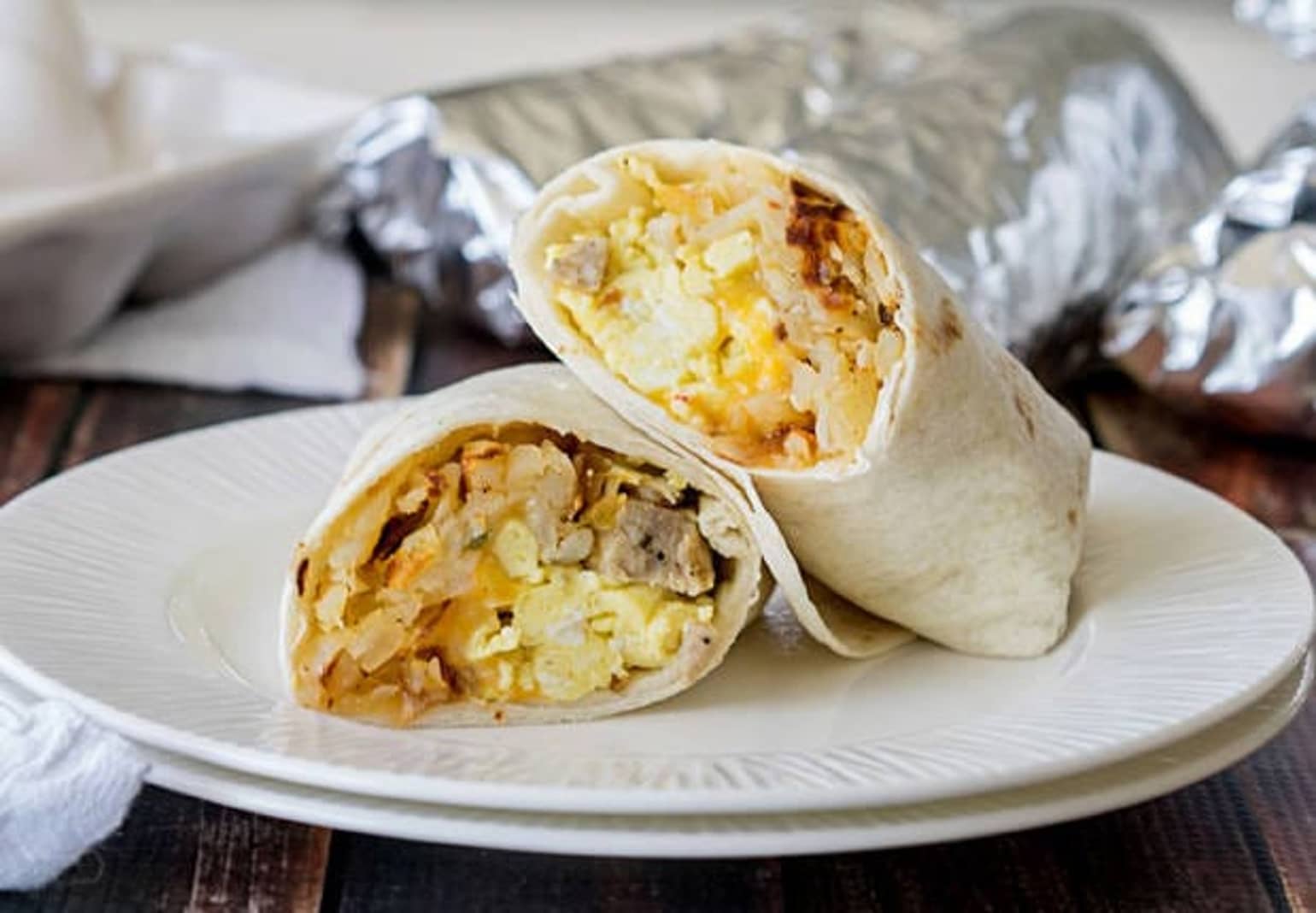 Easy Breakfast Burritos
This Southwest breakfast is quick enough for busy weekends. Or, you can try our make-ahead tip to freeze and reheat for a winning grab-and-go breakfast all week long. By Pillsbury Kitchens
35 Minutes Prep
35 Minutes Total
Ingredient List
6 eggs
2 tablespoons Old El Paso™ chopped green chiles (from 4.5-oz can)
1 to 2 tablespoons milk
6 fully cooked breakfast sausage links, cut into small pieces
1 bag (1 lb 4 oz) refrigerated shredded hash brown potatoes
6 Old El Paso™ flour tortillas for burritos (from 11-oz package)
2 cups shredded Mexican cheese blend (8 oz)
Advertisement
Recipe Continues Below
Preparation
In large bowl, beat 6 eggs, 2 tablespoons Old El Paso™ chopped green chiles and 1 to 2 tablespoons milk until well blended. In 10-inch skillet over medium heat, cook eggs, stirring occasionally, until scrambled. Stir in 6 fully cooked breakfast sausage links, cut into small pieces; heat until warm. Set aside.
Cook 1 bag (1 lb. 4 oz.) refrigerated shredded hash brown potatoes as directed on bag; set aside.
To assemble burritos, spoon line of hash browns down center of each of 6 Old El Paso™ flour tortillas for burritos. Top with 2 cups shredded Mexican cheese blend and the scrambled eggs.
Roll up each tortilla tightly to secure filling. Serve immediately, or freeze as directed below.
To freeze, wrap each burrito in paper towel; wrap in foil. Freeze. To reheat, remove and discard foil. Microwave each frozen paper towel-wrapped burrito on High 2 minutes 30 seconds, turning burrito over halfway through heating.
Expert Tips
Change breakfast sausage out for cooked chorizo pork sausage for a delightful Southwest kick!
Wrapping the breakfast burrito in a paper towel before the foil helps to absorb the moisture from the burrito and prevent a soggy tortilla. It's also perfect for microwaving on the go or at work when plates are not necessarily available.