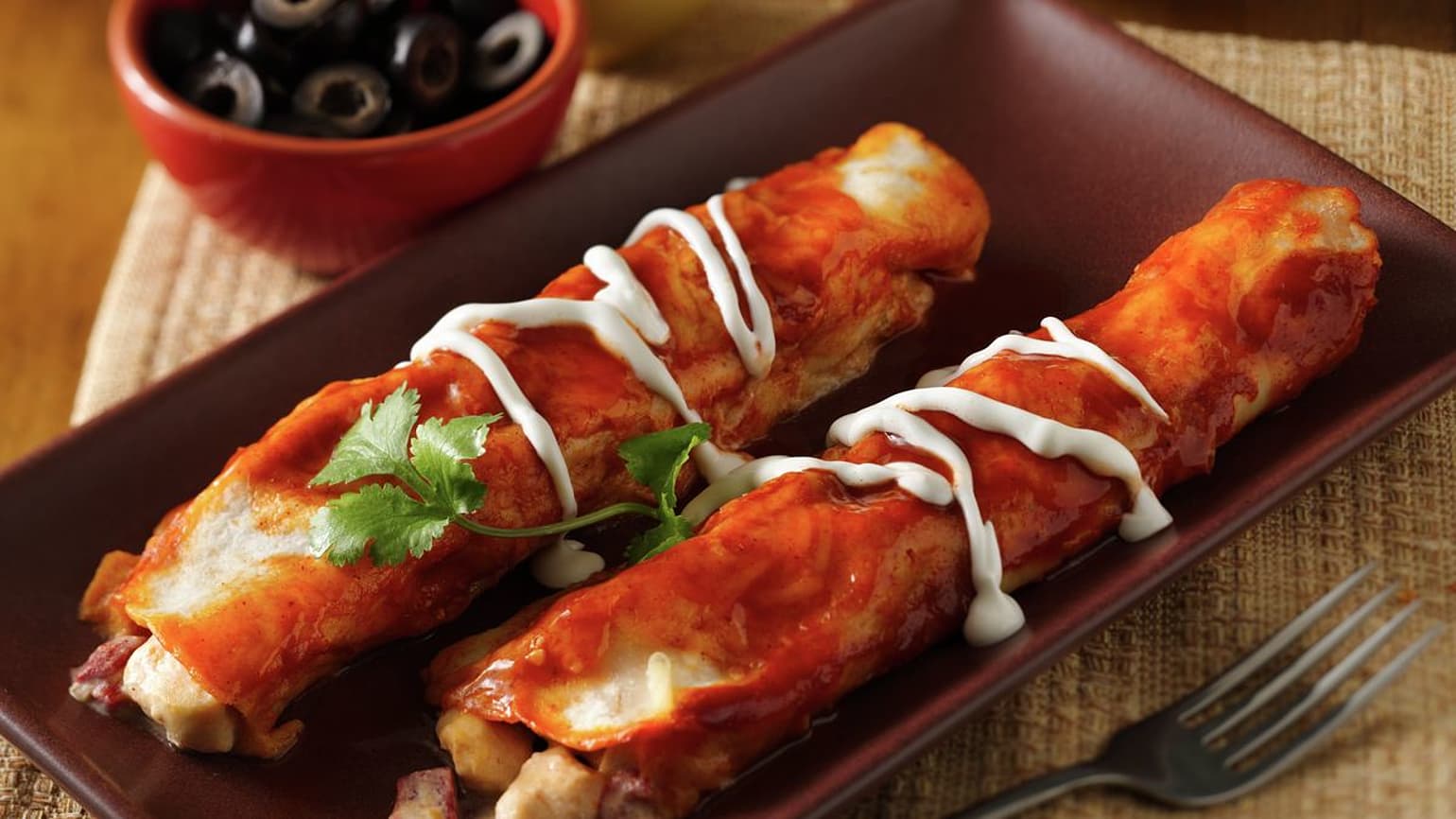 Easy Chicken Enchiladas
Take your typical family dinner up a notch with an Easy Chicken Enchiladas recipe! Mexican cheese blend, red enchilada sauce and green chiles give these Easy Chicken Enchiladas a distinctive, mild flavor. If you like more heat, use medium or hot red enchilada sauce. This one's a sure family favorite—don't forget the toppings!
Total Time
1 Hours
20 Minutes
Ingredient List
2 teaspoons vegetable oil
6 boneless skinless chicken breasts (about 2 1/2 lb), cut into 1-inch pieces
1 medium onion, chopped (1/2 cup)
1 teaspoon ground cumin
1 teaspoon garlic salt
1/2 teaspoon dried oregano leaves
1 1/2 cups sour cream
3/4 cup chopped roasted red bell peppers (from a jar)
1 can (4.5 oz) Old El Paso™ chopped green chiles, drained
3 cups finely shredded Mexican cheese blend (12 oz)
2 cans (10 oz each) Old El Paso™ red enchilada sauce
12 Old El Paso™ flour tortillas for burritos (8 inch)
Advertisement
Recipe Continues Below
Preparation
Heat oven to 350°F. Spray 13x9-inch (3-quart) and 8-inch square (2-quart) baking dishes with cooking spray.
In 12-inch skillet, heat oil over medium-high heat. Add chicken and onion; cook and stir 4 to 5 minutes or until chicken is no longer pink in center. Stir in cumin, garlic salt and oregano. Cook 1 minute longer; drain if necessary. Pour chicken mixture into large bowl.
Reserve 2 tablespoons sour cream in small bowl; refrigerate. Into bowl of chicken mixture, stir remaining sour cream, roasted peppers, chiles and 1 1/2 cups of the cheese.
Spread heaping 3/4 cup chicken mixture on center of each tortilla. Roll up tortillas; arrange 8 seam-side down in 13x9-inch baking dish and 4 seam-side down in 8-inch baking dish.
Top each baking dish evenly with enchilada sauce. Sprinkle with remaining 1 1/2 cups cheese. Spray 2 sheets of foil with cooking spray; cover each baking dish with foil, sprayed side down.
Bake about 50 minutes or until enchiladas are hot. Use reserved 2 tablespoons sour cream to drizzle over enchiladas.
Expert Tips
If enchiladas are done before guests arrive, cover baking dishes with foil and keep warm in 200°F oven for up to 30 minutes.
Provide additional toppings like sour cream, chopped cilantro or sliced ripe olives for guests to customize their Easy Chicken Enchiladas.
If desired, you can substitute 2 1/2 pounds boneless, skinless chicken thighs for the chicken breasts. The cook time will be about the same.
Nutrition
1 Enchilada Calories 390 (Calories from Fat 190); Total Fat 21g (Saturated Fat 10g ,Trans Fat 1g); Cholesterol 105mg; Sodium 880mg; Potassium 290mg; Total Carbohydrate 19g (Dietary Fiber 1g ,Sugars 4g); Protein 30g
% Daily Value: Vitamin A 25%; Vitamin C 20%; Calcium 30%; Iron 10%
Exchanges: 1 Starch; 4 Very Lean Meat; 3 1/2 Fat
Carbohydrate Choice: 1
*Percent Daily Values are based on a 2,000 calorie diet