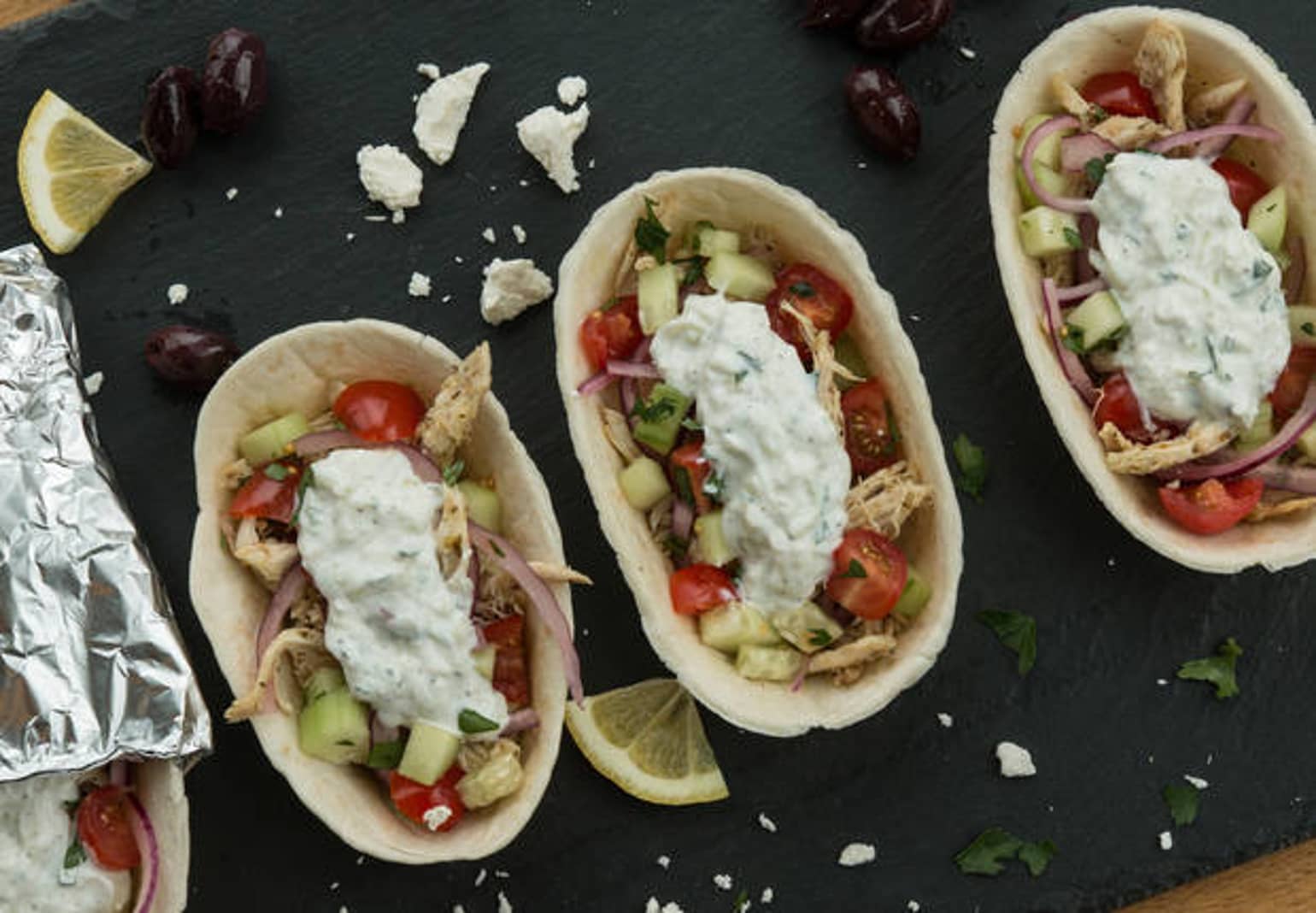 Chicken Gyros Taco Bowls Recipe
Precooked and shredded chicken makes a quick and easy filling for this fresh-tasting version of the classic take-out sandwich.
40 Minutes Prep
50 Minutes Total
Ingredient List
1/2 medium cucumber, peeled, seeded and shredded
3/4 cup Yoplait® Greek plain yogurt
1 tablespoon chopped fresh parsley
1 teaspoon fresh lemon juice
1 clove garlic, finely chopped
1/4 teaspoon salt
1/4 teaspoon black pepper
1/2 cucumber, peeled and diced
1 cup grape tomatoes, quartered
1 small red onion, halved and thinly sliced
1 tablespoon chopped fresh parsley
1 teaspoon lemon juice
1/3 cup extra-virgin olive oil
5 cloves garlic, finely chopped
1 teaspoon dried oregano leaves
1/2 teaspoon ground cumin
1/4 teaspoon salt
1/4 teaspoon black pepper
2 3/4 cups shredded cooked chicken
1 package Old El Paso™ Soft Tortilla Bowls
Advertisement
Recipe Continues Below
Preparation
Heat oven to 325°F.
Squeeze shredded cucumber with hands to remove excess water. In small bowl, mix all Tzatziki Sauce ingredients.
In another medium bowl, toss Cucumber Salsa ingredients.
In 10-inch skillet, heat oil over low heat. Add garlic, oregano, cumin, salt and pepper. Cook and stir 1 to 2 minutes or until garlic is fragrant but not browned. Remove 2 tablespoons of the flavored oil; set aside. Add chicken; toss to coat. Increase heat to medium; cook about 3 minutes or until chicken is heated through.
Brush insides of bowls with reserved flavored oil. Place on ungreased cookie sheet. Bake 5 to 7 minutes or until light golden and warmed.
Spoon chicken filling evenly in warmed bowls. Top with cucumber salsa and tzatziki sauce.
Expert Tips
Feta cheese and/or chopped kalamata olives make nice additional toppings.
Leftover shredded turkey is a nice substitute for the chicken.
Nutrition
Calories280(Calories from Fat140),Total Fat16g(Saturated Fat3g,Trans Fat0g),Cholesterol40mgSodium350mgTotal Carbohydrate16g(Dietary Fiber1g Sugars2g),Protein17g;% Daily Value*:Vitamin A6%;Vitamin C6%;Calcium6%;Iron8%; Exchanges:1 Starch; 0 Fruit; 0 Other Carbohydrate; 0 Skim Milk; 0 Low-Fat Milk; 0 Milk; 0 Vegetable; 0 Very Lean Meat; 2 Lean Meat; 0 High-Fat Meat; 2 Fat; Carbohydrate Choices:1
*Percent Daily Values are based on a 2,000 calorie diet.