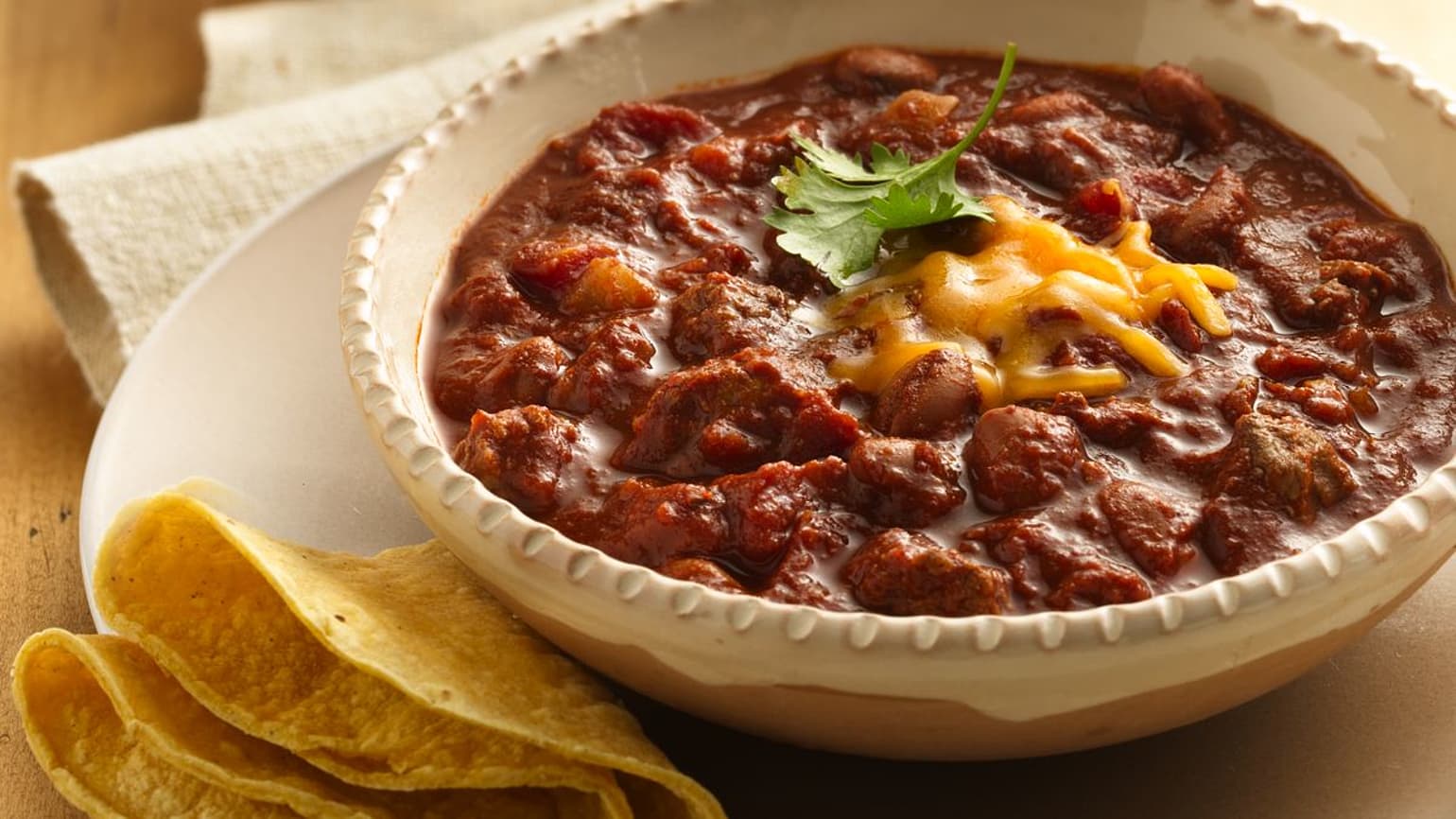 Easy Chili Mole
Chocolate in chili? We promise you'll love it! This Easy Chili Mole is a much easier, yet equally tasty, version of the typical long-cooking authentic Mexican main. Our mouthwatering Chili Mole dish is made with beef, tomatoes and chili beans, and it's ready in just 30 minutes!
Ingredient List
1 lb ground beef (at least 90% lean)
1 medium onion, chopped (1/2 cup)
1 package (1.25 oz) Tex-Mex chili seasoning mix
1 can (28 oz) diced tomatoes, undrained
1 can (28 oz) crushed tomatoes
1 can (15 oz) spicy chili beans, undrained
1 oz unsweetened baking chocolate, coarsely chopped
8 soft corn tortillas (6 inch)
Advertisement
Recipe Continues Below
Preparation
In 4-quart Dutch oven, cook beef and onion over medium heat, stirring occasionally, until beef until thoroughly cooked; drain.
Stir in seasoning mix, both tomatoes and beans. Heat to boiling over high heat. Reduce heat to low; cover and cook 15 minutes, stirring occasionally, to blend flavors. Stir in chocolate just until melted. Serve with tortillas.
Expert Tips
Regular chili seasoning mix and 1 teaspoon finely chopped jalapeño chile can be substituted for the Tex-Mex seasoning mix in this chili mole recipe.
Serve your tasty chili mole with a crisp green salad and warm wedges of cornbread instead of the tortillas.
Nutrition
About 1 Cup Calories 270 (Calories from Fat 70); Total Fat 8g (Saturated Fat 3g ,Trans Fat 0g); Cholesterol 35mg; Sodium 830mg; Potassium 830mg; Total Carbohydrate 32g (Dietary Fiber 7g ,Sugars 7g); Protein 18g
% Daily Value: Vitamin A 10%; Vitamin C 15%; Calcium 10%; Iron 110%
Exchanges: 1 1/2 Starch; 1/2 Other Carbohydrate; 1 Vegetable; 1 1/2 Lean Meat; 1/2 Fat
Carbohydrate Choice: 2
*Percent Daily Values are based on a 2,000 calorie diet