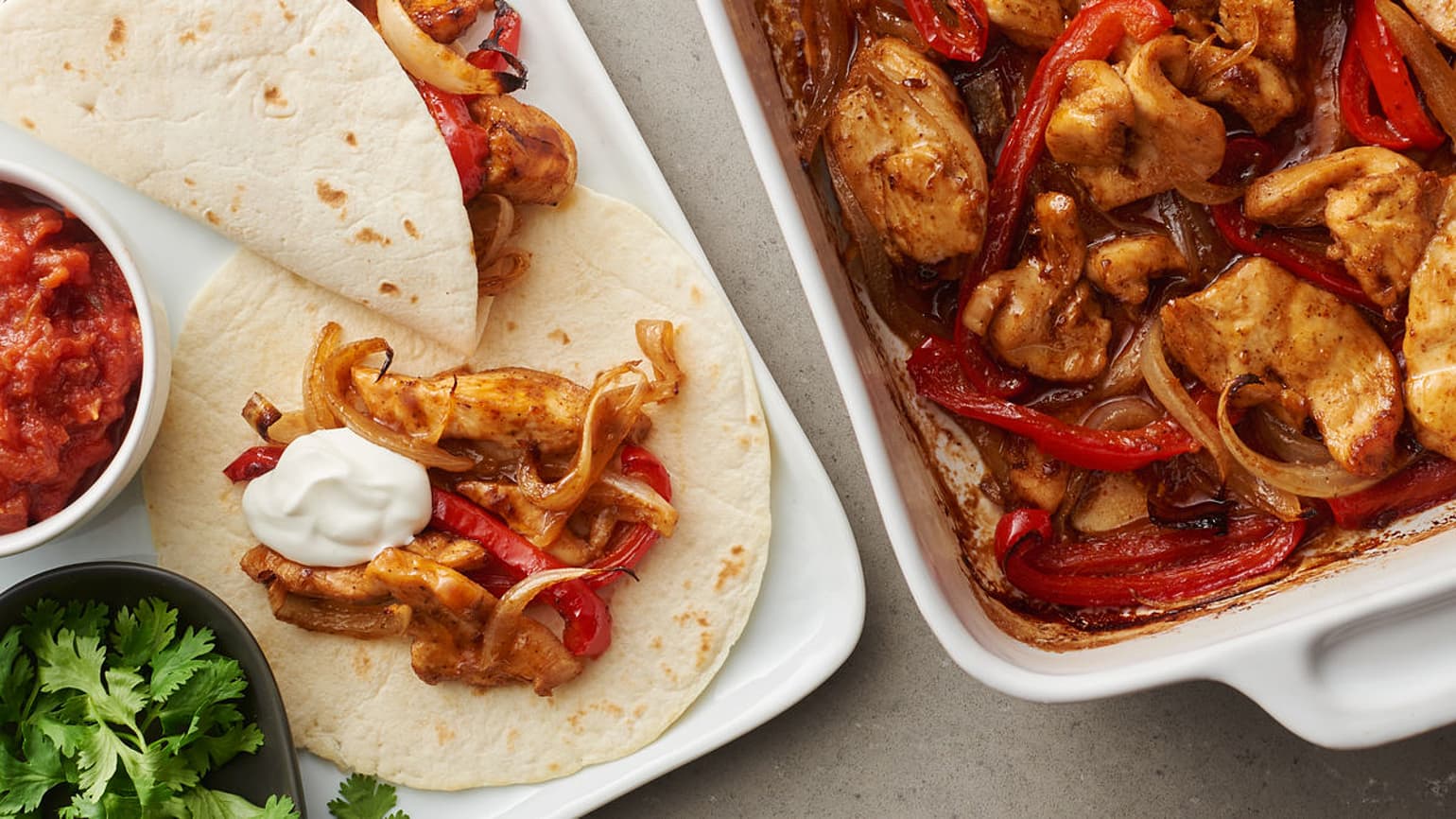 Easy Oven-Baked Chicken Fajitas
Delicious fajitas that don't leave you standing over a hot stove? Yes, please! Follow this recipe for Easy Oven-Baked Chicken Fajitas, and let your oven do all the heavy lifting after just 10 minutes of prep. Quick, simple to make and easy to customize with your favorite fajita toppings, these tasty oven-baked fajitas will have everyone running back for seconds.
Ingredient List
1 large onion
1 medium red bell pepper
1 lb boneless skinless chicken breasts
1 package (1 oz) Old El Paso™ fajita seasoning mix
2 tablespoons vegetable oil
9 tortillas from 1 package (8.2 oz) Old El Paso™ Flour Tortillas for Soft Tacos and Fajitas (10 count)
Sour Cream
Old El Paso™ Thick 'n Chunky salsa
Chopped fresh cilantro
Advertisement
Recipe Continues Below
Preparation
Heat oven to 400°F. Spray 13x9-inch (3-quart) glass baking dish with cooking spray. Cut onion and bell pepper into even slices; place in baking dish.
Cut chicken breasts into thin strips; add to vegetables in dish. Sprinkle with seasoning mix; drizzle with oil. Stir until combined and pieces are coated.
Bake 35 to 40 minutes, stirring once halfway through baking, until chicken is no longer pink in center.
Spoon small amount of chicken and veggies onto each tortilla. Top each with sour cream, salsa and cilantro, or your favorite fajita toppings.
Expert Tips
Use any color of bell pepper you prefer in this oven-baked fajitas recipe.
Add a squeeze of lime juice over the baked chicken and veggies for some extra flavor.
Try serving these baked chicken fajitas with cooked white or Mexican rice, guacamole, heated refried beans, shredded cheese, sour cream, salsa and cilantro.
Nutrition
*Percent Daily Values are based on a 2,000 calorie diet