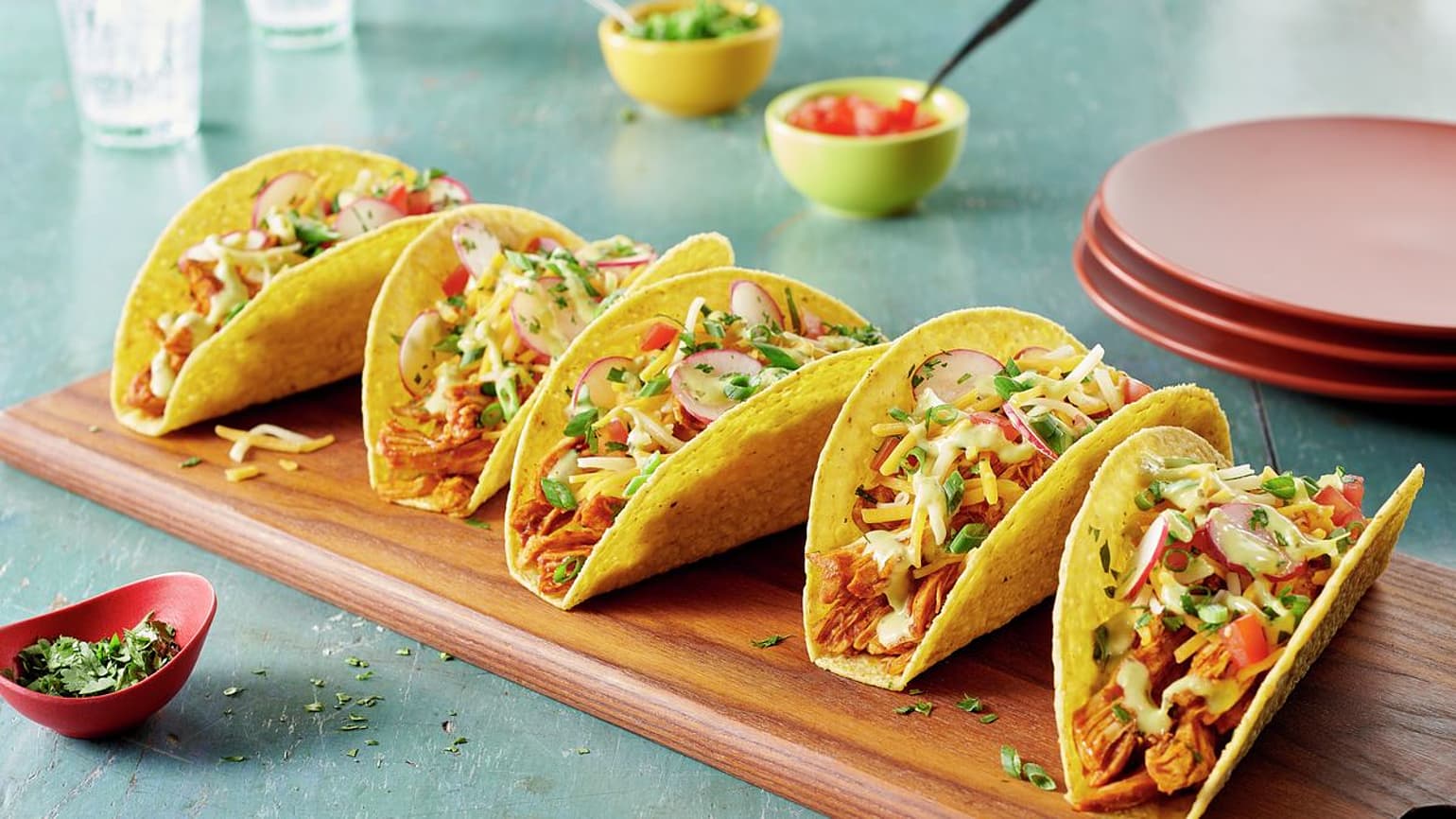 Easy Shredded Chicken Tacos
Finding the perfect, juicy shredded chicken for tacos doesn't have to mean a trip to the store. The stovetop method in this Easy Shredded Chicken Tacos recipe creates the perfect base for delicious tacos. Chicken breasts get a quick sear and then simmer in a covered skillet until tender and easy to shred. From there, you're well on your way to Easy Shredded Chicken Tacos with taco seasoning, layered with cheese, sliced radishes, cilantro and salsa verde inside a crunchy shell. Use this method for your other favorite shredded chicken recipes, too!
Ingredient List
2 teaspoons vegetable oil
1 lb boneless skinless chicken breasts
2/3 cup water
1 package (1 oz) Old El Paso™ Original Taco Seasoning Mix
1 package (10 count) Old El Paso™ Stand 'N Stuff™ Taco Shells, heated as directed on package
1 1/4 cups Old El Paso™ Shredded Mexican Style 4 Cheese Blend (5 oz)
1/2 cup thinly sliced radishes
1/2 cup Old El Paso™ Creamy Salsa Verde Sauce
2 tablespoons chopped fresh cilantro leaves
Advertisement
Recipe Continues Below
Preparation
In 10-inch nonstick skillet, heat oil over medium-high heat. Add chicken; cook 3 minutes on each side to brown.
Add enough water to skillet to come two-thirds of the way up sides of chicken; cover skillet tightly. Reduce heat to low; cook 13 to 15 minutes or until chicken is cooked through, tender and easy to shred. Cool 5 minutes.
Transfer chicken to cutting board; shred with two forks. Discard cooking liquid.
Return shredded chicken to skillet. Stir in 2/3 cup water and the taco seasoning mix; cook over medium heat 5 to 6 minutes, stirring frequently, until chicken is heated through and sauce is thickened.
Divide warmed chicken mixture among heated taco shells. Top with cheese, radishes, sauce and cilantro.
Expert Tips
Try topping your easy chicken tacos with chopped green onions, tomatoes and guacamole.
For best results, pat chicken breasts dry before adding to hot skillet.
Be sure to use a skillet with a tight cover, which helps keep the chicken moist while cooking.
Swap Old El Paso™ Shredded 3 Pepper Blend Cheese for the Old El Paso™ Shredded Mexican Style 4 Cheese Blend to give your simple chicken tacos some additional heat.
Nutrition
2 Tacos Calories 430 (Calories from Fat 220); Total Fat 24g (Saturated Fat 9g ,Trans Fat 0g); Cholesterol 85mg; Sodium 870mg; Potassium 210mg; Total Carbohydrate 25g (Dietary Fiber 3g ,Sugars 1g); Protein 28g
% Daily Value: Vitamin A 0%; Vitamin C 0%; Calcium 25%; Iron 10%
Exchanges: 1 1/2 Starch; 3 Very Lean Meat; 1/2 High-Fat Meat; 3 1/2 Fat
Carbohydrate Choice: 1 1/2
*Percent Daily Values are based on a 2,000 calorie diet