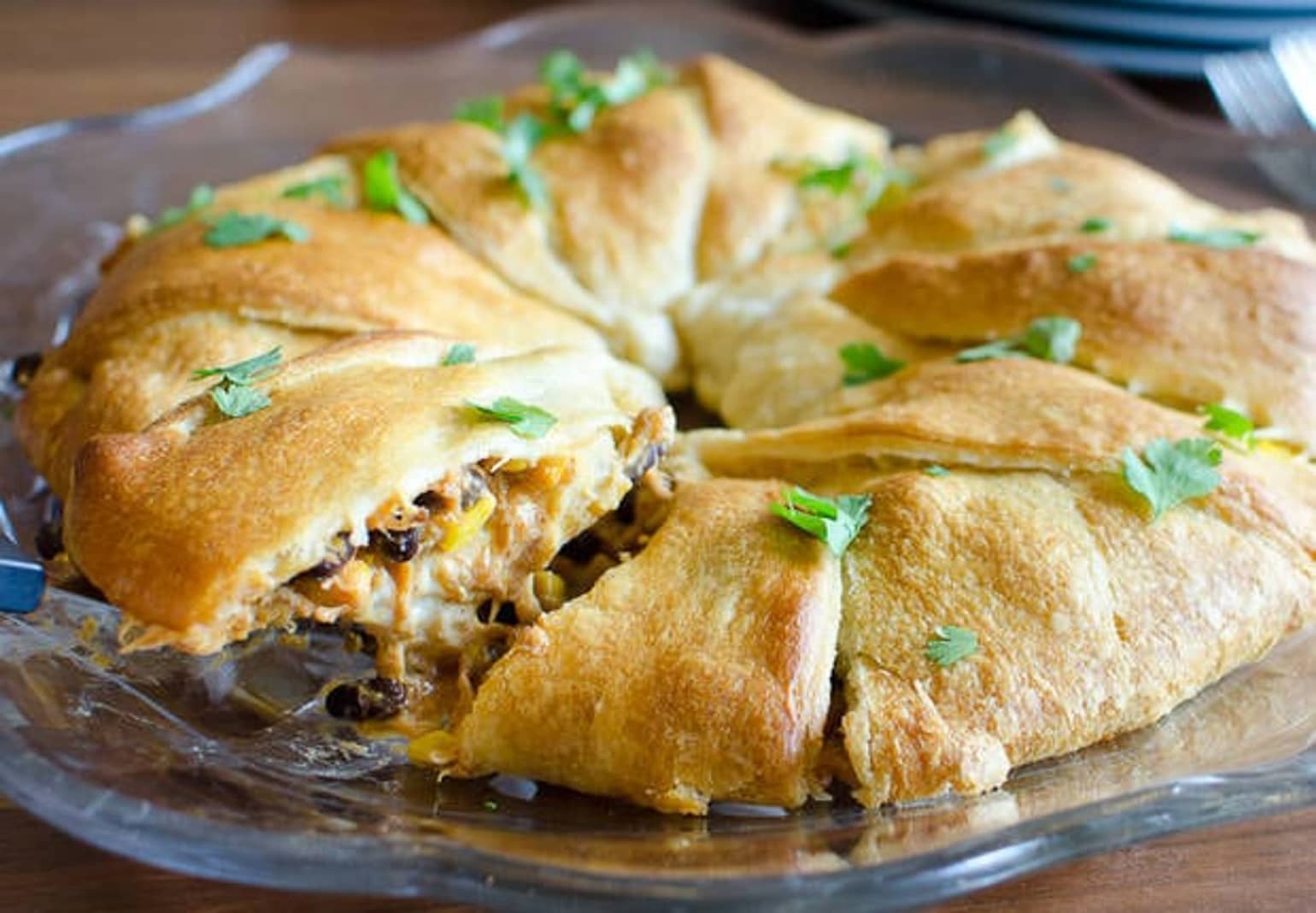 Enchilada Crescent Ring Recipe
This kid-friendly and fun-to-eat version of enchiladas will be a new family favorite. By Pillsbury Kitchens
Ingredient List
1 1/2 cups shredded cooked chicken
1 can (10 oz) Old El Paso™ enchilada sauce
1 can (15.25 oz) whole kernel sweet corn
1 can (15 oz) black beans, drained, rinsed
1 1/2 cups shredded Mexican cheese blend (6 oz)
1 package (1.25 oz) Old El Paso™ taco seasoning mix
2 cans (8 oz each) Pillsbury™ refrigerated crescent dinner rolls
Advertisement
Recipe Continues Below
Preparation
Place oven rack in center position. Heat oven to 375°F.
In large bowl, mix 1 1/2 cups shredded cooked chicken, 1 can (10 oz) Old El Paso™ enchilada sauce, 1 can (15.25 oz) whole kernel sweet corn, 1 can (15 oz) black beans, drained, rinsed, 1 1/2 cups shredded Mexican cheese blend (6 oz) and 1 package (1.25 oz) Old El Paso™ taco seasoning mix.
Open 1 can (8 oz) Pillsbury™ refrigerated crescent dinner rolls; separate into 4 rectangles. On ungreased large cookie sheet, arrange rectangles perpendicular to each other to form a cross. Corners of one side should touch while leaving a square space in the center.
Separate dough from a second can into 4 more rectangles. Arrange rectangles into an "X" that overlaps the cross, leaving an open circle in the center.
Carefully spoon filling mixture around center of dough; shape into a ring, leaving about 1/2 inch of dough in the center.
Pull overhanging dough from outer edge toward center and over filling. Tuck and pinch dough under middle. Bake about 25 minutes or until golden brown and thoroughly heated. Remove from cookie sheet to serving plate or cutting board. Cool 5 minutes before slicing.
Expert Tips
It is much easier to work with chilled dough. Keep dough refrigerated until ready to open and arrange on cookie sheet.
This is super kid-friendly, so the spice level is mild. Turn up the heat by adding a can of diced green chiles to the filling.