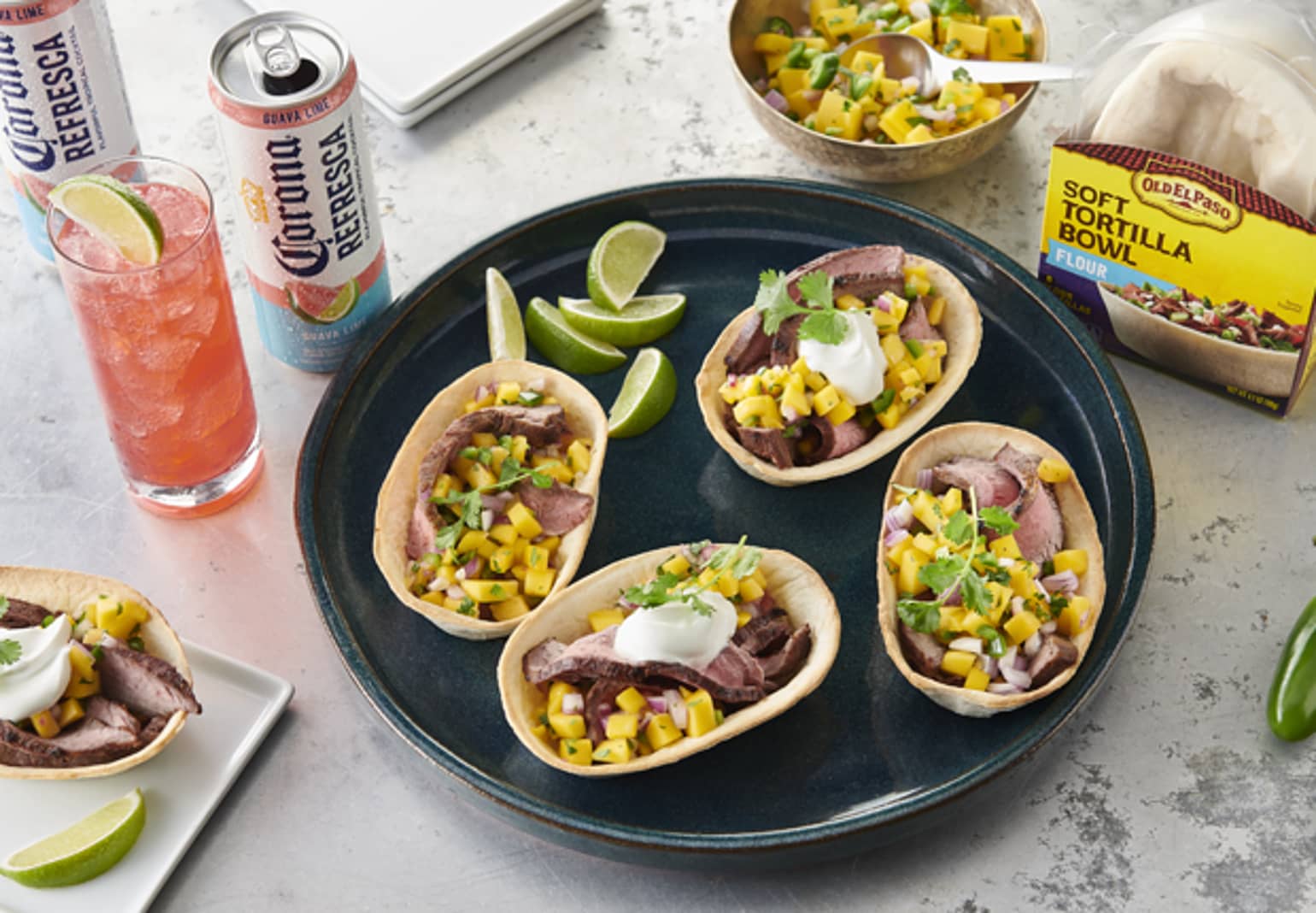 Flank Steak Taco Bowls with Mango Salsa
Spicy and sweet has never worked so well together. Balance the heat from the jalapeño and mango salsa by pairing these steak taco bowls with a thirst-quenching Corona™ Refresca.
Ingredient List
1 tablespoon vegetable oil
1 package (1 oz) Old El Paso™ original taco seasoning mix
1 beef flank steak (1 1/4 lb), trimmed of excess fat
1 package (6.7 oz) Old El Paso™ soft tortilla bowls, heated as directed on package
1 ripe large mango, seed removed, peeled and diced (about 2 cups)
1 tablespoon fresh lime juice
1 small jalapeño chile, seeded and chopped (about 3 tablespoons)
3 tablespoons chopped red onion
1/4 cup chopped fresh cilantro
Advertisement
Recipe Continues Below
Preparation
Heat oven to 400°F. Line 15x10x1-inch pan with foil.
In 10-inch nonstick skillet, heat oil over medium-high heat. Sprinkle taco seasoning mix over both sides of flank steak, pressing to coat. Cook 1 to 2 minutes on each side or until brown. Place steak in foil-lined pan. Roast 15 to 18 minutes or until meat thermometer inserted in center of steak reads 145°F. Remove from oven; let rest 10 minutes.
Meanwhile, in a medium bowl, mix mango, fresh lime juice, jalapeño chile, red onion and cilantro. Refrigerate until ready to serve.
Cut steak against the grain into thin slices. Divide steak among heated soft tortilla bowls. Top each with about 1/4 cup of salsa. Top with sour cream if desired.
Expert Tips
Resting the steak after cooking is essential for tender and moist results.
The mango salsa is very versatile. Try over chicken or salmon.
Nutrition
2 Taco Bowls Calories 450 (Calories from Fat 120); Total Fat 13g (Saturated Fat 5g, Trans Fat 0g); Cholesterol 90mg; Sodium 850mg; Total Carbohydrate 43g (Dietary Fiber 3g, Sugars 12g); Protein 38g
% Daily Value: Vitamin A 20%; Vitamin C 30%; Calcium 8%; Iron 30%;
Exchanges: 2 1/2 Starch, 1/2 Fruit, 1/2 Very Lean Meat, 4 Lean Meat,
Carbohydrate Choice: 3
*Percent Daily Values are based on a 2,000 calorie diet.
Relax Responsibly. Corona Refresca™ Malt Beverage with Fruit Flavors. Imported by Crown Imports, Chicago, IL