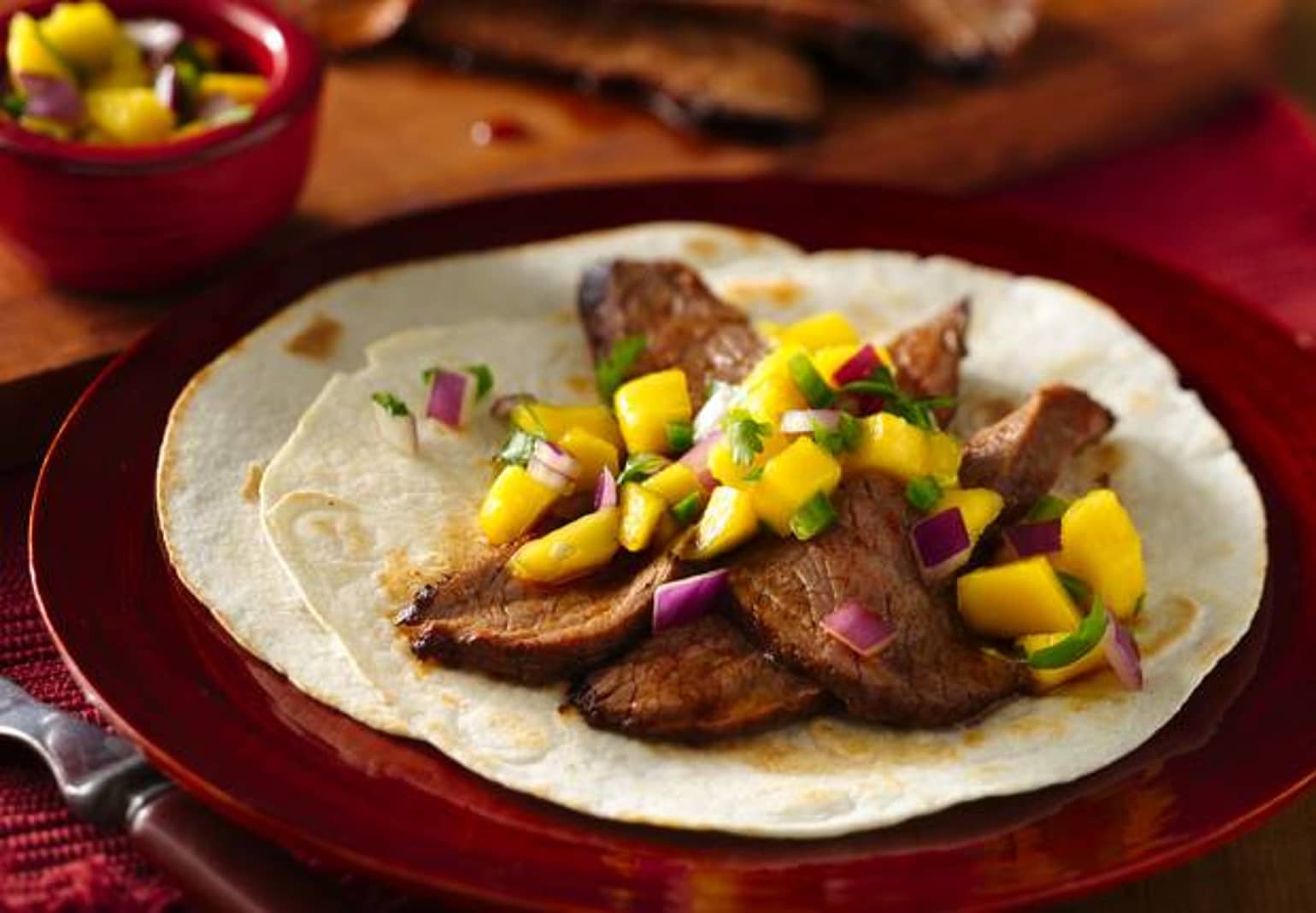 Flank Steak Tacos with Mango Salsa
This 30-minute meal creates the best flank steak taco recipe with a vibrant mango salsa! Our hassle-free flank steak tacos are seasoned with Old El Paso™ Original Taco Seasoning Mix. While the steak roasts, mix mangos, lime juice, jalapeño chile, onion and fresh cilantro leaves to create a flavorful and colorful topping. Steak Tacos with Mango Salsa brighten any summer evening, all wrapped up in Old El Paso™ Flour Tortillas.
Ingredient List
1 tablespoon vegetable oil
1 package (1 oz) Old El Paso™ taco seasoning mix
1 beef flank steak (1 1/4 lb), trimmed of excess fat
8 Old El Paso™ flour tortillas for soft tacos & fajitas (6 inch)
2 ripe medium mangoes, seed removed, peeled and diced
Juice of 1 medium lime
1 jalapeño chile, seeded, chopped
1/4 cup chopped red onion
1/4 cup chopped fresh cilantro leaves
Advertisement
Recipe Continues Below
Preparation
Heat oven to 400°F. Line cookie sheet with foil.
In 10-inch skillet, heat oil over high heat. Sprinkle taco seasoning mix over flank steak, pressing to coat. Brown steak in oil on both sides. Place steak on cookie sheet. Roast until meat thermometer inserted in center of steak reads 135°F. Remove from oven, and let rest 10 minutes.
Meanwhile, in large bowl, mix salsa ingredients. Refrigerate until ready to serve.
Cut steak into thin slices. Place 2 or 3 slices steak on each tortilla. Top with salsa. Roll up tortillas.
Expert Tips
Want to speed up mango steak tacos? Buy prepared mango salsa, found in many stores, instead of making the salsa yourself. Both are delicious with this dish!
To dice mango, stand the mango, stem end down, and hold. Look for two wide sides or "cheeks." Starting at the top, place knife about 1/4 inch from the widest center line, and cut down through mango, cutting around the flat seed in the center of the fruit. Repeat with opposite remaining wide side. Cut the flesh of wide sides by slicing them in a cross-hatch pattern, making sure not to cut through the skin. To remove mango pieces, push skin inside out, cut mango pieces fan out, and cut pieces from the skin. Cut two remaining narrow sides from the pit by cutting around the pit. Peel and cut mango pieces.
For a fresher, crunchier flavor, add diced red bell pepper to the salsa.
Nutrition
Calories540(Calories from Fat130),Total Fat14g(Saturated Fat3 1/2g,Trans Fat2g),Cholesterol105mgSodium1110mgTotal Carbohydrate57g(Dietary Fiber4g Sugars25g),Protein47g;% Daily Value*:Vitamin A40%;Vitamin C60%;Calcium8%;Iron30%; Exchanges:1 1/2 Starch; 1 Fruit; 1 Other Carbohydrate; 0 Skim Milk; 0 Low-Fat Milk; 0 Milk; 1/2 Vegetable; 3 Very Lean Meat; 3 Lean Meat; 0 High-Fat Meat; 1/2 Fat; Carbohydrate Choices:4
*Percent Daily Values are based on a 2,000 calorie diet.