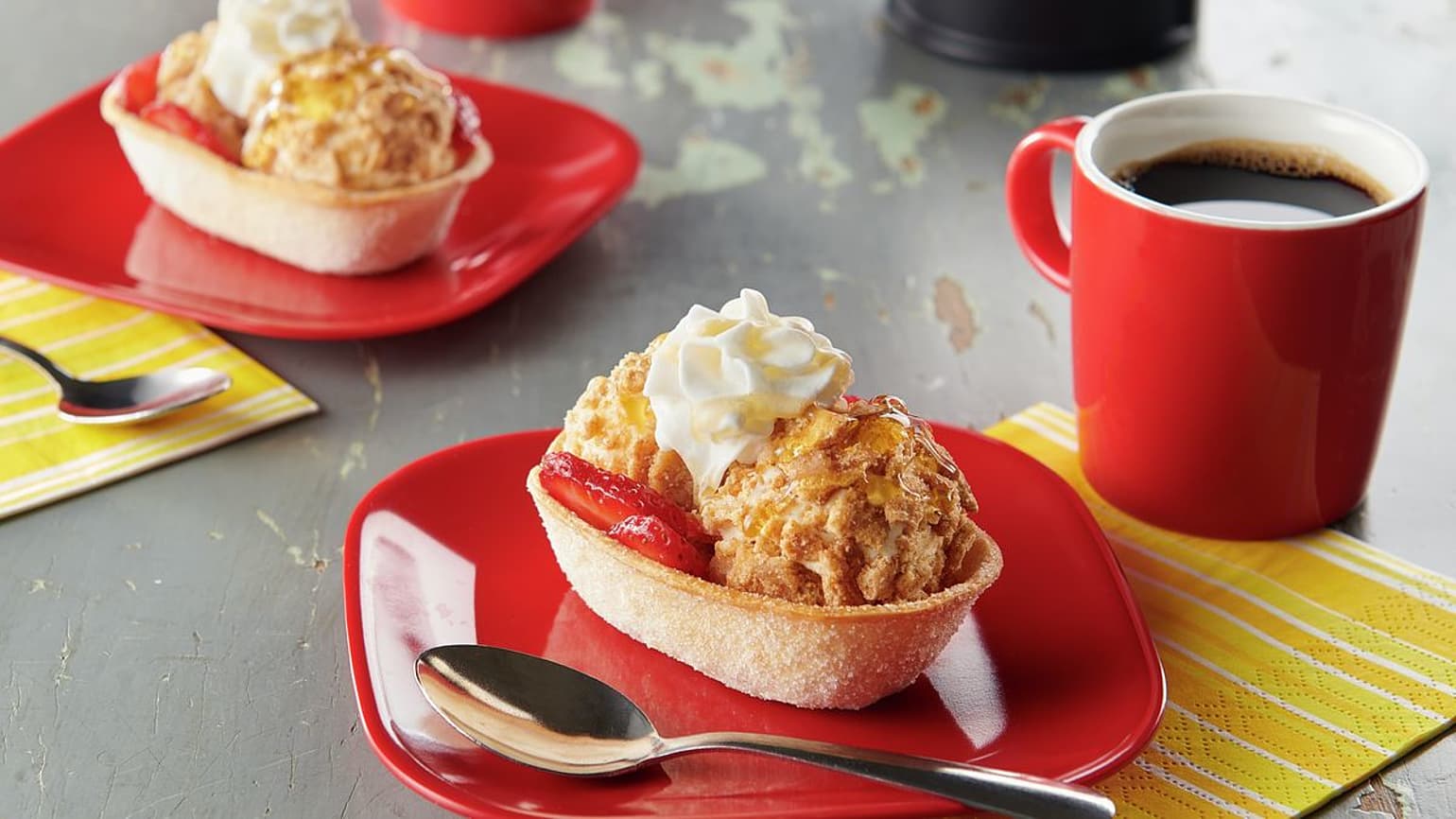 Fried Ice Cream Mini Bowls
Create a night out right at home with an ice cream treat inspired by the dessert served at Mexican restaurants. Our recipe for Fried Ice Cream Mini Bowls skips the messy frying part and uses scoops of vanilla ice cream rolled in Cinnamon Toast Crunch™ cereal to create the signature flavor. Sweetened
Old El Paso™ Mini Soft Tortilla Bowls
create the perfect base for this fried ice cream bowl recipe. Top with fresh berries, whipped cream, and drizzle with honey for your very own personalized fried ice cream sundae.
Total Time
1 Hours
40 Minutes
Ingredient List
Mini Bowls
1 tablespoon butter, melted
1 package (12 count) Old El Paso™ Mini Soft Tortilla Bowls
1 tablespoon sugar
Fried Ice Cream
3 cups Cinnamon Toast Crunch™ Cereal
3 tablespoons butter
2 tablespoons sugar
2 1/2 cups premium vanilla ice cream (from 28-oz container), slightly softened
Toppings
Sliced fresh strawberries, whipped cream topping in an aerosol can, and honey, as desired
Advertisement
Recipe Continues Below
Preparation
Heat oven to 375°F. Line rimmed cookie sheet with foil. Lightly brush 1 tablespoon melted butter on all sides of tortilla bowls. Sprinkle 1 tablespoon sugar on all sides of bowls. Place on cookie sheet. Bake 5 to 7 minutes or until lightly browned on edges and firm to the touch. Remove to cooling rack to cool completely, about 10 minutes.
In medium microwavable bowl, add cereal. In small microwavable bowl, microwave 3 tablespoons butter uncovered on High 45 to 60 seconds or until melted. Stir in 2 tablespoons sugar; microwave about 30 seconds or until sugar is nearly dissolved. Pour butter mixture over cereal, mixing to coat. Microwave uncovered on High 3 to 4 minutes, stirring every 30 seconds, until glazed and toasted.
Spread mixture on waxed paper; cool 15 minutes. Place cereal in large resealable food-storage plastic bag, and finely crush; pour into shallow bowl, and set aside.
Line 2 cookie sheets with waxed paper. Working quickly, scoop half of the ice cream into 12 (1 1/4-inch) balls. Roll balls in cereal mixture, pressing to coat, until completely covered. Place on cookie sheet; place cookie sheet in freezer. Repeat to make 12 more. Freeze both cookie sheets at least 45 minutes to firm up before serving.
When ready to serve, place 2 cereal-coated ice cream balls in each tortilla bowl. Add Toppings. Serve immediately.
Expert Tips
Try adding banana slices or toasted coconut to top fried ice cream.
To soften ice cream, remove from freezer to refrigerator 5 minutes before needed. Using a cookie scoop will make quick work of scooping the ice cream and ensuring they are all the same size.
For best success in this fried ice cream bowl recipe, we used a premium ice cream with a higher butterfat content, which tends to melt less when working with it. Working in batches and quickly as you scoop and roll the ice cream will give you the best results.
Wearing food-safe plastic gloves when rolling the ice cream balls helps the ice cream not melt quickly and is less messy. Single-use plastic gloves can be found at most large retailers.
Nutrition
1 Mini Tortilla Bowl Calories 190 (Calories from Fat 80); Total Fat 9g (Saturated Fat 5g ,Trans Fat 0g); Cholesterol 20mg; Sodium 190mg; Potassium 75mg; Total Carbohydrate 24g (Dietary Fiber 1g ,Sugars 12g); Protein 2g
% Daily Value: Vitamin A 8%; Vitamin C 0%; Calcium 8%; Iron 10%
Exchanges: 1 Starch; 1/2 Other Carbohydrate; 1 1/2 Fat
Carbohydrate Choice: 1 1/2
*Percent Daily Values are based on a 2,000 calorie diet