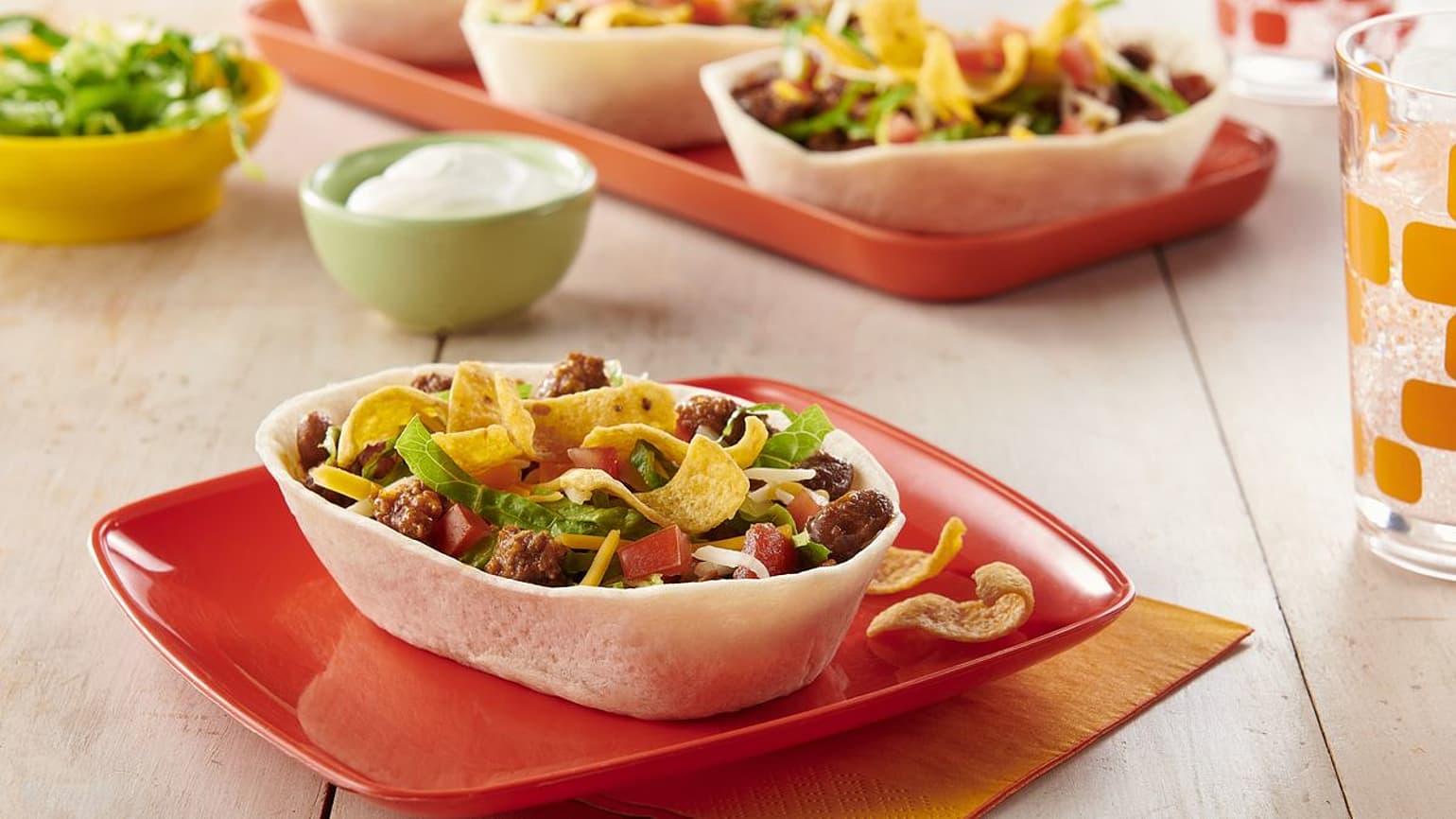 Fritos® Chili Taco Bowls
Ready to upgrade your walking taco dinner? Fritos™ corn chips offer an element of crunch to these quick and easy chili-filled Old El Paso™ Soft Tortilla Bowls. Ready to go in just 30 minutes, our chili taco bowl is both an easy-to-eat and easy-to-make meal. Add your favorite chili toppings, like cheese, lettuce and fresh tomatoes.
Ingredient List
1 lb ground beef (at least 80% lean)
1 cup chopped onions
2 cloves garlic, finely chopped
1 packet (1 oz) Old El Paso™ Original Taco Seasoning Mix
1 tablespoon chili powder
1 can (14.5 oz) diced tomatoes, undrained
1 can (15 oz) pinto beans, drained, rinsed
2 packages (6.7 oz) Old El Paso™ Flour Soft Tortilla Bowls (8 Count)
2 cups Fritos® corn chips
1 cup from 1 package (7 oz) Old El Paso™ Shredded Mexican Style 4 Cheese Blend
1 cup shredded lettuce
1/2 cup chopped fresh tomatoes
Advertisement
Recipe Continues Below
Preparation
In 3-quart saucepan, cook beef, onions and garlic over medium heat 6 to 8 minutes, stirring occasionally, until beef is thoroughly cooked; drain.
Stir in taco seasoning mix, chili powder, canned tomatoes and beans.
Heat to boiling over high heat. Reduce heat just enough so mixture bubbles gently. Cook uncovered 12 to 15 minutes, stirring occasionally, until thick.
Spoon chili into warm tortilla bowls; top with remaining ingredients
Expert Tips
Chopped red onion also makes a lovely garnish for these Frito Chili Taco Bowls.
If you like your chili spicy, feel free to add 1/4 to 1/2 teaspoon ground red pepper (cayenne) along with the chili powder to this recipe.
A creamy dollop of Old El Paso™ Crema Mexicana Sour Cream makes a cooling topping to these Frito Chili Taco Bowls.
Looking for more beef taco bowl recipes? Try our recipes for Bacon Cheeseburger Mini Taco Bowls™ and Beef Chimichanga Taco Bowls™.
Nutrition
1 Taco Bowl Calories 220 (Calories from Fat 90); Total Fat 10g (Saturated Fat 4g ,Trans Fat 0g); Cholesterol 25mg; Sodium 450mg; Potassium 210mg; Total Carbohydrate 23g (Dietary Fiber 2g ,Sugars 2g); Protein 10g
% Daily Value: Vitamin A 6%; Vitamin C 4%; Calcium 10%; Iron 10%
Exchanges: 1 Starch; 1/2 Other Carbohydrate; 1/2 High-Fat Meat; 1/2 Fat
Carbohydrate Choice: 1 1/2
*Percent Daily Values are based on a 2,000 calorie diet