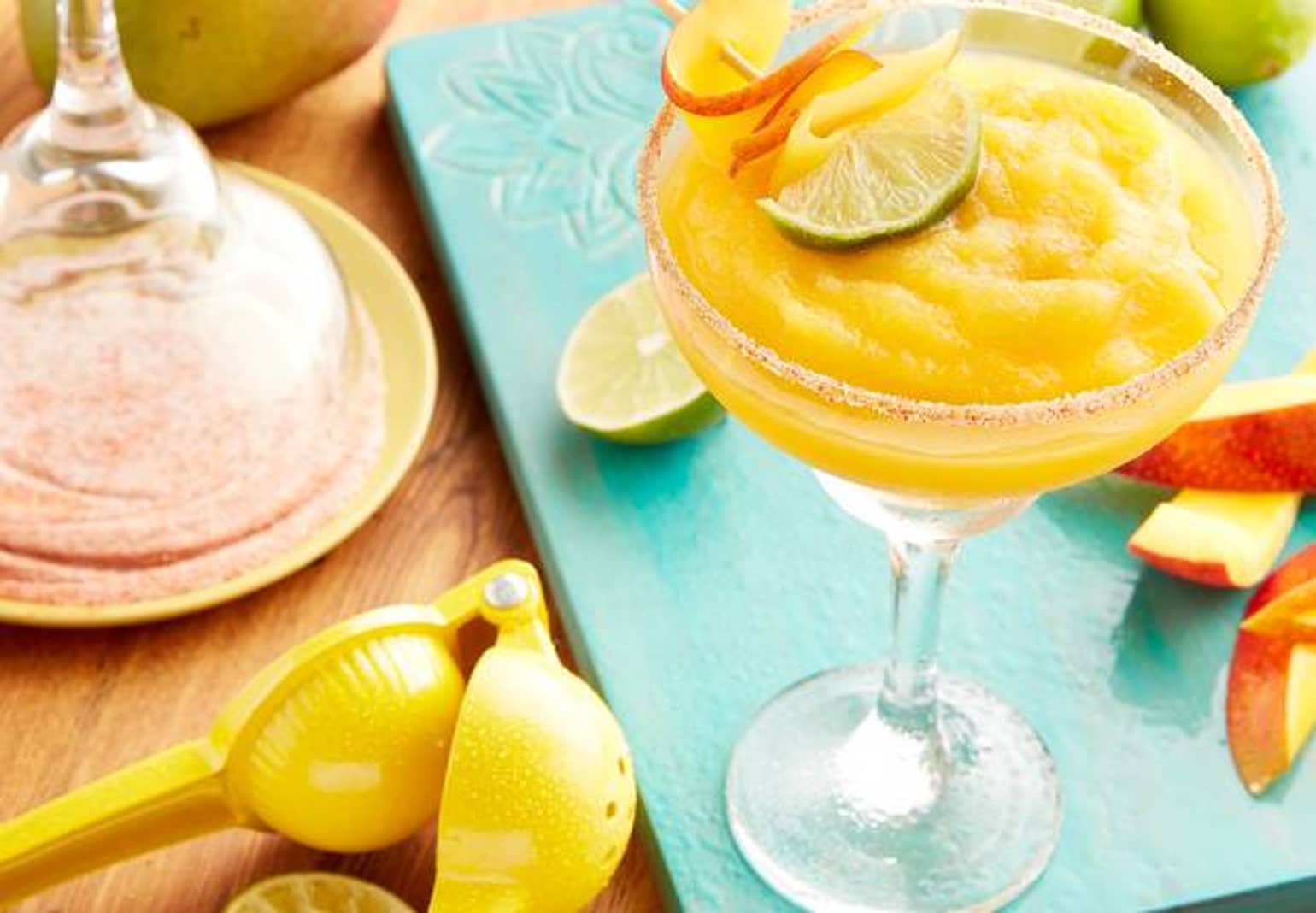 Frozen Mango Margaritas
The classic flavors of mango, chile, sugar and lime paletas blend together for a mashup of everyone's favorite summer treats – fruit pops and frozen margaritas!
Ingredient List
1 lime wedge
2 tablespoons sugar
1 teaspoon ground red pepper (cayenne)
2 cups diced fresh mango
2 cups ice
1/3 cup tequila
2 tablespoons orange liqueur
2 tablespoons fresh lime juice
2 tablespoons sugar
Lime wedges, if desired
Advertisement
Recipe Continues Below
Preparation
Rub lime wedge around rim of 4 margarita glasses. Sprinkle 2 tablespoons sugar and the red pepper on small flat plate; dip rim of each glass into sugar.
In blender, place all Drink ingredients except lime wedges. Cover; blend on high speed 1 to 2 minutes or until smooth and slushy. Pour into glasses. Serve with lime wedges.
Expert Tips
Can't take the heat? Dip only half of the rim of your glass in the sugar mixture.
For smoothest results, use your blender's ice crush mode for the first few seconds to break up any big chunks of ice.
Nutrition
Calories160(Calories from Fat0),Total Fat0g(Saturated Fat0g,Trans Fat0g),Cholesterol0mgSodium0mgTotal Carbohydrate24g(Dietary Fiber1g Sugars22g),Protein0g;% Daily Value*:Vitamin A20%;Vitamin C50%;Calcium0%;Iron0%; Exchanges:0 Starch; 0 Fruit; 0 Other Carbohydrate; 0 Skim Milk; 0 Low-Fat Milk; 0 Milk; 0 Vegetable; 0 Very Lean Meat; 0 Lean Meat; 0 High-Fat Meat; 0 Fat; Carbohydrate Choices:1 1/2
*Percent Daily Values are based on a 2,000 calorie diet.