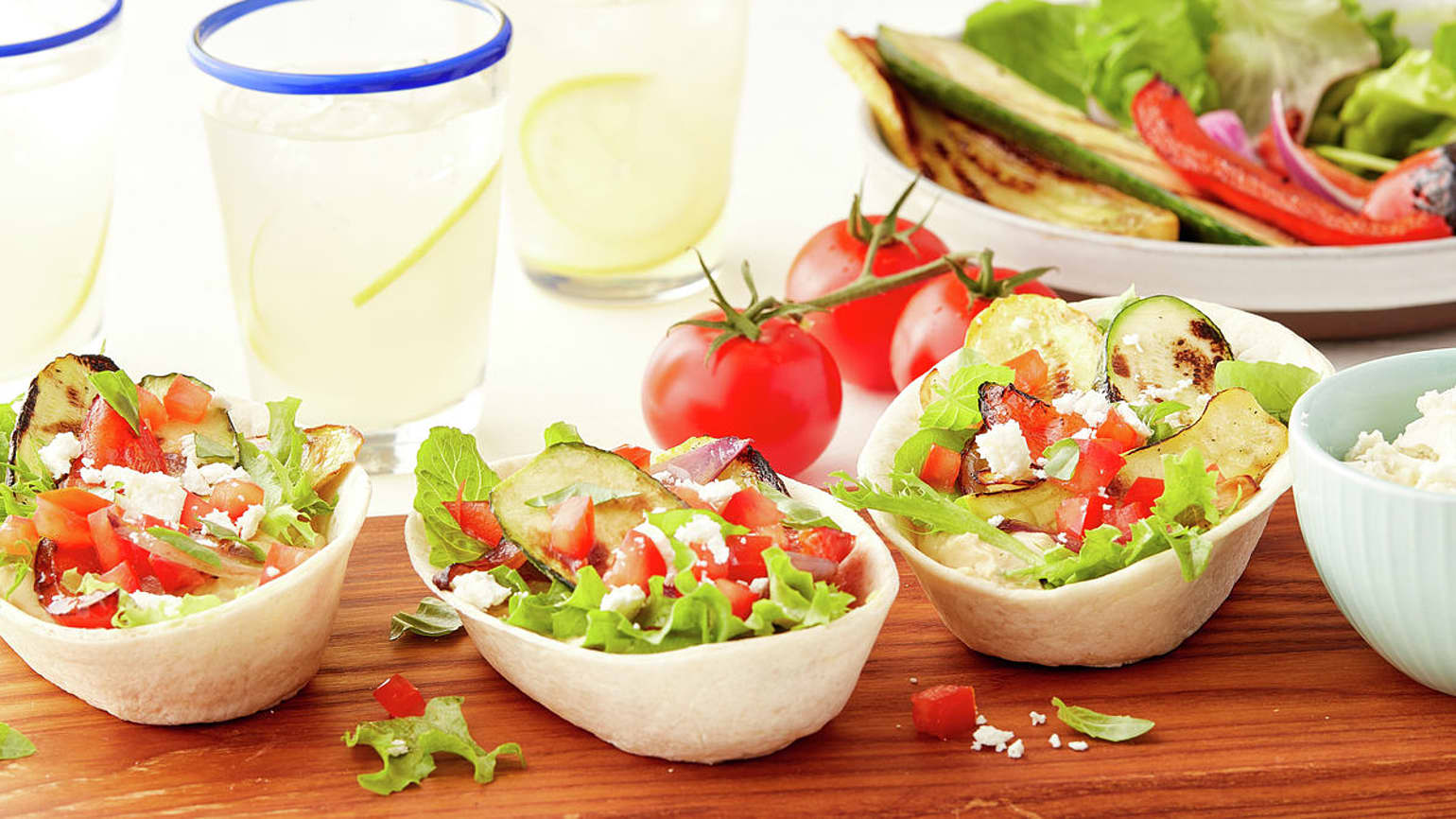 Grilled Mediterranean Vegetable Tacos
Looking for a good Mediterranean tacos recipe? We've got you covered! These veggie-loaded taco bowls are packed with creamy hummus and grilled garden bounty, then finished off with bright, fresh toppings for a meal that's perfect for a summertime meatless Monday. Fire up the grill and get ready for a sensational meal.
Ingredient List
3 tablespoons olive oil
1 teaspoon salt
1/2 teaspoon ground black pepper
2 medium zucchini, cut into 1/4-inch horizontal slices
2 medium yellow summer squash, cut into 1/4-inch horizontal slices
1 large red bell pepper, cut into 1-inch wide strips
1/4 medium red onion, peeled and cut into 4 wedges
1 container (10 oz) classic chickpea hummus
1 package (8 count) Old El Paso™ Soft Tortilla Bowls, heated as directed on package
2 cups mixed greens
1/2 cup crumbled feta cheese
1/2 cup diced fresh tomato
2 tablespoons chopped fresh basil leaves
Advertisement
Recipe Continues Below
Preparation
Heat gas or charcoal grill. In large bowl, mix oil, salt and pepper. Add zucchini, squash, bell pepper and onion; gently turn to coat.
Place vegetables in single layer on grill over medium heat (350°F to 400°F). Cover grill; cook 8 to 12 minutes, working in batches as necessary, turning once, until grill marks appear and vegetables are just crisp-tender. Set aside.
Divide hummus among heated tortilla bowls; top with mixed greens, grilled vegetables and cheese. Top with tomato and basil.
Expert Tips
Always read labels to make sure each recipe ingredient is vegetarian. Products and ingredient sources can change.
Don't cover grilled vegetables with foil to keep warm. The trapped steam will make them soft and soggy.
If you have fewer than 8 pieces of bell pepper, after grilling, cut them again lengthwise to ensure each bowl has red bell pepper.
Spinach can be substituted for mixed greens in your Grilled Mediterranean Vegetable Tacos.
Nutrition
1 Taco Calories 240 (Calories from Fat 110); Total Fat 13g (Saturated Fat 3 1/2g ,Trans Fat 0g); Cholesterol 10mg; Sodium 730mg; Potassium 440mg; Total Carbohydrate 25g (Dietary Fiber 4g ,Sugars 5g); Protein 7g
% Daily Value: Vitamin A 35%; Vitamin C 40%; Calcium 15%; Iron 15%
Exchanges: 1 Starch; 2 1/2 Vegetable; 2 1/2 Fat
Carbohydrate Choice: 1 1/2
*Percent Daily Values are based on a 2,000 calorie diet