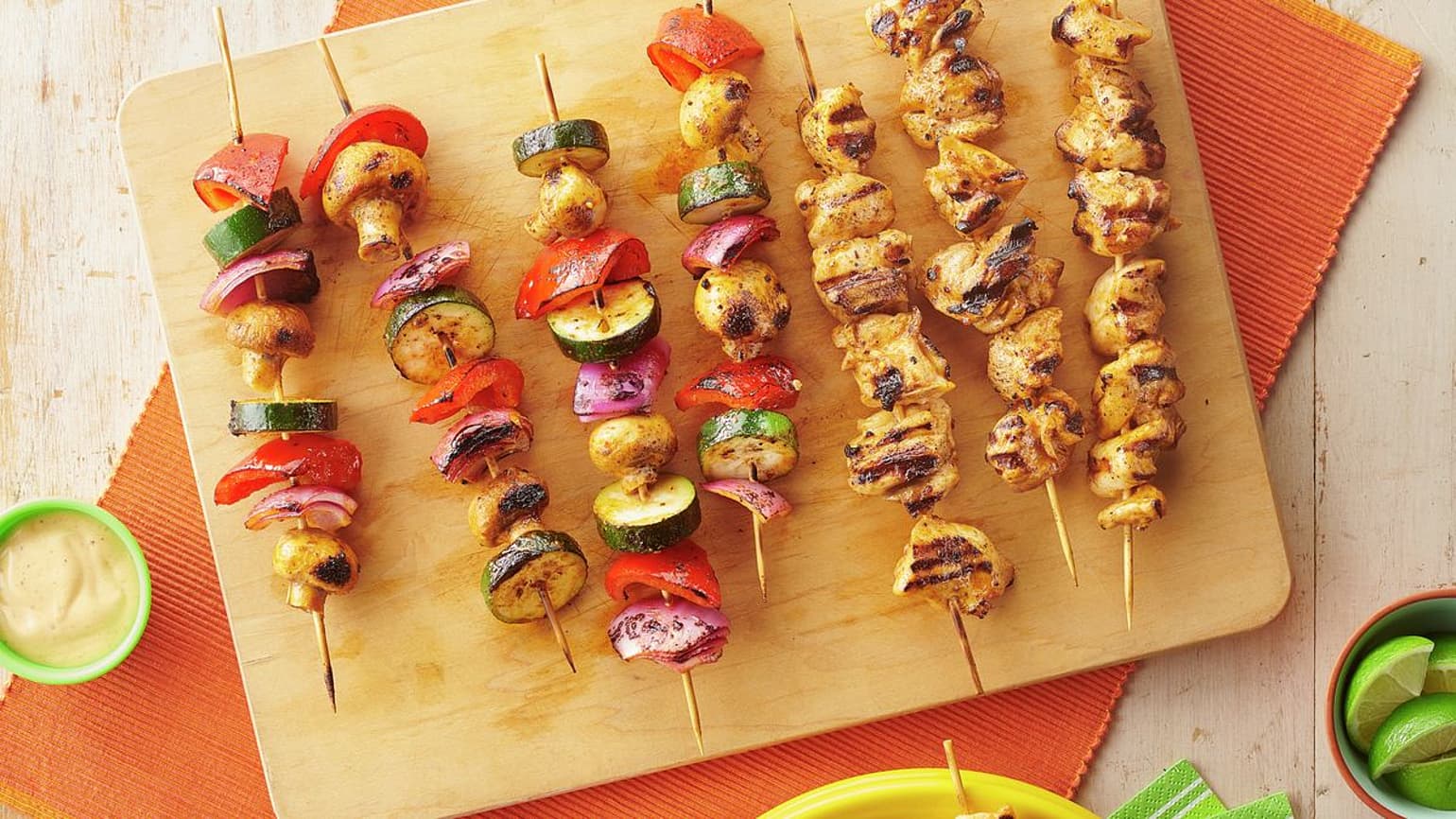 Grilled Mexican Chicken Kabobs
Grilled chicken kabobs is an easy, colorful and delicious meal you can make for any occasion. Start by creating that crave-worthy Tex-Mex flavor by marinating your chicken with Old El Paso™ Chicken Taco Seasoning Mix. So, how do you grill chicken kabobs so the chicken and veggies don't over or undercook? Grill your chicken and veggies on separate skewers so you can remove each from the grill when they're perfectly done. Looking for a fresh, fun meal loaded with your favorite flavors? Get that grill ready; this Grilled Mexican Chicken Kabobs recipe is for you.
Ingredient List
1 package (0.85 oz) Old El Paso™ Chicken Taco Seasoning Mix
3 tablespoons vegetable oil
3 tablespoons lime juice
1 1/4 lb boneless skinless chicken thighs, cut into 1 1/2-inch pieces
8 (10-inch) bamboo skewers
1 large red bell pepper, cut into 1 1/2-inch pieces
1 medium red onion, cut into 1 1/2-inch pieces
1 medium zucchini, cut crosswise into 1/2-inch slices
1 package (8 oz) mushrooms, halved if large
Serve with, if desired
1 bottle (9 oz) Old El Paso™ Zesty Ranch Sauce
Lime wedges
Advertisement
Recipe Continues Below
Preparation
In small bowl, beat taco seasoning mix, oil and lime juice with whisk. Pour half of the mixture into medium bowl. Reserve remaining half.
Add chicken to the medium bowl of taco seasoning mixture. Toss to coat. Cover and refrigerate 15 minutes.
Meanwhile, heat gas or charcoal grill. Soak skewers in water 10 minutes; drain.
Alternately thread red bell pepper, red onion, zucchini and mushroom pieces onto skewers. Brush vegetable skewers on all sides with reserved taco seasoning mixture.
Thread chicken pieces onto skewers, discarding marinade. Place kabobs on grill over medium heat. Cover grill; cook vegetables 10 to 14 minutes and chicken 8 to 12 minutes, turning kabobs 1 or 2 times, until grill marks form, vegetables are tender and chicken is no longer pink in center.
Serve with zesty ranch sauce and lime wedges on the side.
Nutrition
2 kabobs Calories 330 (Calories from Fat 150); Total Fat 17g (Saturated Fat 3 1/2g ,Trans Fat 0g); Cholesterol 135mg; Sodium 540mg; Potassium 690mg; Total Carbohydrate 12g (Dietary Fiber 3g ,Sugars 6g); Protein 32g
% Daily Value: Vitamin A 30%; Vitamin C 60%; Calcium 4%; Iron 15%
Exchanges: 2 Vegetable; 4 Very Lean Meat; 3 Fat
Carbohydrate Choice: 1
*Percent Daily Values are based on a 2,000 calorie diet