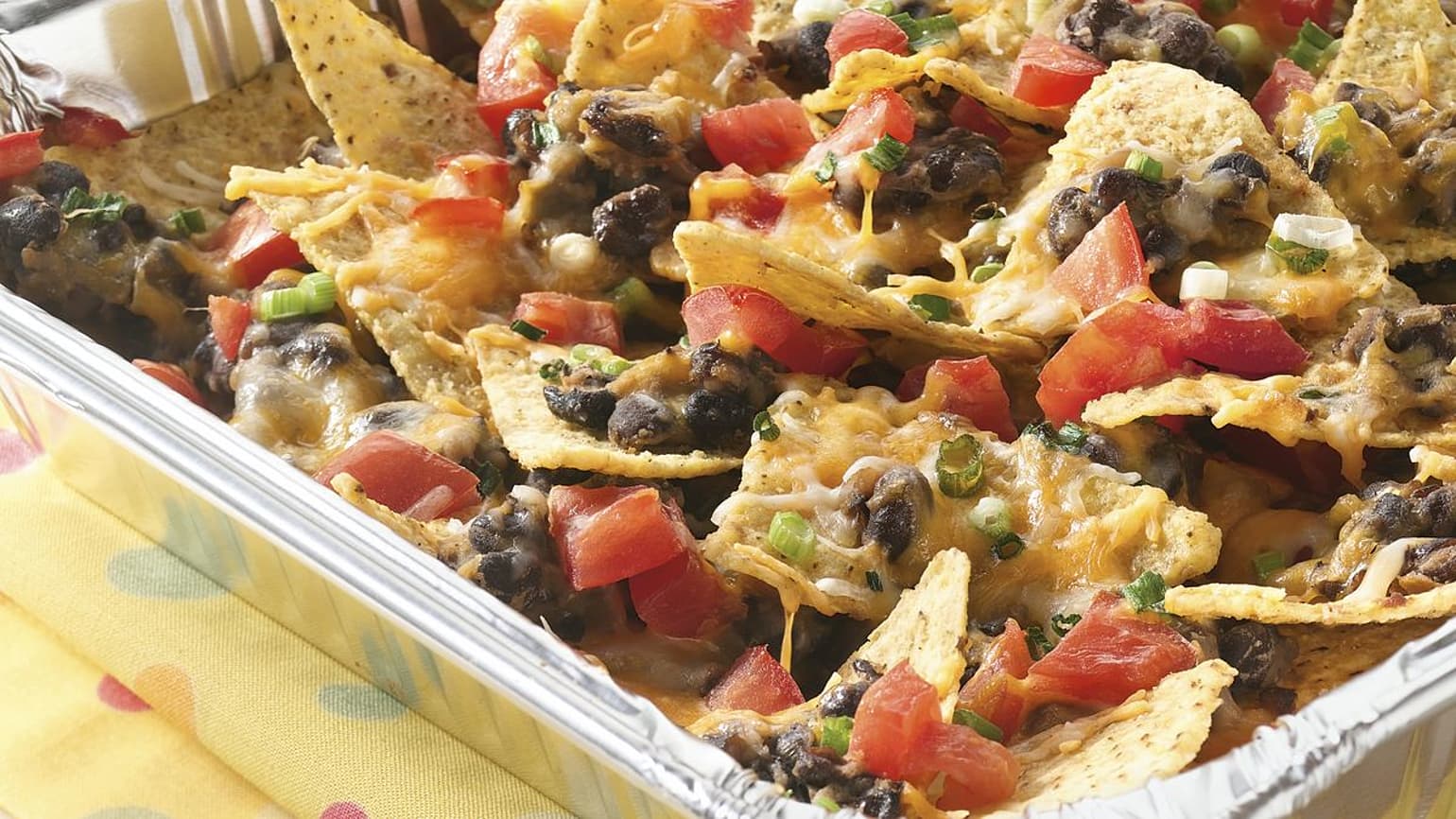 Grilled Picnic Taco Nachos
Are you planning a picnic or potluck this summer? These Grilled Picnic Taco Nachos will be an instant favorite. Picnic nachos are a great idea when you want to go from grill to picnic table in just minutes, and this recipe keeps your kitchen cool since all the cooking is done on the grill in a foil pan. Our best nachos for a picnic use tortilla chips, black beans, Old El Paso™ Chopped Green Chiles, Old El Paso™ Original Taco Seasoning Mix, tomatoes, green onions and cheese! Nachos on the grill will become a favorite summer recipe. Share and enjoy all season long.
Ingredient List
5 cups tortilla chips
1 can (15 oz) Progresso™ black beans, drained, rinsed and mashed
1 can (4.5 oz) Old El Paso™ Chopped Green Chiles, drained
2 teaspoons from 1 container (6.25 oz) Old El Paso™ Original Taco Seasoning Mix
2 plum (Roma) tomatoes, chopped
2 medium green onions, sliced (2 tablespoons)
2 cups finely shredded Colby-Monterey Jack cheese blend (8 oz)
Advertisement
Recipe Continues Below
Preparation
Heat gas or charcoal grill. Spray 12x18-inch foil pan with cooking spray. Spread tortilla chips in pan.
In medium bowl, mix beans, chiles and taco seasoning mix; spoon evenly over tortilla chips. Top with tomatoes and onions. Sprinkle with cheese. Cover pan with foil.
Place foil pan on grill over medium heat. Cover grill; cook 8 to 10 minutes or until cheese is melted. Carefully remove foil.
Expert Tips
Foil pans can bend or buckle when you lift them. Slide the pan onto a cutting board to give it more stability.
Make it your own! Top Grilled Picnic Taco Nachos with sour cream, chopped fresh cilantro leaves, sliced jalapeño peppers or diced avocado.
Nutrition
1 Serving Calories 570 (Calories from Fat 260); Total Fat 29g (Saturated Fat 13g ,Trans Fat 1/2g); Cholesterol 55mg; Sodium 1180mg; Potassium 620mg; Total Carbohydrate 54g (Dietary Fiber 12g ,Sugars 3g); Protein 25g
% Daily Value: Vitamin A 25%; Vitamin C 6%; Calcium 50%; Iron 25%
Exchanges: 3 1/2 Starch; 2 High-Fat Meat; 2 Fat
Carbohydrate Choice: 3 1/2
*Percent Daily Values are based on a 2,000 calorie diet