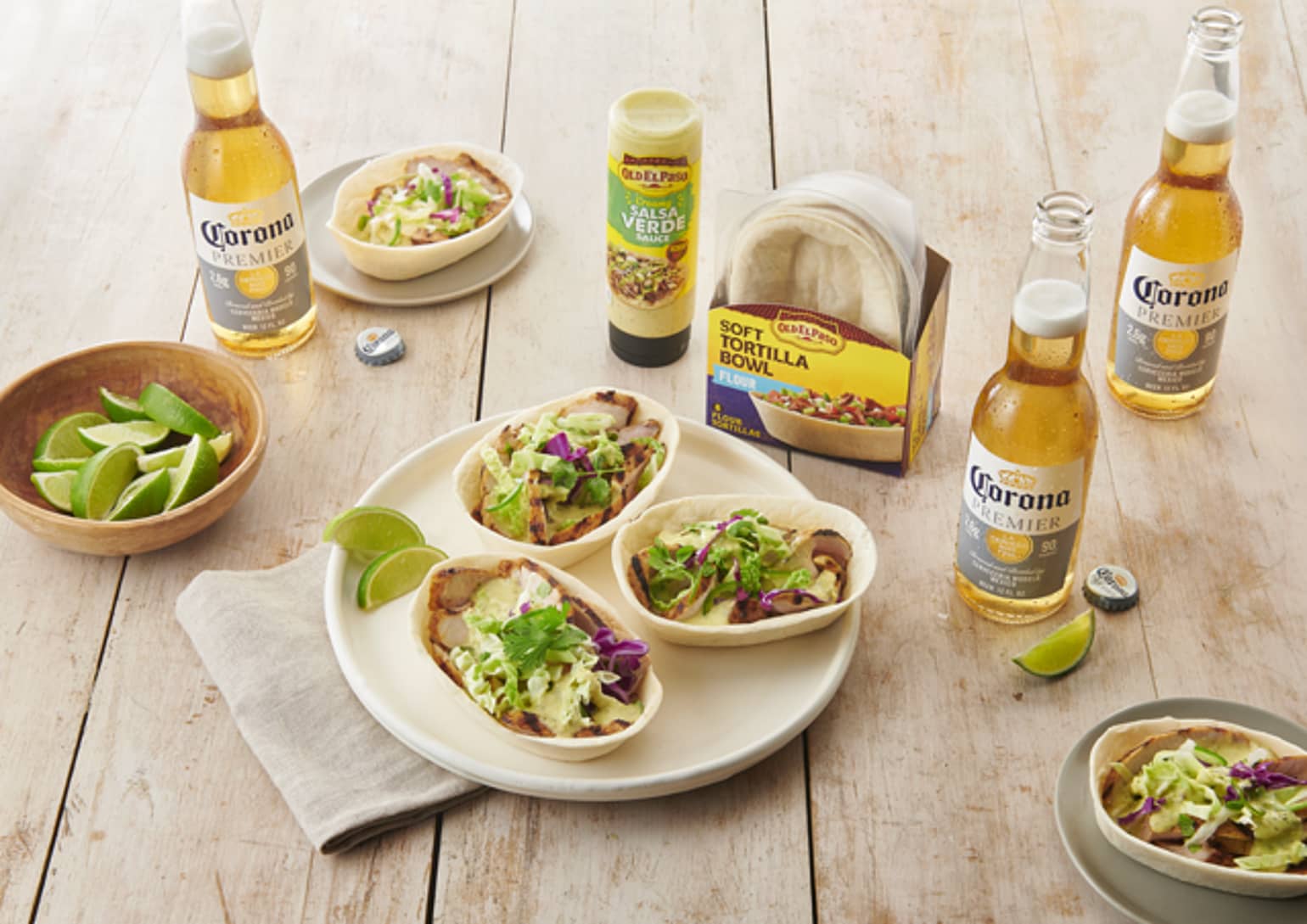 Grilled Pork Taco Bowls with Jalapeño-Lime Slaw
Smoky and just spicy enough to be interesting, these chipotle-marinated pork chops are grilled, thinly sliced and stuffed inside a soft tortilla bowl before being topped with a quick, easy and fresh jalapeño slaw. We recommend dosing the heat with an ice-cold Corona™ Premier.
Ingredient List
3 tablespoons fresh lime juice
2 teaspoons honey
2 cups shredded green cabbage
1/4 cup chopped fresh cilantro
1 medium jalapeño chile, seeded and thinly sliced
2 tablespoons vegetable oil
2 tablespoons chopped chipotle chiles in adobo sauce (from 7-oz can)
1 package (1 oz) Old El Paso™ original taco seasoning mix
4 boneless pork chops, 1/2 inch thick (1 1/4 lb)
1 package (8 count) Old El Paso™ soft tortilla bowls, heated as directed on package
1/2 cup Old El Paso™ creamy salsa verde sauce
Advertisement
Recipe Continues Below
Preparation
In medium bowl, mix 1 tablespoon of the lime juice and the honey. Add cabbage, cilantro and jalapeño chile; toss to coat. Cover and refrigerate until ready to use.
Heat gas or charcoal grill. In gallon-size resealable food-storage plastic bag, mix oil, chipotle chiles, remaining 2 tablespoons lime juice and the taco seasoning mix. Add pork; seal bag. Shake until pork is evenly coated.
Place pork chops on grill over medium heat. Cover grill; cook 6 to 8 minutes, turning once, until pork registers 145°F with instant-read thermometer. Let stand 5 minutes.
Cut pork into thin slices, and divide among tortilla bowls. Top with slaw and creamy salsa verde sauce.
Expert Tips
Chipotle chiles are smoked, dried jalapeños. They are often sold canned in a vinegary tomato sauce called "adobo." They can be quite hot, so feel free to adjust the amount used to suite your taste. The two tablespoons of chiles in this recipe gives a medium-hot result.
Removing the seeds from the jalapeño in the slaw will tone down the chile's heat.
When handling hot chile peppers, be sure to wear kitchen gloves to protect your hands. Be careful not to touch your face or eyes, as the seeds and membranes of chiles can cause burns. Always wash your hands thoroughly after handling chiles.
Chopped red cabbage also makes a lovely garnish for this taco.