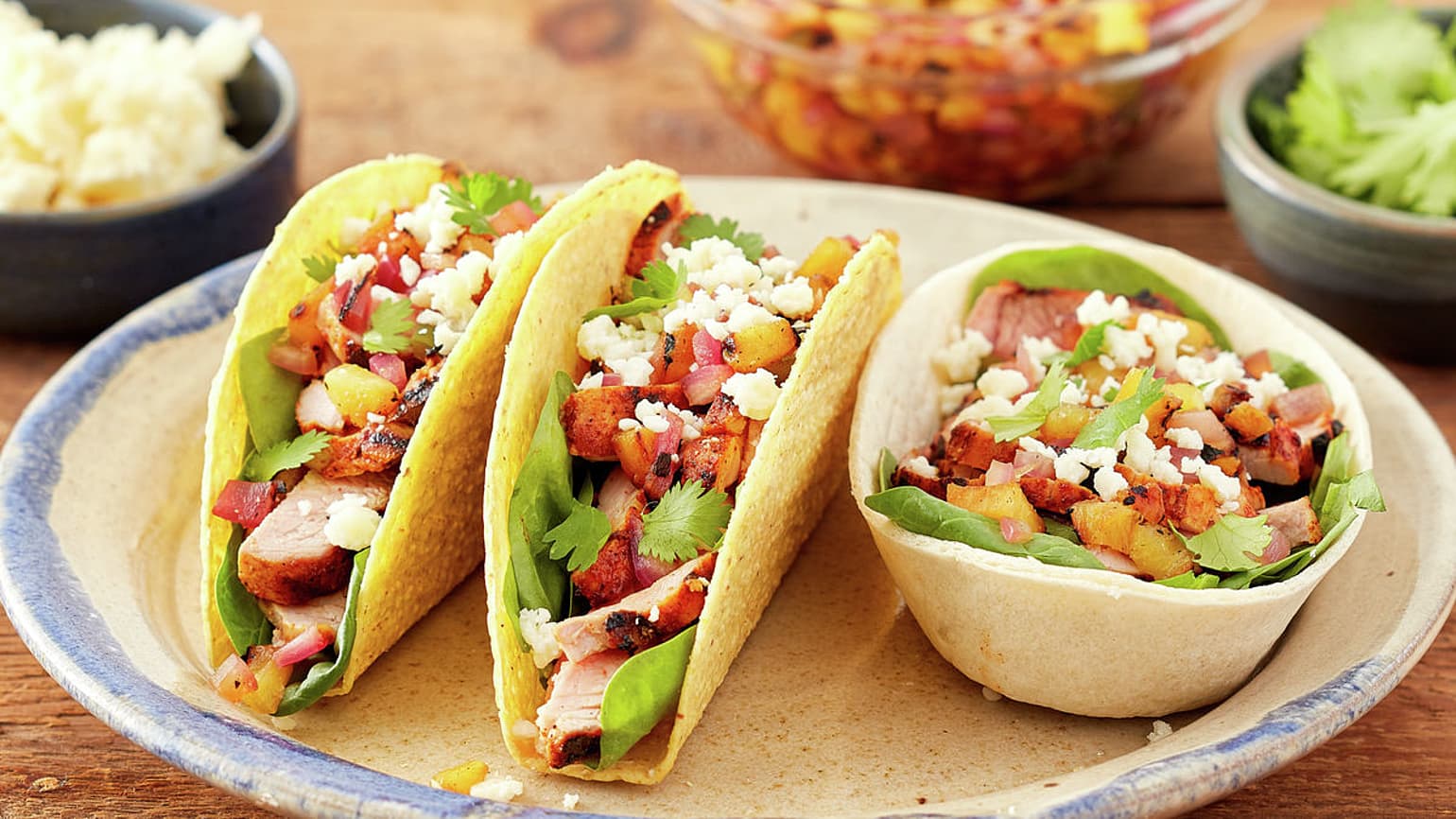 Grilled Pork Tenderloin and Pineapple al Pastor Tacos
Fire up the grill for a fun and easy take on al pastor with this grilled pork and pineapple tacos recipe. The meat is tender and flavorful, the salsa is fresh and bright and the heat? It's just right.
Ingredient List
4 fresh pineapple rings, about 1/2-inch thick
1 medium red onion, peeled and halved, root left intact
1 large jalapeño chile
4 tablespoons olive oil
2 teaspoons lime juice
1/2 teaspoon ground cumin
1/4 teaspoon salt
1 pork tenderloin (1 to 1 1/4 lb), trimmed of fat
1 package (0.85 oz) Old El Paso™ Al Pastor Taco Seasoning Mix
2 cups lightly packed baby spinach leaves
1 package (8 count) Old El Paso™ Soft Tortilla Bowls, heated as directed on package
1/4 cup crumbled queso fresco
1/4 cup loosely packed fresh cilantro leaves
Advertisement
Recipe Continues Below
Preparation
Heat gas or charcoal grill. Pat pineapple rings dry with paper towels. Brush pineapple, onion and jalapeño with 2 tablespoons of the olive oil. Place pineapple, onion and jalapeño in single layer on grill over medium heat (350°F to 400°F). Position onion wedges and jalapeño perpendicular to grates to prevent them from falling through. Cover and cook 8 to 12 minutes, working in batches as necessary, turning once, until grill marks appear and onions are just crisp-tender. Set aside until cool enough to handle.
Remove stem, seeds and membranes of jalapeño; dice and place in medium bowl. Finely dice pineapple and onion, and add to bowl with jalapeño. Add lime juice, cumin and salt; toss to coat. Cover and refrigerate.
Coat tenderloin with remaining 2 tablespoons oil, then rub in taco seasoning mix. Place pork on grill over medium heat. Cover grill; cook 10 minutes. Turn pork; grill 8 to 12 minutes longer or until instant-read thermometer inserted in center of tenderloin reads 145°F. Transfer to cutting board; cover with foil, and let stand 5 minutes. Cut tenderloin into slices; cut slices into strips.
Divide spinach among tortilla bowls. Divide pork among bowls; add pineapple salsa, queso fresco and cilantro.
Expert Tips
Don't feel like cutting up a whole pineapple for these pineapple tacos al pastor? Look for peeled and cored fresh pineapple in the grocery store's deli section.
Can't take the heat? Feel free to leave the jalapeño out of the al pastor pineapple salsa—it's still delicious without it!
Grilling the jalapeño whole adds intense smoky flavor, which comes through in the salsa.
Prefer your pork tenderloin tacos crunch? This recipe tastes delicious in Old El Paso™ Stand 'n' Stuff shells too! The same recipe for 8 tortilla bowls will fill 10 Stand 'n' Stuff shells.
Nutrition
1 Tortilla Bowl Calories 260 (Calories from Fat 110); Total Fat 13g (Saturated Fat 3 1/2g ,Trans Fat 0g); Cholesterol 35mg; Sodium 470mg; Potassium 310mg; Total Carbohydrate 20g (Dietary Fiber 1g ,Sugars 4g); Protein 15g
% Daily Value: Vitamin A 15%; Vitamin C 20%; Calcium 6%; Iron 8%
Exchanges: 1/2 Starch; 1/2 Other Carbohydrate; 1/2 Vegetable; 2 Very Lean Meat; 2 1/2 Fat
Carbohydrate Choice: 1
*Percent Daily Values are based on a 2,000 calorie diet