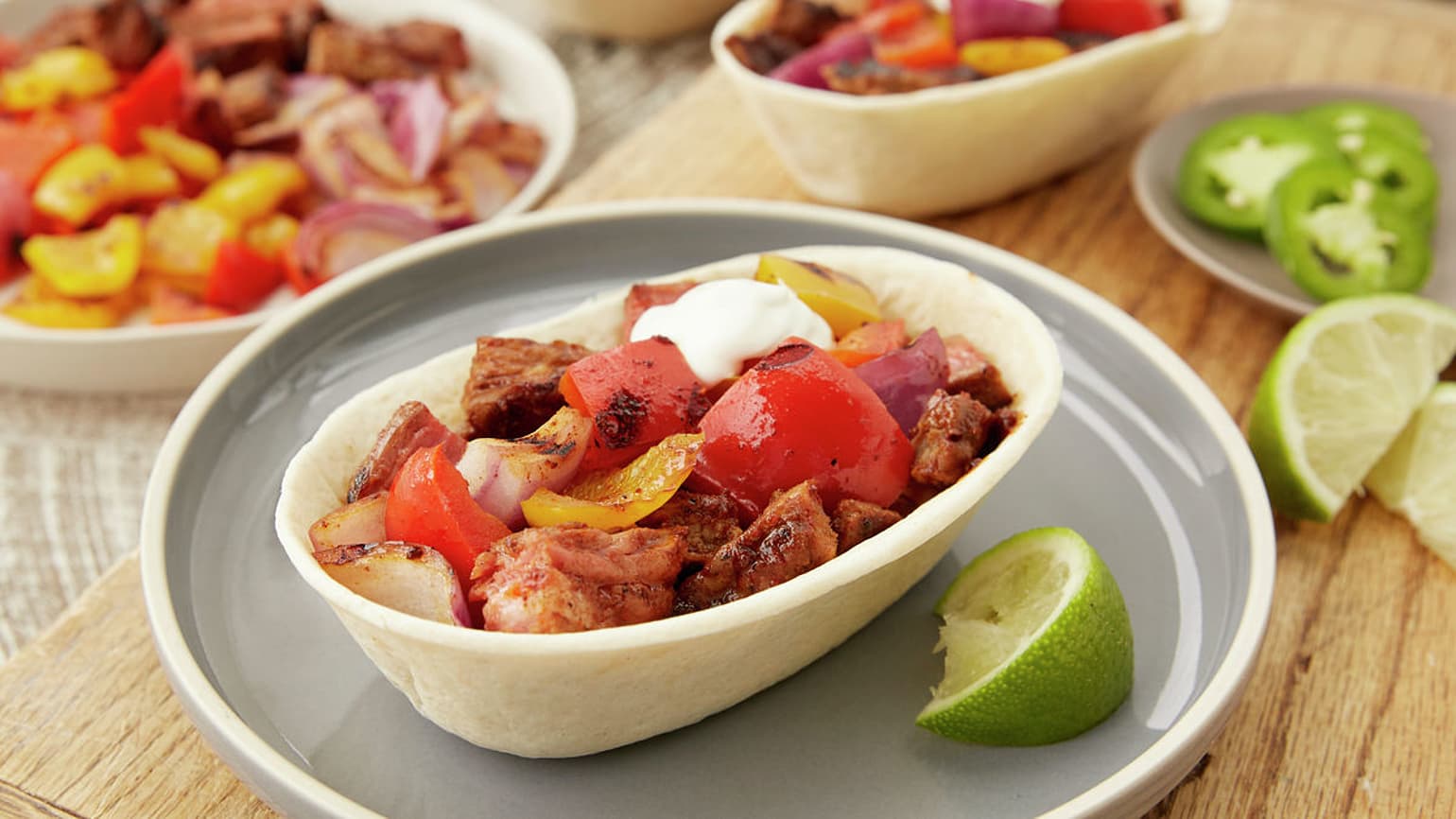 Grilled Steak Fajita Tacos
Fire up the grill and get that classic fajita sizzle going with this Grilled Steak Fajita Tacos recipe. Skirt steak is the perfect choice for fajita tacos that deliver on delicious. Old El Paso™ Original Taco Seasoning Mix, bell peppers, red onions and juicy steak come together in Old El Paso™ Soft Flour Tortilla Bowls for an irresistible meal. Call everyone to the table with the sizzle of delicious Mexican steak fajita tacos—and be prepared to serve up seconds!
Ingredient List
1 lb beef skirt steak
3 tablespoons vegetable oil
1 package (1 oz) Old El Paso™ Original Taco Seasoning Mix
3/4 teaspoon salt
1/2 large red onion, cut in 3/4-inch thick wedges with root end intact
2 orange, yellow or red bell peppers, each cut into large (about 2 inches wide) planks
1/2 teaspoon chili powder
2 teaspoons lime juice
1 package (6.7 oz) Old El Paso™ Flour Soft Tortilla Bowls (8 Count), removed from package and wrapped in heavy-duty foil
Lime wedges
Advertisement
Recipe Continues Below
Preparation
Heat gas or charcoal grill.
Combine steak with 2 tablespoons of the oil, the taco seasoning mix and 1/4 teaspoon of the salt in large resealable food-storage plastic bag. Seal bag; turn to evenly coat. Place in refrigerator to marinate 45 minutes.
Brush onion wedges and bell pepper planks with remaining tablespoon of oil; season with chili powder and remaining 1/2 teaspoon salt.
Remove steak from marinade; discard marinade. Place steak and vegetables on grill over medium heat (350°F to 400°F); cover grill. Cook 9 to 11 minutes, turning once for medium doneness (135°F internal temperature) or until desired doneness. Grill vegetables 8 to 10 minutes, turning once, until softened and lightly charred. Turn grill to low (250°F to 300°F). Transfer steak and vegetables to cutting board; let rest 10 minutes.
Place wrapped bowls on low grill; heat 6 minutes, turning once halfway through.
Cut steak into thin strips across the grain, then cut strips into bite-size pieces. Toss with lime juice. Chop vegetables, discarding onion roots.
Divide steak and vegetables among warm bowls. Serve with lime wedges and desired fresh toppings.
Expert Tips
Try these additional fresh toppings: shredded cheese, sour cream, jalapeño or avocado.
Cutting the steak in thin strips across the grain is the best way to enjoy skirt steak, especially when it's used in this steak fajita taco recipe.
After you perfect your steak fajita tacos, try out a variation with this recipe for Grilled Chicken Fajita Bowls. Add Old El Paso™ Fajita Seasoning Mix for easy prep.
An Old El Paso™ Fajita Dinner Kit makes this recipe for Easy Beef Fajitas so easy you'll be enjoying them in just 20 minutes from start to finish.
Nutrition
1 Serving Calories 220 (Calories from Fat 110); Total Fat 12g (Saturated Fat 4g ,Trans Fat 0g); Cholesterol 30mg; Sodium 410mg; Potassium 240mg; Total Carbohydrate 16g (Dietary Fiber 1g ,Sugars 2g); Protein 12g
% Daily Value: Vitamin A 25%; Vitamin C 45%; Calcium 4%; Iron 10%
Exchanges: 1 Starch; 1/2 Vegetable; 1 Lean Meat; 1 1/2 Fat
Carbohydrate Choice: 1
*Percent Daily Values are based on a 2,000 calorie diet