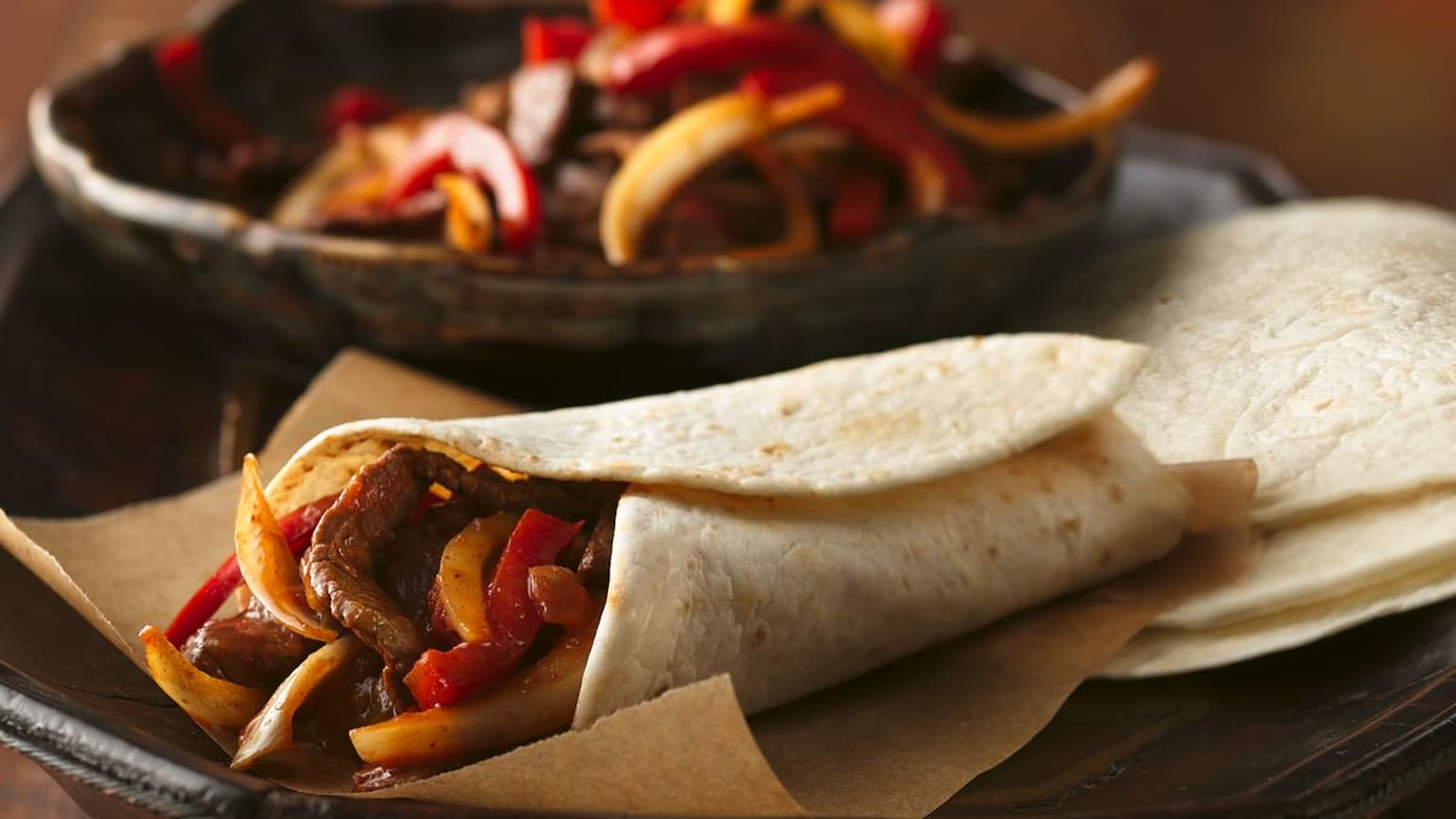 Easy Beef Fajitas
It's always a good idea to have an Easy Beef Fajitas recipe ready to go, and this one isn't just convenient—it's bursting with flavor! These Easy Beef Fajitas come together in a snap with an Old El Paso™ Fajita Dinner Kit and just a few simple steps. It's the perfect dish for busy weeknights, but we'd serve up these hearty fajitas any day of the week!
Ingredient List
1 lb boneless lean beef sirloin steak, slightly frozen, cut into thin strips
2 tablespoons vegetable oil
1 package (12.5 oz) Old El Paso™ Fajita Dinner Kit
1 medium red or green bell pepper, cut into strips
1 medium onion, thinly sliced
Advertisement
Recipe Continues Below
Preparation
Heat oil in 10-inch nonstick skillet over medium-high heat; add beef. Cook and stir 2 minutes. Stir in Seasoning Mix, bell pepper and onion. Cook and stir 3 to 4 minutes or until vegetables are crisp-tender and beef is no longer pink.
Warm the tortillas as directed on package. Top each tortilla with with about 1/2 cup beef mixture. Fold bottom edge of each tortilla toward center; fold 2 sides toward center, slightly overlapping. Drizzle with Fajita Sauce.
Expert Tips
Make this Easy Beef Fajitas recipe your own! Customize with your favorite toppings, such as salsa, shredded lettuce, hot sauce, shredded cheese, sour cream or cilantro. If desired, serve with hot rice and refried beans.
Freezing the steak for about 10 minutes before cutting makes the beef much easier to slice into thin strips.
Folding up the bottom side of each tortilla before folding sides toward center helps keep filling contained and makes the fajitas easier to eat.
Nutrition
2 Fajitas Calories 370 (Calories from Fat 120); Total Fat 13g (Saturated Fat 3g ,Trans Fat 1g); Cholesterol 60mg; Sodium 990mg; Potassium 300mg; Total Carbohydrate 33g (Dietary Fiber 2g ,Sugars 2g); Protein 28g
% Daily Value: Vitamin A 15%; Vitamin C 25%; Calcium 4%; Iron 20%
Exchanges: 2 Starch; 3 Lean Meat; 1 Fat
Carbohydrate Choice: 2
*Percent Daily Values are based on a 2,000 calorie diet