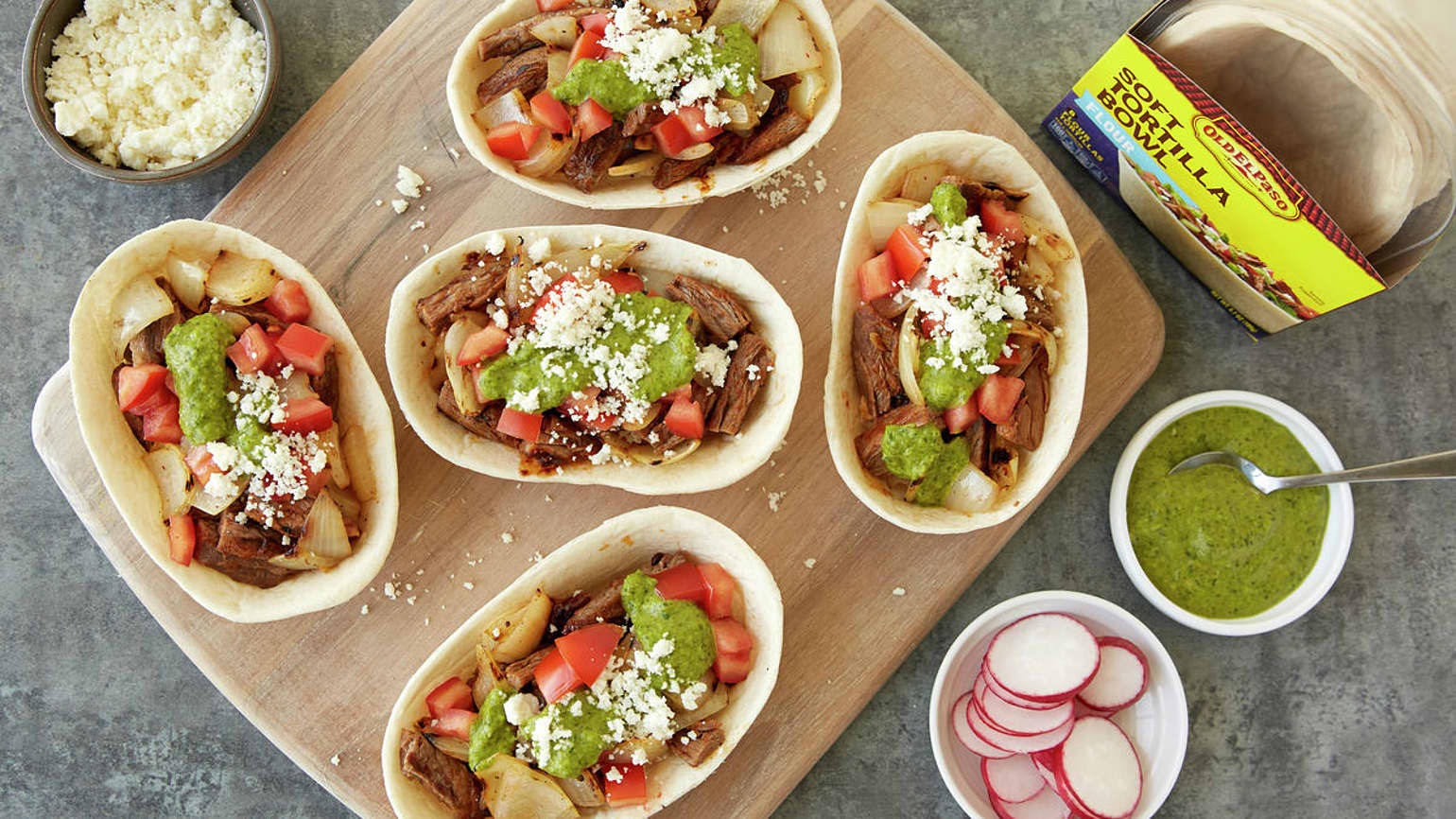 Grilled Steak Tacos with Green Chile Chimichurri
Try these easy grilled steak tacos with a simple and flavorful chimichurri sauce which features green chiles, cilantro and lime. A real crowd pleaser!
Total Time
1 Hours
30 Minutes
Ingredient List
Steak and Onion
1 lb beef skirt steak
3 tablespoons vegetable oil
1 package (1 oz) Old El Paso™ original taco seasoning mix
1/2 teaspoon salt
1 medium yellow onion, cut in 3/4-inch thick wedges with root end intact
1/4 teaspoon chili powder
2 teaspoons lime juice
Chimichurri
1/2 cup loosely packed fresh Italian (flat-leaf) parsley leaves
1/2 cup loosely packed fresh cilantro leaves
1 can (4.5 oz) Old El Paso™ chopped green chiles
2 green onions, chopped
2 tablespoons extra-virgin olive oil
1 tablespoon lime juice
2 cloves garlic, chopped
1/4 teaspoon sugar
1/8 teaspoon salt
Tacos
1 package (6.7 oz) Old El Paso™ Flour Soft Tortilla Bowls (8 Count), removed from package and wrapped in heavy-duty foil
1/3 cup diced tomato
3 tablespoons crumbled Cotija cheese
Lime wedges
Advertisement
Recipe Continues Below
Preparation
Heat gas or charcoal grill.
Combine steak with 2 tablespoons of the oil, the taco seasoning mix and 1/4 teaspoon of the salt in large resealable food-storage plastic bag. Seal bag; turn to evenly coat. Place in refrigerator to marinate 45 minutes.
Brush onion wedges with remaining tablespoon of oil; season with chili powder and remaining 1/4 teaspoon salt.
Combine Chimichurri ingredients in blender; puree until nearly smooth, scraping down sides of blender as needed. Reserve in refrigerator.
Remove steak from marinade; discard marinade. Place steak and onions on grill over medium heat (350°F to 400°F); cover grill. Cook steak over medium heat 9 to 11 minutes, turning once, for medium doneness (135°F internal temperature) or until desired doneness. Grill onions 8 to 10 minutes, turning once, until softened and lightly charred. Turn grill to low (250°F to 300°F). Transfer steak and onions to cutting board; let rest 10 minutes.
Place wrapped bowls on low grill; heat 6 minutes, turning once halfway through.
Cut steak into thin strips across the grain; then cut strips into bite-size pieces. Toss with remaining 2 teaspoons lime juice. Chop onions, discarding onion roots.
Divide steak and onions among warm bowls. Spoon chimichurri sauce over steak; top with diced tomato and Cotija cheese. Serve with lime wedges and desired fresh toppings.
Expert Tips
Try these additional fresh toppings: sliced radishes, sour cream or avocado.
Cutting the steak in thin strips across the grain is the best way to enjoy skirt steak.
Nutrition
1 Serving Calories 340 (Calories from Fat 170); Total Fat 19g (Saturated Fat 6g ,Trans Fat 0g); Cholesterol 35mg; Sodium 610mg; Potassium 220mg; Total Carbohydrate 29g (Dietary Fiber 1g ,Sugars 2g); Protein 14g
% Daily Value: Vitamin A 10%; Vitamin C 8%; Calcium 8%; Iron 15%
Exchanges: 1 1/2 Starch; 1/2 Other Carbohydrate; 1/2 Vegetable; 1 Lean Meat; 3 Fat
Carbohydrate Choice: 2
*Percent Daily Values are based on a 2,000 calorie diet